2001
From Wikispooks
1991 < 1992 < 1993 < 1994 < 1995 < 1996 < 1997 <1998 < 1999 < 2000 < 2001 > 2002 > 2003 > 2004 > 2005 > 2006 > 2007 > 2008 > 2009 > 2010 > 2011
 ( 2000s: )    
 2001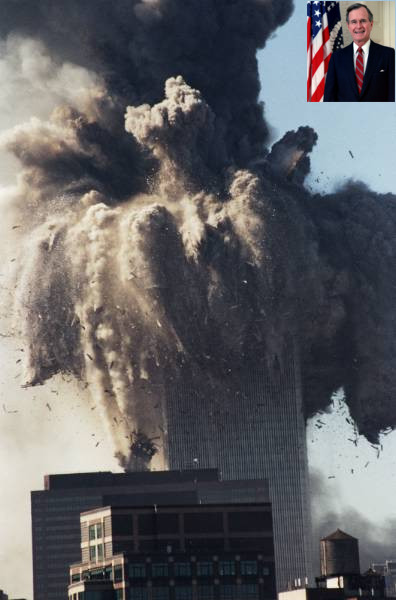 The iconic "
terrorist
" attack on New York, designed to kick start the domestic repression phase of the "
War On Terror
".
The year in which 9/11 was followed by the Amerithrax plot. This pair of dramatic false flag attacks, kick started US imperial aggression abroad and the rollout of a Police State at home.
2001 will live in the minds of all those who lived through it, just as the assassination of JFK froze a moment of time for an earlier generation. In fact, both were carried out by the same group, which Mark Gorton refers to as "the cabal". Wikispooks has some fairly solid pages covering the 9-11 event and its aftermath.[1]
September 11th, 2001
Full article: 9-11

After the JFK Assassination and Watergate, 9-11 was the third clandestine coup carried out by the Cabal. It was a complex, multi-part plan that was used to sweep aside potential opposition to the massive curtailing of civil liberties in USA. Blamed on Ossama Bin Laden and "Al Qaeda", it was used to promote fear and Islamophobia, a foreshadowing of many false flag attacks come come this century, of which the majority would be carried out by Western/Mossad trained operatives, but blamed on "radical Islamists".
The Most Telling Slip Ups
Full articles: 9-11/WTC7/Collapse, 9-11/WTC7/Collapse/Foreknowledge

In the event, the 9-11 operation went much less smoothly that the Cabal's earlier coups. In particular, no plane arrived to destroy World Trade Center 7. Considering that it was packed with explosives and some preliminary explosions had heavily damaged the building's internal structure, this was a big dilemma. At 5:20pm the explosives were detonated, destroying the building in just 7 seconds. Another extraordinary mess up caused 3 TV channels to report on the collapse before it happened. This evidence was ignored by the 9/11 Commission, which did not check the dust for explosive residues. The commercially-controlled media said nothing about WTC7 for many years.
Amerithrax
Full article: 2001 Anthrax attacks

As a follow up to 9-11, the cabal sent weaponised anthrax spores to those US senators who were opposing their push to reduce civil liberties through the USA Patriot Act. Perhaps as a test of the Islamophobia and fear that the 9-11 attacks had created, many Muslims were illegally detained and beaten up by the US police. After a $100,000,000 "investigation" of this incident, it was eventually blamed on a "lone nut".
Invasion of Afghanistan
A massive pre-planned military invasion was uneashed against Afghanistan, under the pretext that this was some kind of retaliation for the atrocity of 9/11. The production of opium (which had precipitously declined after the Taliban government had outlawed it) surged following the US led NATO invasion and for the next decade and a half (at least) never returned to anything like the historic pre-invasion low - yielding massive profits for the illegal drug trade.  
Events
New Groups
New Websites
Groups that were Wound Up
Quotations