Sweden
From Wikispooks
 Sweden    
Capital city

"[[Has headquarters" contains the "[" character as part of a property label and has been classified as invalid.

Stockholm|"Stockholm"]]
Location
Scandinavia, Europe
Leader
Prime Minister of Sweden



Incumbent: Stefan Löfven
Since 3 October 2014

Type
nation state
Member of
OECD
Subpage
•Sweden/Ambassador to Hungary
•Sweden/Ambassador to the United States
•Sweden/Foreign Minister
•Sweden/Permanent Representative to the UN

Sweden is as nation state in Scandinavia, Northern Europe. It is a large backer of the "war on drugs".[1]
Abolishing cash
In May 2017, Sweden Bloomberg termed Sweden "the most cashless society on the planet".[2]
Conscription
On March 2, 2017, the Swedish coalition government announced that it would reintroduce military conscription. This was nominally a response to the (unspecified) "Russian threat", although Roger Ennis suggested that the main purpose may be a domestic strategy of tension.[3]
Assassinations
Olof Palme
Full article: Olof Palme/Assassination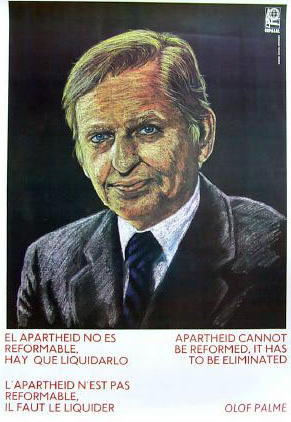 The Swedish Prime Minister, Olof Palme, was assassinated on 28 February 1986, 4½ months after a document alleged to be a SADF Military Intelligence report concluded that Palme "should be seen as an enemy of the [South African] State." UK television reported on the day that Swedish police "don't suspect a political motive... they think, it could be the work of a madman".[4]
Anna Lindh
The politician Anna Lindh was assassinated on 11 September 2003, in the run up to a Swedish referendum about EU membership, possibly by a "lone nut".
An event carried out
Events
Groups Headquartered Here
Citizens of Sweden on Wikispooks
Related Document
References