2007
Jump to navigation
Jump to search
1997 < 1998 < 1999 < 2000 < 2001 < 2002 < 2003 <2004 < 2005 < 2006 < 2007 > 2008 > 2009 > 2010 > 2011 > 2012 > 2013 > 2014 > 2015 > 2016 > 2017
---
 ( 2000s: )    
 2007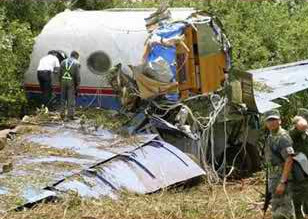 A section of the cocaine laden Gulfstream II jet which crashed in Mexico
In 2007 the Yucatan Gulfstream drug crash continued to add to the evidence of CIA Drug Trafficking, which continued to be avoided by the commercially-controlled media. They also more or less eschewed the Kuala Lumpur War Crimes Commission which found variuos members of the US administration guilty of war crimes in relation to the unprovoked attack on Iraq.
Yucatan Gulfstream drug crash
Full article: 2007 Yucatan Gulfstream drug crash

A US-registered luxury jet, a Gulfstream II (tailnumber N987SA) crashed into the jungle in Mexico's Yucatan carrying an uncertain number of tons of cocaine. Daniel Hopsicker dubbed this 'Cocaine 2'[1] as it happened the year after the Mexico DC-9 drug bust which he dubbed 'Cocaine 1'. The plane had previously been used by the CIA for "rendition", but they claim that documents prove that after owning it for nearly a decade, they sold it on and that it changed hands at two or three times in the weeks leading up to the crash...
Events
| Event | Start | End | Description |
| --- | --- | --- | --- |
| International Criminal Tribunal for Rwanda | 8 November 1994 | 31 December 2016 | |
| Saville Inquiry | 1998 | 24 March 2010 | An investigation into Bloody Sunday which left 14 people dead. |
| TOPOFF | 2000 | 2009 | A series of week long "counter-terrorism" exercises |
| Afghanistan/2001 Invasion | 7 October 2001 | 30 August 2021 | The war in Afghanistan, instigated within a month of 9/11, supposedly in retaliation, with the claimed justification - for which no evidence has been presented - that the attacks were planned by Ossama bin Laden, and that he was based in Afghanistan. |
| Saifullah Paracha v. George W. Bush | 8 December 2004 | 18 November 2008 | A habeas corpus petition filed on behalf of a prisoner of Guantanamo Bay. |
| Al-Salam weapons deal | 21 December 2005 | 2017 | A large arms deal signed during the government of Tony Blair. |
| Surveillance and censorship program | 2007 | | The UK government's 'Surveillance and censorship' (SAC) program is alleged by Kevin Galalae to be a part of the their CONTEST 'war on terror' strategy. He describes it as a project to 'brainwash the young and the impressionable to hold skewed and hypocritical views in line with the British Government's foreign and domestic policy objectives'. |
| Global Financial Crisis | 2007 | | "an evisceration of some banks by others...a cannibalistic binge billed to the tax-payer"<a href="#cite_note-1">[1]</a> |
| Kuala Lumpur War Crimes Commission | 2007 | | A tribunal to address the 2003 invasion of Iraq and associated abuses. Its verdict:- the UK/US/NATO establishment is guilty of war crimes. So far the criminals remain at large — but are staying out of Malaysia, the country in which the tribunal was carried out. |
| Tea Party movement | 2007 | | |
| Diana Spencer/Inquest | 8 January 2007 | 2 April 2008 | The inquest into the death of Diana, Princess of Wales |
| Virginia Tech shooting | 16 April 2007 | 16 April 2007 | |
| Bilderberg/2007 | 31 May 2007 | 3 June 2007 | The 55th Bilderberg meeting, held in Turkey |
| Le Cercle/2007 (Washington) | June 2007 | June 2007 | |
| Democracy & Security International Conference | 5 June 2007 | 6 June 2007 | The "Neoconservative International" that reports it was intested in "building a world of free and democratic states" |
| The Collapse of Europe Conference | 10 June 2007 | 11 June 2007 | An openly Islamophobic conference in California, that may have been designed to promote Islamophobia in Europe as part of the "War On Terror". |
| 2007 Yucatan Gulfstream drug crash | 24 September 2007 | 24 September 2007 | A plane used by the CIA for rendition, which later crashed in Mexico, with tons of cocaine aboard. |
| CounterJihad/Brussels Conference | 18 October 2007 | 19 October 2007 | |
| Security and Defence Learning/2007 | 28 November 2007 | 28 November 2007 | |
| Le Cercle/2007 (Madrid) | 29 November 2007 | 2 December 2007 | A little known Cercle meeting |
New Groups
New Websites
| Event | Image | URL | Description |
| --- | --- | --- | --- |
| Conspiracy Watch | | https://www.conspiracywatch.info/ | An "anti-conspiracy theory" site, set up by Rudy Reichstadt, a member of the Integrity Initiative's French Cluster. |
| Bella Caledonia | | http://bellacaledonia.org.uk/ | |
| Russia Beyond | | https://rbth.com/ | News, comment, opinion and analysis on culture, politics, business, science and public life in Russia. |
| Réalité EU | | http://realite-eu.org | |
| The Corbett Report | | http://www.CorbettReport.com | Named as an outlet of "Fake News" by PropOrNot. |
| Wikiscanner | | https://web.archive.org/web/20120408180929/http://wikiscanner.virgil.gr/ | A public database that live scanned and cross-checked IP-adresses of Wikipedia editors. It turned out in the few years it ran that many topics were actively edited and monitored by deep state fractions, spooks, royals, US Senators, corporations and even the NSA, FBI and CIA themselves. WEF Member and Wikipedia founder Jimmy Wales called it a "good site for transparency" but did nothing when the owner went broke and pulled the site from the internet. |
| PolitiFact | | https://www.politifact.com/ | Poynter Institute run "fact checker". |
| The Real News | | http://www.TheRealNews.com | Named as an outlet of "Fake News". |
| Human Beings First | | http://humanbeingsfirst.blogspot.com/ | |
| Activist Teacher Blog | | http://activistteacher.blogspot.com | Articles and entries about activist teaching and radical pedagogy, edited by Denis G. Rancourt. |
| Vineyard of the Saker | | http://thesaker.is/ | Geo-political analysis demonstrating particular expertise on Russia and the Middle East |
Groups that were Wound Up
==Quotations== 
Deaths
A Birth
References