Bilderberg
From Wikispooks
"Long subject to a strong media blackout (almost never reported in newspapers before around 2010), protected by national police, the Bilderberg group holds an annual meeting of approximately 130 bankers, political & military leaders, CEOs of multinational corporations, editors and royalty. Meetings are firmly off the record, although increasingly leaky." cannot be used as a page name in this wiki.
The Bilderberg is a series of annual meetings which are often mentioned in conjunction with two other, less secretive, organizations: the Trilateral Commission and the Council on Foreign Relations. Around 120 financiers, military leaders, heads of multinational corporations, nation states and other deep politicians collaborate on projects of mutual interest (such as, according to a former chairman, the creation of the Euro).[1] The group has been accused of involvement in false flag attacks,[2][3] but as it has become more public, such activity may have shifted to more secretive milieux such as Le Cercle.
Official Narrative
The official narrative of the Bilderberg group used to be that there was no such group. Nowadays however, the dates and attendance of meetings are published, and the story being that these famous and busy people, normally subject to scrutiny by paparazzi, need time to relax and take time away from public scrutiny. It's an "annual, unofficial, invitation-only" social event. Personal statements by participants, such as a 2005 BBC interview Étienne Davignon, sometimes go beyond this, concluding that "informal and private networks like Bilderberg have helped to oil the wheels of global politics and globalisation for the past half a century".[4]
Problems
The intense secrecy and use of armed guards belie the claim that Bilderberg is a mere social event. Willy Claes, who attended Bilderberg in 1994, said on Belgian radio that at Bilderberg each participant is given a report and they are "considered to use this report in setting their policies in the environments in which they affect".[5]
Origins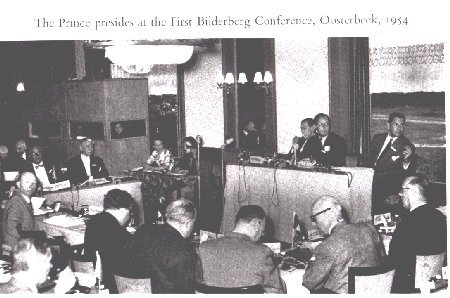 The group was set up by Józef Retinger, who explains that he "set up the Bilderberg to offset "a growing distrust of America". He consulted three friends who pointed him to friends of theirs, a dozen men in all, many of whom attended the eponymous initial meeting in 1954. Originally, these were all Europeans, but the group became established in USA are he travelled there to float the idea. Similarly to the Safari Club, the Bilderberg was named after the location of the first meeting.
Meetings
Since 1954, the group has had annual meetings usually in April, May or June. There were 2 meetings in 1955 and 1957. The 1976 meeting was cancelled due to Prince Bernhard's difficulties dealing with the Lockheed Bribery Affair. Secretary General of NATO Willy Claes stated in an interview that no two guests are allowed to sit next to each other more than once at Bilderberg, to enable the maximum exchange of views on important subjects. He also explained that guests are normally given around 10 minutes of talk time, after which a report is compiled of their presentation.[6]
Membership
Conferences have around 100-150 guests. Membership of the Bilderberg drawn mainly from Europe and USA. There have been almost no attendees from the southern hemisphere, possibly just one from New Zealand, and the first attendees from China were in 2011. [7] Members are heads of multinational corporations, political and financial leaders as well as royalty. Dennis Healey reports that Bilderberg new invitees were expected to speak so that the steering committee members can evaluate them.[8]
Advisory Group(s)
More rarefied than the Steering Committee is the advisory committee, which generally numbers only about 7 members. In 2001 David Rockefeller was chairman of the international advisory group, which is made up of long terme members of the Steering committee. Advisory group membership was indicated on the minutes from 1981 - 1995 (at least), but had been dropped by 2002.
Steering Committee
A Bilderberg Steering Committee weas formed in the 1950s.[9] It was originally smaller, but nowadays it typically has around 28 members, and its composition is chosen by the more elite Bilderberg advisory group. Henri de Castries currently chairs it. Other members include Étienne Davignon, journalist Bill Moyers, diplomat George W. Ball, perennial Bilderberger Victor Halberstadt, BBC Senior Independent Director Marcus Agius, Gabriel Hauge, Richard C. Holbrooke, Winston Lord and Paul Wolfowitz.
Secrecy
The group has enjoyed a high level of secrecy, though not up to the level of an even more select deep state milieu, Le Cercle. In October 1955, Der Spiegel carried a major report on the 'secret conference' of the 'Bilderberg circle', even terming it a "conspiracy" (in quotes). It reported on attendees and the discussions. This appears to have been the trigger for a serious commercially-controlled media blackout, since the next time it was known to be mentioned by the corporate media was a short, isolated mention in a Washington Post article of 1963.[10] Occasionally, conferences were reported, such as in 1977[11] but a media blackout continued and until about 2005.
1998 - Blair's Denial to Parliament
When asked in March 1998 in the UK Parliament, UK Prime Minister Tony Blair denied that he or any members of his government had ever attended Bilderberg[12], something contradicted by fellow 1993 attendee, William Rees-Mogg, by the UK Guardian and by a subsequently leaked attendance list.[13] Moreover, in a candid moment, Blair later admitted attending the conference, terming it a "really useful group".[14]
2009 - Exposure
The internet proved an effective tool after campaigning journalists such as Jim Tucker and Tony Gosling (who registered Bilderberg.org)[15]) worked hard to publicise it. Guardian reporter Charlie Skelton started regularly reporting on the group in 2009 with an article entitled "Our man at Bilderberg: in pursuit of the world's most powerful cabal" in which he wrote that "a handful of people are saying, this weekend is Bilderberg".[16] By 2010, a lot of the secrecy surrounding the group had been eroded and other commercially-controlled media sources were reporting from the meetings. In 2011, BBC acknowledged a changing of the official narrative about the group, artfully entitling an article "Bilderberg mystery: Why do people believe in cabals?" - reframing the "mystery" associated with the group to speculation about the mental health of people who question its toxic nature.[17]
Later leaks
In 2016, a large number of conference reports and miscellaneous associated documentation were posted on the Public Intelligence website.[18][19] These were posted to this website in 2017.
Activities
For a long time, outsiders could only speculate as to why 100+ senior figures from commerce, politics, finance, espionage etc. chose to meet up annually with such elaborate security. Increasingly, however, leaked documents and other information from insiders are clarifying the group's activities. most obviously, self-enrichment and the accumulation of power and influence is a factor. Members are also sent by deep politicians with specific agendas. The close proximity of so many figures from different nations facilitates the development not only of social relationships but undocumented international understandings and contingency plans.
1973 Oil Crisis
Visitors to the 1973 Bilderberg conference included the CEOs of Royal Dutch Shell, British Petroleum, Total S.A., ENI, Exxon as well as senior financiers. Discussions included.[20] Meeting minutes indicate that participants discussed a 400% increase in the price of oil, and created a "plan [on] how to manage the about-to-be-created flood of oil dollars."[21] The price of Egyptian crude oil was around $3 per barrel at the time of the meeting, but was $12 by 1974.[22]
Creation of the Euro
Étienne Davignon, former chairman, stated in a 2009 interview that the group "helped create the euro in the 1990s",[23] a boast which is supported by leaked documents and the Bilderberg's apparent choice of the President of the European Central Bank; of the three Presidents of the European Central Bank, the first two, Wim Duisenberg and Jean-Claude Trichet, were Bilderberg Steering Committee members and the next, Mario Draghi, attended the Bilderberg just before his appointment as president. The ECB's predecessor organisation, the European Monetary Institute was similarly lead exclusively by Bilderberg attendees.
Strategy of tension
Ferdinando Imposimato, Honorary President of the Supreme Court of Italy and former Senior Investigative Judge, the man who prosecuted the case involving the assassination attempt against Pope John Paul II, wrote a book accusing the Bilderberg Group of False flag terrorist attacks as part of a wider strategy of tension in Europe.[3][2]
Choosing the Secretary General of NATO
The top item of the agenda of the 1966 Bilderberg meeting, written by Robert R. Bowie, was the reorganising of NATO.[24] Since that meeting, no one has been permanently appointed as NATO Secretary General without first attending at least one meeting of the Bilderberg.
Deep State connections
The Bilderberg appears to be more or less in control of other senior appointments.
Choosing the UK Prime Minister
Since 1963, only two UK Prime Ministers have not attended the Bilderberg group (John Major and maybe Harold Wilson, though the latter is sometimes reckoned to have attended). Again, the most common pattern is to attend a Bilderberg meeting before become leader of a political party.
See Also
Related Documents
== Rating ==
6 September 2016
Robin
A good overview and vital and original insights
This page contains not only a solid overview, but also important original research about the Bilderberg done by Wikispooks editors. Who knew that the Bilderberg have controlled the NATO Secretary General since 1966?
References