9-11/Flight 93
Jump to navigation
Jump to search
 9-11/Flight 93 

The crater supposedly created by a 100 ton Boeing 757.

Date
11 September 2001
Description
The official narrative, that the plan crashed into soft earth and buried itself, explaining the complete lack of luggage, plane or body parts, was questioned by reporters at the time, but that coverage seems not to have been repeated.
Official narrative
The official narrative, that a plane effectively buried itself, is particularly implausible. One reporter for FOX News commented "It looks like there's nothing there, except for a hole in the ground." [1]
Problems
The lack of evidence speaks for itself:
Reporter: Any large pieces of debris at all?
Konicki: Na, there was nothing, nothing that you could distinguish that a plane had crashed there.
Reporter: Smoke? Fire?
Konicki: Nothing. It was absolutely quiet. It was, uh, actually very quiet. Um, nothing going on down there. No smoke. No fire. Just a couple of people walking around.[2]
Alternative Theories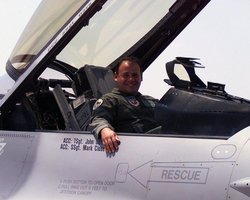 Pete Raffa was the Ohio Air National Guard commander out of Toledo, Ohio, Commander of Operations, 180th Fighter Wing scrambled on 9/11. He was found dead on 2 December 2001,[3] reportedly of a heart attack, aged 44.[4]
Missile
An alternative theory that missile was fired at it would seem to explain how debris can be scattered over an area of miles and who no bodies, luggage and only minimal plane parts were visible at the 'crash site'. There remains the utter lack of human remains or plane parts. The coroner, Wallace Miller remarked of the supposed crash scene that "It was a really a very unusual site. You almost would've thought the passengers had been dropped off somewhere... Even by the standard model of an airplane crash, there was very little, even by those standards." (CNN, 3/11/2002)[5]
Wallace Miller: "'The interesting thing about this particular case is that I haven't, to this day, 11 months later, seen any single drop of blood. Not a drop. The only thing I can deduce is that the crash was over in half a second. There was a fireball 15-20 metres high, so all of that material just got vaporised.'" ("On Hallowed Ground," The Age, 9/9/2002)"[5]
Donald Rumsfeld in Iraq in 2004 asked his audience of US troops to "imagine the kind of world we would face if the people who... shot down the plane over Pennsylvania and attacked the Pentagon...". An NPR broadcast the following day, "unable to get clarification from the Pentagon" presumed that this was just a slip of the tongue.[6]
Dick Cheney admitted on camera to giving the order to shoot down a flight after 3 had crashed that morning.[7]
Passengers disembarked
Some researchers have suggested that the plane landed and passengers got off, a la Operation Northwoods.[8]