2003
From Wikispooks
1993 < 1994 < 1995 < 1996 < 1997 < 1998 < 1999 <2000 < 2001 < 2002 < 2003 > 2004 > 2005 > 2006 > 2007 > 2008 > 2009 > 2010 > 2011 > 2012 > 2013
---
Death of David Kelly
Full article: David Kelly/Death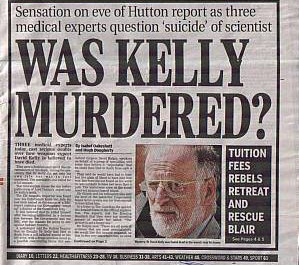 On 17 July 2003, a UK government whistleblower and weapons inspector in Iraq, David Kelly was found dead in the woods near his house. Ah inquest into his death was started but never completed. The UK government's official narrative is that he committed suicide, but many voices have suggested that this seems implausible and/or impossible.
Iraq War
Full article: 2003 Iraq War

In 2003, an illegal war of aggression was carried out by the US leadership, with the collaboration of others such as Tony Blair. This was responsible for the violent deaths of over a million Iraqis, and led millions more to flee the country. These actions were found to be war crimes by the Kuala Lumpur War Crimes Commission[1] and are widely seen as such by a lot of the world's population.
Arrest of Willem Matser
Full article: Willem Matser

In 2003, Willem Matser, a Dutch spook, and "key advisor" to NATO Secretary General was arrested with documents relating to a $200,000,000 money transfer from Bogota, Colombia,[2] together with a convicted cocaine dealer, Pietro Fedino connected to the Cali cartel.[3] A year later, Matser was found guilty of forgery and fraud and released with time served plus a 3 months' suspended sentence.[4]
Events
New Groups
New Websites
Groups that were Wound Up
A Quotation
References