1982
Jump to navigation
Jump to search
1972 < 1973 < 1974 < 1975 < 1976 < 1977 < 1978 <1979 < 1980 < 1981 < 1982 > 1983 > 1984 > 1985 > 1986 > 1987 > 1988 > 1989 > 1990 > 1991 > 1992
---
 ( 1980s: )    
 1982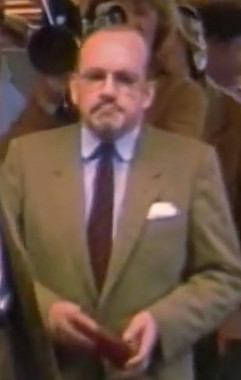 In 1982 Edwin Wilson was arrested for selling Arms for Libya (most notably almost the entire US domestic supply of C-4). The CIA denied all knowledge of his illegal arms deal, although they were later found to be lying.
Langemann Papers
Full article: Langemann Papers

The Langemann Papers exposed Le Cercle, amongst other topics. David Teacher terms them "the first serious breach in Cercle security, a leak which soon spread to other countries."[1]
Falklands War
Full article: Falklands War

After an attack by Argentina, the government of Margaret Thatcher ordered the Royal Navy to retake the Falkland Islands. This boosted her flagging popularity at home, after her economic policies proved unpopular.
Events
| Event | Date | Description |
| --- | --- | --- |
| Operation Paperclip | | A transfer of top German scientists to USA. |
| Cold War | | The official narrative had 2 diametrically opposed systems locked in combat with one another since soon after WW2. Each of the "superpowers" and its team of allies needed to outdo each other by creating ever more and deadlier weapons, creating a kind of perpetual war for perpetual peace, with the warring parties engaging mainly in covert/proxy wars. Deep state interests blossomed in the climate of fear and paranoia. |
| The Troubles | | The sectarian conflict in Northern Ireland which flared into serious sustained violence through the summer of 1969 |
| Operation Condor | | US-backed campaign of assassination and terrorisation carried out in South America. |
| Inslaw | | The Inslaw affair was a complex financial/political fraud the full dimensions of which were never uncovered, but some of which were forced onto the official record. |
| Project STARGATE | | Project STARGATE aimed to gain domination over entire nations by making them cede their autonomy and privacy to the controlling person or group. |
| 1980s Afghan war | | |
| Arms-to-Iraq | | A series of arms deals by UK companies during the Iran-Iraq War, when there was a UK government-endorsed UN embargo on such sales. |
| Iran-Iraq war | | |
| 1981 Dutch Cabinet crisis | | PM Dries van Agt was set-up (after a decade-long power struggle) to work with a lot of deep politicians, spooks, Israel's liaison Joop den Uyl, the Dutch Operation Gladio boss, a corrupt royal family and NATO. He never had a chance. |
| Yinon Plan | | |
| Israel/Violations of Lebanese sovereignty | | |
| Le Cercle/1982 (Washington) | | |
| The Mehamn Accident | | Passenger plane that crashed because of actions of British fighter jet. The cause was covered up by 3 investigation committees, and is still not officially admitted. |
| Brabant Massacres | | A set of murders between 1982 and 1985, in which 28 people died and 40 were injured. It became Belgium's most notorious unpunished crime spree. |
| Falklands War | | A politically very convenient military conflict championed by Margaret Thatcher. |
| Belgrano affair | | |
| Bilderberg/1982 | | The 30th Bilderberg, held in Norway. |
| 1982 Lebanon War | | An Israeli invasion of Lebanon. They militarily occupied some of the country until 2000. |
| Le Cercle/1982 (Wildbad Kreuth) | | |
| Hyde Park bombing | | Provisional IRA nail bomb in London's Hyde Park. |
| Regent's Park bombing | | A 1982 London bombing ascribed but never proved to be the work of the Provisional IRA. |
New Groups
Groups that were Wound Up
==Quotations== 
Deaths
Title
Born
Died
Place of death
Cause of death
Summary
Description
Barbara Clay
1911
1982
Propagandist
Pierre Bonvoisin
1903
1982
Banker
Attended the first Bilderberg and three more. Father of Benoît de Bonvoisin
John Keswick
1906
1982
Dumfriesshire
UK
Spook
Businessperson
UK single Bilderberger businessman Jardine Matheson/SOE
Otto Kersten
1928
1982
Leader of the Labour Party (UK)
German labour leader who attended two Bilderberg meetings in the 1970s
Christofore Stratos
1924
1982
Businessperson
Greek businessman, politician
John Cordeaux
23 July 1902
4 January 1982
Spook
Politician
Guido Colonna di Paliano
16 April 1908
27 January 1982
Italy
Naples
Henry S. Morgan
24 October 1900
8 February 1982
New York
United States
Banker
John Hay Whitney
17 August 1904
8 February 1982
New York
Manhasset
Diplomat
Billionaire
Deep state operative
Billionaire active investor, U.S. Ambassador to the United Kingdom 1957-61
Nathan Witt
11 February 1903
16 February 1982
New York
United States
Manhattan
Spook
Lawyer
Hans-Joachim von Merkatz
7 July 1905
25 February 1982
Politician
Deep state operative
First president of the Vaduz Institute
Philip K. Dick
16 December 1928
2 March 1982
United States
California
Santa Ana
Author
US science fiction writer concerned with the nature of reality, perception, human nature, and identity.
Clifford Case
16 April 1904
5 March 1982
Washington DC
Politician
Lawyer
A lawyer cum politician who attended the 1958 Bilderberg as a US Senator from New Jersey
Rab Butler
9 December 1902
8 March 1982
United Kingdom
Great Yeldham
Nathan Farragut Twining
11 October 1897
29 March 1982
Texas
Lackland Air Force Base
Soldier
Walter Hallstein
17 November 1901
29 March 1982
Germany
Stuttgart
Diplomat
Academic
Lawyer
Deep state operative
Bilderberg, President of the European Commission
Abe Fortas
19 June 1910
5 April 1982
United States
Washington DC
Academic
Judge
Jerry Daniels
11 June 1941
29 April 1982
Thailand
Bangkok
Spook
A CIA spook from the heroin/covert war operation in Laos and contact to general Vang Pao. Was reportedly poisoned by carbon monoxide.
Cevdet Sunay
10 February 1899
22 May 1982
Turkey
Istanbul
Soldier
Politician
Thomas B. McCabe
11 July 1893
27 May 1982
United States
Pennsylvania
Swarthmore
Roberto Calvi
13 April 1920
17 June 1982
London
UK
Banker
An Italian banker dubbed "God's Banker" (Italian: Banchiere di Dio) by the press because of his close association with the Holy See. Found death, hanging from a bridge in London.
Roscoe H. Hillenkoetter
8 May 1897
18 June 1982
New York
Walworth Barbour
4 June 1908
21 July 1982
US
Massachusetts
Gloucester
Diplomat
US Ambassador to Israel for 12 years
Fernand Van Langenhove
30 June 1889
29 July 1982
Belgium
Brussels
Ruth First
4 May 1925
17 August 1982
Mozambique
Maputo
Activist
An anti-apartheid activist, investigative journalist, and scholar. She wrote in her autobiography that her life was dedicated "to the liberation of Africa for I count myself an African, and there is no cause I hold dearer."
George Woods
27 July 1901
20 August 1982
New York
United States
Lisbon
Central banker
Attended the 1966 Bilderberg as President of the World Bank Group
Nahum Goldmann
10 July 1895
29 August 1982
President of the World Jewish Congress for 26 years
Marcus Wallenberg Jr
5 October 1899
13 September 1982
Banker
Wallenberg family
Businessperson
Charles Rolo
16 October 1916
October 1982
Cancer
Propagandist
Omer Becu
21 August 1902
9 October 1982
Belgium
Antwerp
Union organizer
Belgian labor leader, two Bilderbergs in the 1950s
Pierre Mendès France
11 January 1907
18 October 1982
Paris
Politician
Prime Minister of France in the 1950s, Bilderberg 1968, Le Siecle
Siegmund Warburg
30 September 1902
22 October 1982
London
UK
Spook
Banker
Spooky banker who co-founded S. G. Warburg & Co., employed Anthony Griffin.
Gotthard von Falkenhausen
20 January 1899
1 November 1982
Banker
German banker
Leonid Brezhnev
19 December 1906
10 November 1982
Russia
Soviet Union
Moscow
Near
Zarechye
Civil servant
Engineer
Marcus Wallenberg Jr.
5 October 1899
13 November 1982
Sweden
Stockholm
Banker
Athlete
Deep state operative
Chairman of the Federation of Swedish Industries, Bilderberg Steering committee, 22 Bilderbergs
Gordon Gray
30 May 1909
26 November 1982
Washington DC
Spook
Politician
Ernst Falkenheim
8 May 1898
16 December 1982
German industialist
Births
References