1980
From Wikispooks
1970 < 1971 < 1972 < 1973 < 1974 < 1975 < 1976 <1977 < 1978 < 1979 < 1980 > 1981 > 1982 > 1983 > 1984 > 1985 > 1986 > 1987 > 1988 > 1989 > 1990
---
 ( 1980s: )    
 1980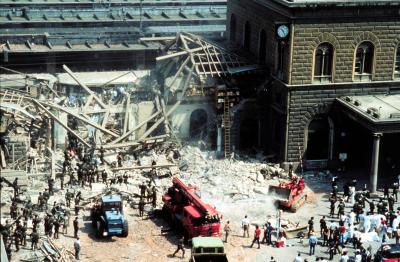 In August 1980, NATO operatives set of a large bomb in Bologna Central Train Station,
Italy
, killing 85 and wounding about 200 people. This was part of the decades long
Strategy of Tension
to promote fear among the Italian population. The corporate media blamed it on the communists, as a way of tackling the popularity of communism.
The 1980s saw the end of the Cold War, and a transition by the MICC to a backup plan to keep social control firmly in the hands of the few - the "war on terror". This had been prepared in Jerusalem in 1979, and saw a gradual increase in false flag terror events in Western Europe, most notably in Italy.
Bologna massacre
Full article: Bologna massacre

Operation Gladio was set up around the end of WW2, with the aim of resisting a potential invasion from the Soviet Union. Organised outside the national government, this was originally at least an MI6/CIA operation. By the late 1960s, concerns were so great that the Italian voters might vote in a communist leader, that the decision was taken to active the gladiators to prevent a communist government by whatever means were deemed necessary. The Gladiatori committed various murders and acts of false flag "terrorism", including in August 1980, killing 85 people with a bomb in Bologna Central Station.
Assassination of John Lennon
Full article: John Lennon/Assassination

John Lennon was assassinated on 8 December 1980, a killing which was (at least) witnessed by Operation 40 member, and the assassin José Sanjenís Perdomo. Commercially-controlled media did not mention the name of Perdomo until 1987.[1]
Events
New Groups
Groups that were Wound Up
References