1987
Jump to navigation
Jump to search
1977 < 1978 < 1979 < 1980 < 1981 < 1982 < 1983 <1984 < 1985 < 1986 < 1987 > 1988 > 1989 > 1990 > 1991 > 1992 > 1993 > 1994 > 1995 > 1996 > 1997
---
 ( 1980s: )    
 1987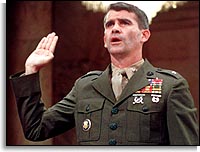 Lt. Col. Oliver North is sworn in July 7, 1987, before the congressional committee investigating the Iran-contra affair.
In 1987 George H. W. Bush's Enterprise was winding down. Iran-Contra may have been a limited hangout intended as a coup to undseat Ronald Reagan.
Iran-Contra
Full article: "Iran-Contra"

1987 marked the investigation of the Iran contra affair, which may have been a failed bid by George H. W. Bush to end Ronald Reagan's presidency.[1] It was however successful at keeping a lid on the emerging details about CIA drug trafficking and associated crimes of the enterprise. Oliver North was chosen as the fall guy.
A 1998 Washington Post short review of the case made no mention of either drugs or the name George H. W. Bush.[2]
Change of enemies
The Carlyle Group was set up, which was later to reap huge profits from the "war on terror" that would take the place of the USSR after the Soviet empire unravelled.
Events
| Event | Start | End | Description |
| --- | --- | --- | --- |
| Operation Paperclip | 8 May 1945 | 1990 | A transfer of top German scientists to USA. |
| Cold War | 1947 | 26 September 1991 | The official narrative had 2 diametrically opposed systems locked in combat with one another since soon after WW2. Each of the "superpowers" and its team of allies needed to outdo each other by creating ever more and deadlier weapons, creating a kind of perpetual war for perpetual peace, with the warring parties engaging mainly in covert/proxy wars. Deep state interests blossomed in the climate of fear and paranoia. |
| The Troubles | 1966 | 1998 | The sectarian conflict in Northern Ireland which flared into serious sustained violence through the summer of 1969 |
| Operation Condor | 1968 | 1989 | US-backed campaign of assassination and terrorisation carried out in South America. |
| Inslaw | 1970 | 1990 | Complex financial/political fraud the full dimensions of which were never uncovered, but some of which were forced onto the official record. |
| FBI/Activities 1971-2001 | 1971 | 2001 | FBI activities between the official end of COINTELPRO and 911 |
| FBI Activities 2001-present | 1971 | 2001 | FBI activities between the 911 and present |
| Project STARGATE | 1978 | 1995 | Project STARGATE aimed to gain domination over entire nations by making them cede their autonomy and privacy to the controlling person or group. |
| Bofors Affair | 1979 | 1988 | A collective name for two deals in which the Swedish arms manufacturer Bofors was involved in, including smuggling and bribes. |
| 1980s Afghan war | 24 December 1979 | 15 February 1989 | |
| Arms-to-Iraq | 1980 | 1988 | A series of arms deals by UK companies during the Iran-Iraq War, when there was a UK government-endorsed UN embargo on such sales. |
| Iran-Iraq war | 22 September 1980 | 20 August 1988 | |
| The secret war against Sweden | 27 October 1981 | 1988 | |
| Contaminated blood affair | 1983 | 2003 | For several years in the 1980s France knowingly exported tainted blood, killing thousands. |
| McMartin Preschool | August 1983 | July 1990 | The day care scandal that started the so-called "satanic panic" of the 80s. Covered up. |
| Al-Yamamah arms deal | September 1985 | August 2006 | A complex series of multi billion dollar arms for oil deals set up under the government of Margaret Thatcher, involving a bunch of deep state arms dealers, and her son - who earned £12 million. Fines levied have been in the hundreds of millions, while kickbacks amount to billions. |
| BRISPEC sting operation | 1986 | 1988 | FBI California entrapment that didn't touch Willie Brown |
| Savings and loan fraud | 1986 | 1995 | "The largest theft in the history of the world", carried out in broad daylight, with legislative assistance. So many US politicians were directly or indirectly involved, that it was never properly exposed and efforts are ongoing to try to hide the fact that it was no mere accident. |
| Toyota War | 16 December 1986 | 11 September 1987 | |
| Bilderberg/1987 | 24 April 1987 | 26 April 1987 | 35th Bilderberg, in Italy, 106 participants |
| Colloquium on Intelligence Requirements for the 1990s | 4 December 1987 | 5 December 1987 | Spooky 1987 conference |
New Groups
==Quotations== 
Deaths
Title
Born
Died
Place of death
Cause of death
Summary
Description
Arthur Dean
1897
1987
Lawyer
Deep state operative
Chairman and senior partner of Sullivan & Cromwell, where he worked closely with John Foster Dulles
William Skardon
1904
1987
Spook
MI5 counterintelligence expert who failed to catch Philby and many others
Norman Dodd
29 June 1899
1 January 1987
Henrik Beer
1915
1987
Geneva
Secretary General of the Swedish Red Cross. Attended the 1963 and 1964 Bilderbergs.
Jacques Georges-Picot
16 December 1900
1987
Financier
Single Bilderberg French financier. Director of French multinational corporation Suez 1957-1971.
Duncan Gordon
1914
1987
Deep state operative
Canadian accountant and deep state operative, and brother of Walter L. Gordon.
Carl-Fredrik Algernon
9 October 1925
15 January 1987
Soldier
Swedish officer investigating weapons smuggling and corruption. Fell in front of a train.
Ove Rainer
14 September 1925
27 January 1987
Sweden
Stockholm
Politician
Lawyer
Businessperson
A member of Palme's government who resigned amid tax impropriety
A. Davidson Dunton
4 July 1912
7 February 1987
Ottawa
Ontario
President of the CBC from 1945-57. Bilderberg 1966
Hugh Greene
15 November 1910
19 February 1987
Journalist
TV executive
Edward Lansdale
6 February 1908
23 February 1987
Virginia
McLean
Spook
Soldier
H. John Heinz II
10 July 1908
23 February 1987
Cancer
Businessperson
34 Bilderberg meetings, Bilderberg Steering & Advisory Committees
Knut Frydenlund
31 March 1927
26 February 1987
Oslo's Fornebu Airport
Cerebral hemorrhage?
Diplomat
Norwegian foreign minister who attended 2 Bilderbergs in the early 1980s. Handpicked by spook Trond Johansen for the job.
John Wiley
March 1987
Gunshot
Politician
A South African politician whose death would later lead to VIPaedophile allegations.
Daniel Morgan
3 November 1949
10 March 1987
London
Head injury
Private investigator
Santo Trafficante
15 November 1914
17 March 1987
United States
Texas
Houston
Spook
Walter Gordon
27 January 1906
21 March 1987
Ontario
Toronto
Author
Politician
Accountant
Businessperson
Triple Bilderberger, President of the Canadian Privy Council
Clint Murchison Jr.
12 September 1923
30 March 1987
US
Dallas
Texas
Businessperson
Hubert Ansiaux
24 November 1908
9 April 1987
Belgium
Ukkel
Central banker
Belgian nobility
Double Bilderberger who was Governor of the National Bank of Belgium for 14 years. Involved in setting up the International Monetary Fund.
Cecil King
20 February 1901
17 April 1987
Dublin
Eire
Publisher
Maxwell Taylor
26 August 1901
19 April 1987
Washington DC
Maurice Gibson
1 May 1913
25 April 1987
Judge
Judge killed by the IRA.
John Silkin
18 March 1923
26 April 1987
London
Thomas Trenchard
1923
29 April 1987
Businessperson
William Casey
13 March 1913
6 May 1987
New York
Roslyn Harbor
Ronald Reagan's campaign manager, who was appointed Director of Central Intelligence.
Kurt Becker
31 March 1920
10 May 1987
Germany
Hamburg
Journalist
German journalist
James Jesus Angleton
9 December 1917
12 May 1987
Washington's Sibley Memorial Hospital
Spook
Deep politician
"The dominant counterintelligence figure in the non-communist world", according to Richard Helms, DCI.
Elizabeth Zarubina
1 January 1900
14 May 1987
Spook
Huntington D. Sheldon
14 February 1903
19 May 1987
Virginia
McLean
Gunshot
Spook
Banker
Pilot
As Director of the Office of Current Intelligence, Sheldon briefed three Presidents with the became the President's Daily Brief
Frank Darvall
16 April 1906
21 May 1987
Author
Diplomat
Historian
Trade unionist
UK labour leader who attended 3 Bilderbergs in the 1950s
Léon Lambert
2 July 1928
26 May 1987
Brussels
Erasmus Hospital
Financier
Belgian nobility
Banking heir and Bilderberg Steering Committee member and financier who suddenly died aged 58
Arthur Sackler
22 August 1913
26 May 1987
New York
United States
Businessperson
Art collector
Big Pharma executive
"No single individual did more to shape the character of medical advertising than the multi-talented Dr. Arthur Sackler. His seminal contribution was bringing the full power of advertising and promotion to pharmaceutical marketing."
Arthur F. Burns
27 August 1904
26 June 1987
Maryland
Baltimore
James Burnham
22 November 1905
28 July 1987
Connecticut
Kent
Author
Philosopher
Neoconservatism
Nobusuke Kishi
13 November 1896
7 August 1987
Japan
Fukuoka
Politician
War criminal
Deep state operative
Leon Keyserling
11 January 1908
9 August 1987
United States
Washington DC
Cees de Galan
2 May 1932
9 August 1987
Netherlands
Groningen
Academic
Economist
Dutch economist who assisted Victor Halberstadt mediating the "1981 cabinet crisis". Member of the 1971 shadow-cabinet full of deep politicians, spooks and even one accused paedophile.
Rudolf Heß
26 April 1894
17 August 1987
Germany
Berlin
Spandau
Deputy Führer to Adolf Hitler until 1941, when he flew solo to Scotland in an attempt to negotiate peace with the United Kingdom during World War II. The circumstances around his flight are still highly unclear.
Bayard Rustin
17 March 1912
24 August 1987
New York
Manhattan
Activist
Heribert Apfalter
22 September 1925
26 August 1987
Austria
Weistrach
Heart attack
Businessperson
Iran-Contra/Premature death
Austrian businessman who attended the 1979 Bilderberg. Sold weapons to Iran and Iraq. His sudden death in 1987 was surrounded by rumors of foul play.
Hans Tofte
1911
28 August 1987
US
Washington DC
Spook
Danish born OSS and CIA irregular warfare and psychological operations expert, worked mostly in Asia.
William Haley
24 May 1901
6 September 1987
Jersey
Editor
Director-General of the BBC
Christopher Soames
12 October 1920
16 September 1987
Odiham
Politician
UK politician who attended the 1981 and 1982 Bilderberg
Sven Andersson
5 April 1910
21 September 1987
Stockholm
Politician
Deep state operative
Swedish Social Democrat politician and deep state operative
Henry Ford II
4 September 1917
29 September 1987
US
Michigan
Detroit
Businessperson
Grandson of Henry Ford. Ford CEO after WW2. Hotchkiss School, Yale University, Book And Snake.
Clare Boothe Luce
10 March 1903
9 October 1987
Washington DC
Author
Politician
Knut Getz Wold
3 August 1915
9 October 1987
Economist
Central banker
Central Bank Governor of Norway 1970-85 who attended the 1979 Bilderberg
Uwe Barschel
13 May 1944
11 October 1987
Politician
Iran-Contra/Premature death
German politician with arms smuggling connections who died suddenly in what was ruled a suicide.
Fahri Korutürk
3 August 1903
12 October 1987
Turkey
Istanbul
Diplomat
Politician
Mariner
Turkish admiral, diplomat and politician who was president of Turkey 1973-1980. Presided over the 1974 Turkish Invasion of Cyprus
Thomas Sankara
21 December 1949
15 October 1987
Burkina Faso
Ouagadougou
Soldier
"Africa's Che Guevara"
... further results
Births
References