Arms deal
Jump to navigation
Jump to search
 Arms deal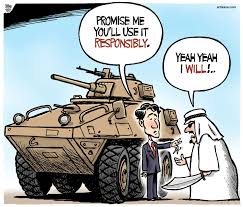 A major source of secret deep state activity.
The weapons trade, just like the drug and sex trafficking, is a major source of secret deep state activity.
Official narrative
Who? What? Where? Huh? Arms deals do go on, in secret, and their legality is rarely looking into in depth. As of June 2016, the Wikipedia page for "Arms deal" was a disambiguation page with 5 links on it. There was no page for 'Arms Dealer'.
Misdirection of Controlled Media
Gerald James wrote in 2007 that "Occasionally there is news of some scandal which invariably involves some middleman or company disowned by his or its particular sponsor government due to embarrassment over policies and sales becoming public knowledge. It is true, however, that sometimes even elected Ministers do not know what is going on as the deals and policies are made by unelected unaccountable senior civil servants and intelligence and security officers. A typical case is the £2bn Pergau Dam related Malaysian defence deal. Secrecy is the road to corruption and the two are never far apart."[1]
Arms trade
See also:
Full article: Arms trade

Examples
| Page name | Start | End | Description |
| --- | --- | --- | --- |
| "Iran-Contra" | | | A drug trafficking/weapons smuggling operation carried out in the 1980s with the approval of the top of the US government. |
| Al-Salam weapons deal | 21 December 2005 | 2017 | A large arms deal signed during the government of Tony Blair. |
| Al-Yamamah arms deal | September 1985 | August 2006 | A complex series of multi billion dollar arms for oil deals set up under the government of Margaret Thatcher, involving a bunch of deep state arms dealers, and her son - who earned £12 million. Fines levied have been in the hundreds of millions, while kickbacks amount to billions. |
| Arms for Libya | 1977 | 1981 | Around 20 tonnes of C-4 plastic explosive, training in bomb making, together with thousands of rifles, handguns & other weapons sold by a CIA operative to Muammar Gaddaffi's Libya in the late 1970s - early 1980s. Then "the biggest arms-dealing case in U.S. history", still lacking its own page on Wikipedia as of 2020. |
| Arms for Libya 2.0 | | | A replay of the original Arms For Libya, in that a US deep state arms dealer was charged with selling weapons to Libya. However, in contrast to the original case, Marc Turi had a secret ace in the hole which caused the USDOJ to drop all charges and hush the affair up. |
| Arms-to-Iraq | 1980 | 1988 | A series of arms deals by UK companies during the Iran-Iraq War, when there was a UK government-endorsed UN embargo on such sales. |
| CIA/Arms trafficking | | | The CIA's efforts to obscure evidence of its arms deals can be grasped from looking at the Arms for Libya case. |
| October surprise | 1980 | 1980 | A secret deal which offered the Iranians weapons in return for their preventing the release of the US embassy hostages before the 1980 US presidential election. |
| Pergau Dam affair | 1988 | | A "fateful arms-for-aid deal" signed off at the highest level. |
Related Quotations
Related Documents
Many thanks to our
Patrons
who cover ~2/3 of our hosting bill. Please join them if you can.
References