1961
Jump to navigation
Jump to search
1951 < 1952 < 1953 < 1954 < 1955 < 1956 < 1957 <1958 < 1959 < 1960 < 1961 > 1962 > 1963 > 1964 > 1965 > 1966 > 1967 > 1968 > 1969 > 1970 > 1971
---
 ( 1960s: )    
 1961
1961 began with a warning by outgoing US President General Eisenhower about the danger of the military–industrial complex gaining power over the US democratic process. The assassination of his successor, John F. Kennedy, less than 3 years later, was to dramatically illustrate how prescient were Eisenhower's words, which are at least as relevant today as when he spoke them back in January 1961.
Eisenhower's warning
Outgoing US President General Eisenhower well understood how the desire of Wall Street for profits-at-all-costs represented a threat to the democratic system. On January 17, 1961, his final televised Address to the Nation addressed the rise of the what he famously referred to as "the military–industrial complex". It went more of less unheeded by the commercially-controlled media. The Defense Intelligence Agency was formed in 1961[Why?], as was Operation 40's Interpen group, intended for assassination Fidel Castro, but which whch played some part in the 1963 assassination of John F. Kennedy.
Bay of Pigs Invasion
Full article: Bay of Pigs Invasion

In May 1961, the Bay of Pigs Invasion proved a military disaster for the CIA, due to lack of air cover. In fact, this may not have been accidental. Historians have argued that failure was the planned result, since many of those involved were killed and JFK was blamed for lack of support for the venture. Naturally this angered the Cuban expat community within the CIA. These made up the majority of Operation 40, which was exploited by the deep politicians who organised the JFK assassination.
Arms Race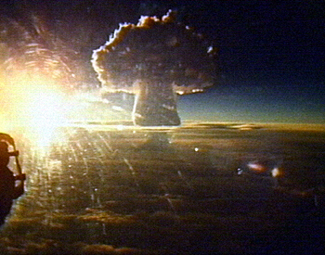 In 1961, the Soviet Union tested a 57 Megaton bomb - equal to 1400 times the bomb dropped on Hiroshima.
Assassination of Patrice Lumumba
Full article: Patrice Lumumba/Murder

A CIA-backed coup in the Congo removed Patrice Lumumba from power. Their expertise in assassinations, gathered abroad, was to be used in USA throughout the [1960s]] so dramatically as to lead to the House Select Committee on Assassinations.
Single Convention on Narcotic Drugs
Full article: Single Convention on Narcotic Drugs

In 1961, the Single Convention on Narcotic Drugs made a number of drugs effectively illegal worldwide, including cocaine. Drafting of the treaty began in 1948.
Events
| Event | Date | Description |
| --- | --- | --- |
| Tuskegee syphilis experiment | | A murderous experiment which looked at the progression of syphilis. Subjects were told that they were being treated, while in fact treatment was denied them. Exposed after 40 years by a whistleblower who went to the press. |
| Operation Paperclip | | A transfer of top German scientists to USA. |
| Cold War | | The official narrative had 2 diametrically opposed systems locked in combat with one another since soon after WW2. Each of the "superpowers" and its team of allies needed to outdo each other by creating ever more and deadlier weapons, creating a kind of perpetual war for perpetual peace, with the warring parties engaging mainly in covert/proxy wars. Deep state interests blossomed in the climate of fear and paranoia. |
| Operation Demagnetize | | "The institutional hardening of Gladio", an expansion of Gladio in the late 1940s, early 1950s. |
| Lockheed/Bribery scandals | | A series of bribes made by officials of the U.S. aerospace company Lockheed from the late 1950s to the 1970s in the process of negotiating the sale of aircraft. |
| Project Ulysses | | Mossad covert operation to infiltrate and subvert the Palestinian political leadership |
| Operation Midnight Climax | | A "free-wheeling illicit criminal" CIA project which filmed the effects of prostitutes dosing up victims with drugs such as LSD. |
| Project MKUltra | | An illegal mind control research programme. |
| Algerian War | | The Algerian War of Independence |
| COINTELPRO | | Series of covert and illegal projects aimed at subversion of 1960s left wing movements |
| Vietnam War | | The Vietnam War was a proxy war lead by US that occurred in Vietnam, Laos, and Cambodia from December 1956 to the fall of Saigon on 30 April 1975. Millions of people were killed, mostly Vietnamese. JFK was assassinated soon after declaring his intent to withdraw US troops. The war helped the CIA to refine its methods of illegal drug trafficking, torture and the like. |
| Congolese Operation | | |
| Patrice Lumumba/Assassination | | A US Deep state backed assassination, ordered by Allen Dulles, which was followed by decades of bloody violence. |
| Bilderberg/1961 | | The 10th Bilderberg, the first in Canada and the 2nd outside Europe. |
| Bay of Pigs Invasion | | A probably deliberately failed attempt to invade Cuba by the CIA. This was very possibly an attempt to entrap JFK into full scale military action against Cuba. |
| Dag Hammarskjöld/Premature death | | |
New Groups
Groups that were Wound Up
==Quotations== 
Deaths
Births
Title
Born
Place of birth
Died
Summary
Description
Victoria Nuland
1961
Louisiana
Baker
U.S.
US Assistant Secretary of State, European and Eurasian Affairs (September 2013).
Russ Tice
1961
Whistleblower
Spook
Sergei Glazyev
1 January 1961
Ukraine
Zaporizhia
Politician
Russian politician, economist and full member of Russian Academy of Science since 2008
Adam LeBor
1961
London
UK
Author
Journalist
An author with an interest in history and the BIS
Charles Shoebridge
1961
Author
Soldier
Broadcaster
Police officer
"Terror expert"
Michael Ratney
1961
Diplomat
US envoy on Syria kicked out for not being friendly to Israel.
Rohan Gunaratna
1961
Academic
"Terror expert"
Alexis Papahelas
1961
Greece
Athens
Journalist
Editor
Greek journalist and editor who has visited 5 Bilderberg meetings.
Scott Malcomson
1961
US
California
Author
Editor
Businessperson
Philip Lowe
1961
Australia
New South Wales
Economist
Central banker
Governor of the Reserve Bank of Australia
Michael O'Hanlon
1961
Deep state operative
Suspected US deep state operative who co-authored Protecting the American Homeland - A Preliminary Analysis for Brookings
George Gao
1961
Virologist
Kiron Skinner
1961
Academic
Deep state functionary
Former Director of Policy Planning
Shen Dingli
1961
Academic
Professor of international relations at Fudan University. Post-docorate from Princeton University
Tim Evans
10 January 1961
Deep state operative
Close to a number of Foundations, World Bank, WHO. Event 201 participant.
Mark Urban
26 January 1961
London
Marylebone
England
Author
Spook
Soldier
Journalist
Academic
Broadcaster
Frank Baker
27 January 1961
Diplomat
George Stephanopoulos
10 February 1961
Massachusetts
Fall River
U.S.
Journalist
Deep politician
US/President/Senior Advisor, Bilderberg 1996 and 1997
David Graeber
12 February 1961
2 September 2020
Academic
Anarchism
Anarchist anthropologist whose work included Debt, The First 5000 Years
Alison Saunders
14 February 1961
Scotland
Aberdeen
Lawyer
Angela Eagle
17 February 1961
Bridlington
England
Politician
UK Labour Party MP
Maria Eagle
17 February 1961
Bridlington
England
Politician
Lawyer
British Labour MP who held several ministerial appointments in Tony Blair's government
Igor Kostyukov
21 February 1961
Spook
Mariner
Erna Solberg
24 February 1961
Norway
Bergen
Politician
David Evans
25 February 1961
Sandra Barr
March 1961
County Tyrone
Researcher
Blogger
An independent researcher into psyops and hoaxes. Examines the numerology and why certain dates are used for such events. Exposes establishment corruption.
Simon McDonald
9 March 1961
Salford
England
Diplomat
Michael O'Leary
20 March 1961
–
Eire
Cork
Kanturk
Disputed
Discuss
Businessperson
CEO Ryanair, union buster
Yanis Varoufakis
24 March 1961
Greece
Athens
William Hague
26 March 1961
Rotherham
UK
Described Le Cercle as "a political group which organises conferences."
Stuart Polak
28 March 1961
Politician
Has done more than most to promote Israel's case to the right of British politics
Roland Rudd
April 1961
Kensington
(age 57)
England
Public relations executive
Richard Howitt
5 April 1961
Reading
Berkshire
Politician
Member of the European Parliament
Karl William Hofmann
6 April 1961
California
Redwood City
Diplomat
Career diplomat on National Security Council, changed to Gates-funded family planning organization
Mohammad Sarafraz
7 April 1961
Iran
Tehran
Sarah Bloom Raskin
15 April 1961
Massachusetts
Medford
U.S.
Lawyer
John Podhoretz
18 April 1961
New York
Author
Journalist
Pundit
Film critic
Derek Vaughan
2 May 1961
Neath
UK
Politician
Ewa Björling
3 May 1961
Politician
Bilderberger Swedish politician
Frans Timmermans
6 May 1961
Netherlands
Maastricht
Diplomat
Politician
Nicolas Baverez
8 May 1961
France
Lyon
Journalist
Lawyer
Editor
Bilderberg Steering committee, French lawyer
Bill de Blasio
8 May 1961
New York
US
Politician
US/2020 Presidential election/Candidates
Steve Kangas
11 May 1961
8 February 1999
Whistleblower
Spook
Journalist
Teacher
A spook turned whistleblower who was one of the first political campaigners on the internet. Probably murdered by the US Deep state.
Achim Steiner
17 May 1961
Diplomat
Bureaucracy
Michael Bates
26 May 1961
Gateshead
Politician
Lawrence Lessig
3 June 1961
South Dakota
Rapid City
Academic
Proponent of reduced legal restrictions on copyright, trademark, and radio frequency spectrum, particularly in technology applications.
Jim Goad
12 June 1961
Pennsylvania
Ridley Park
Author Publisher
Joko Widodo
21 June 1961
Indonesia
Surakarta
Mike Baker
22 June 1961
London
England
Spook
Businessperson
Ralph Reed
24 June 1961
Virginia
Portsmouth
Activist
Lobbyist
... further results
On 1 July 2021 crowdfunding covered our webhosting bill for the first time ever! Many Thanks to all 23 of our patrons whose generosity keeps this site running!
References