1961
Jump to navigation
Jump to search
1951 < 1952 < 1953 < 1954 < 1955 < 1956 < 1957 <1958 < 1959 < 1960 < 1961 > 1962 > 1963 > 1964 > 1965 > 1966 > 1967 > 1968 > 1969 > 1970 > 1971
---
 ( 1960s: )    
 1961
1961 began with a warning by outgoing US President General Eisenhower about the danger of the military–industrial complex gaining power over the US democratic process. The assassination of his successor, John F. Kennedy, less than 3 years later, was to dramatically illustrate how prescient were Eisenhower's words, which are at least as relevant today as when he spoke them back in January 1961.
Eisenhower's warning
Outgoing US President General Eisenhower well understood how the desire of Wall Street for profits-at-all-costs represented a threat to the democratic system. On January 17, 1961, his final televised Address to the Nation addressed the rise of the what he famously referred to as "the military–industrial complex". It went more of less unheeded by the commercially-controlled media. The Defense Intelligence Agency was formed in 1961[Why?], as was Operation 40's Interpen group, intended for assassination Fidel Castro, but which whch played some part in the 1963 assassination of John F. Kennedy.
Bay of Pigs Invasion
Full article: Bay of Pigs Invasion

In May 1961, the Bay of Pigs Invasion proved a military disaster for the CIA, due to lack of air cover. In fact, this may not have been accidental. Historians have argued that failure was the planned result, since many of those involved were killed and JFK was blamed for lack of support for the venture. Naturally this angered the Cuban expat community within the CIA. These made up the majority of Operation 40, which was exploited by the deep politicians who organised the JFK assassination.
Arms Race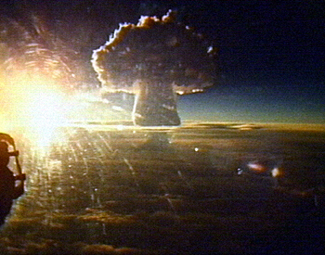 In 1961, the Soviet Union tested a 57 Megaton bomb - equal to 1400 times the bomb dropped on Hiroshima.
Assassination of Patrice Lumumba
Full article: Patrice Lumumba/Murder

A CIA-backed coup in the Congo removed Patrice Lumumba from power. Their expertise in assassinations, gathered abroad, was to be used in USA throughout the [1960s]] so dramatically as to lead to the House Select Committee on Assassinations.
Single Convention on Narcotic Drugs
Full article: Single Convention on Narcotic Drugs

In 1961, the Single Convention on Narcotic Drugs made a number of drugs effectively illegal worldwide, including cocaine. Drafting of the treaty began in 1948.
Related Quotation
Page
Quote
Author
Date
Interpen
"Interpen (Intercontinental Penetration Force) was established in 1961 by Gerry P. Hemming. Other members included Loran Hall, Roy Hargraves, William Seymour, Lawrence Howard, Steve Wilson, Howard K. Davis, Edwin Collins, James Arthur Lewis, Dennis Harber, Bill Dempsey, Dick Whatley, Ramigo Arce, Ronald Augustinovich, Joe Garman, Edmund Kolby, Ralph Schlafter, Manuel Aguilar and Oscar Del Pinto.

A recently declassified document says that in 1962, Robert Emmett Johnson was a member of Interpen. Later that year Johnson invited Robert K. Brown (USAR/CounterIntelligence Corps) to a meeting in Miami. Brown was the publisher of Alberto Bayo's 100 Questions for a Guerrilla. This book included an article written by Ulius Amoss called Leaderless Resistance which "referred to the proper strategy for conducting resistance operations against Castro and inside/outside of Cuba". The document also goes onto say: "Also included were numerous fotos of the G/W instructor cadre of InterPen which were taken by Brown at the Everglades training camp."

Interpen was also involved in training members of the anti-Castro groups funded by people like Roland Masferrer, Carlos Prio and Santos Trafficante. When the government began to crack down on raids from Florida in 1962, Interpen set up a new training camp in New Orleans. The group carried out a series of raids on Cuba in an attempt to undermine the government of Fidel Castro. These stories were reported by the photo-journalist, Tom Dunkin, for Life Magazine.

Roy Hargraves working closely with Felipe Vidal Santiago, carried out a series of raids on Cuba in the 1960s (23 in 1962). This involved a plan to create a war by simulating an attack on Guantanamo Naval Base. In 1963 Hargraves led a team of exiles in a successful raid on Cuba. After capturing two Cuban fishing boats Hargraves took them to the Bahamas. Some members such as William Seymour and Edwin Collins, worked with Bernardo De Torres on non-Interpen operations in 1963.
Declassified FBI files show that the agency had an informer within Interpen. His code name was MM T-1. In one document dated 16th June, 1961, it said that MM T-1 had "been connected with Cuban revolutionary activities for the past three years". One document dated 12th May, 1961, claims that Allen Lushane of Miami "had made a trip to Texas to recruit Americans for some future military action against the Government of Cuba". The document adds that the "first training camp was established by Gerald Patrick Hemming with Dick Watley and Ed Colby running the camp." In an interview that he gave to John M. Newman on 6th January, 1995, Hemming claims that the FBI informer was Steve Wilson.

Some researchers believe that a combination of Interpen members, CIA agents and anti-Castro Cubans were involved in the assassination of John F. Kennedy. This included James Arthur Lewis, Roy Hargraves, Edwin Collins, Steve Wilson, Gerry P. Hemming, David Morales, Herminio Diaz Garcia, Tony Cuesta, Eugenio Martinez, Virgilio Gonzalez, Felipe Vidal Santiago, Robert Emmett Johnson, Carl E. Jenkins, Chi Chi Quintero and William Robertson.<a href="#cite_note-1">[1]</a>"
John Simkin
20 May 2015
Events
| Event | Start | End | Description |
| --- | --- | --- | --- |
| Tuskegee syphilis experiment | 1932 | 1972 | A murderous experiment which looked at the progression of syphilis. Subjects were told that they were being treated, while in fact treatment was denied them. Exposed after 40 years by a whistleblower who went to the press. |
| Operation Paperclip | 8 May 1945 | 1990 | A transfer of top German scientists to USA. |
| Cold War | 1947 | 26 September 1991 | The official narrative had 2 diametrically opposed systems locked in combat with one another since soon after WW2. Each of the "superpowers" and its team of allies needed to outdo each other by creating ever more and deadlier weapons, creating a kind of perpetual war for perpetual peace, with the warring parties engaging mainly in covert/proxy wars. Deep state interests blossomed in the climate of fear and paranoia. |
| Operation Demagnetize | 1948 | 1980 | "The institutional hardening of Gladio", an expansion of Gladio in the late 1940s, early 1950s. |
| Project AERODYNAMIC | 1949 | 1970 | Program to provide funding and equipment for anti-Soviet resistance groups in Ukraine |
| Lockheed/Bribery scandals | 1950 | 1976 | A series of bribes made by officials of the U.S. aerospace company Lockheed from the late 1950s to the 1970s in the process of negotiating the sale of aircraft. |
| Project Ulysses | 1950 | 1968 | Mossad covert operation to infiltrate and subvert the Palestinian political leadership |
| Operation Midnight Climax | 1953 | 1966 | A "free-wheeling illicit criminal" CIA project which filmed the effects of prostitutes dosing up victims with drugs such as LSD. |
| Project MKUltra | 13 April 1953 | 1973 | An illegal mind control research programme, where psychoactive drugs (especially LSD) and other chemicals, electroshocks, hypnosis, sensory deprivation, isolation, verbal and sexual abuse, in addition to other forms of torture were used to gain control of individuals. |
| Algerian War | 1 November 1954 | 19 March 1962 | The Algerian War of Independence |
| COINTELPRO | 1956 | 1971 | Series of covert and illegal projects aimed at subversion of 1960s left wing movements |
| Vietnam War | December 1956 | 30 April 1975 | The Vietnam War was a proxy war lead by US that occurred in Vietnam, Laos, and Cambodia from December 1956 to the fall of Saigon on 30 April 1975. Millions of people were killed, mostly Vietnamese. JFK was assassinated soon after declaring his intent to withdraw US troops. The war helped the CIA to refine its methods of illegal drug trafficking, torture and the like. |
| Operation Snow White | 1960 | 1979 | Religious cult breaks into 100s of international government buildings to remove their own names, is not banned. |
| Congolese Operation | 5 July 1960 | 25 November 1965 | |
| Patrice Lumumba/Assassination | 17 January 1961 | 17 January 1961 | A US Deep state backed assassination, ordered by Allen Dulles, which was followed by decades of bloody violence. |
| JFK/Presidency | 20 January 1961 | 22 November 1963 | The JFK administration |
| Bilderberg/1961 | 21 April 1961 | 23 April 1961 | The 10th Bilderberg, the first in Canada and the 2nd outside Europe. |
| Bay of Pigs Invasion | 20 May 1961 | 20 May 1961 | A deliberately botched attempt to invade Cuba by the CIA, devised as a way to entrap JFK into full scale military action against Cuba. Unsuccessful, since JFK however refused to be manipulated. |
| Dag Hammarskjöld/Premature death | 18 September 1961 | 18 September 1961 | |
New Groups
| Group | Image | Type | Description |
| --- | --- | --- | --- |
| Vaduz Institute | | | A tight-knit circle of conservative politicians, managers and military strategists who continue to meet in Vaduz, Liechtenstein, four times a year. |
| Alpha 66 | | "Terrorist" | |
| Atlantic Council | | Think tank | Key part of the modern military-industrial congressional complex. |
| Interdoc | | | An "information and documentation centre" which specialised in research on the European left. Spooky anti-communist group. |
| James Cook University | | Public | Australian university invested in the climate change agenda, and firing academics if they disagree. |
| Florida Atlantic University | | Public | Dismissed Professor James F. Tracy after he was criticised by commercially-controlled media |
| Atlantic Council/Corporate Members | | | Corporate Members of the Atlantic Council per 2020 |
| University of Dar es Salaam | | Public | Main university in Tanzania |
| Atlantic Institute | | Transatlantic | Transatlantic think tank with similar goals to the Trilateral Commission, operational 1961-1988. |
| US/Senate/Special Committee on Aging | | | Studies issues related to older Americans, particularly Medicare and Social Security |
| Amnesty International | | NGO | "Effectively, Amnesty International and AIUSA function as tools for the imperialist, colonial and genocidal policies of the United States, Britain, and Israel." Revolving leadership door with US government. |
| American Institute for Free Labor Development | | | |
| OECD | | IGO | Dedicate itself to help "democracy" and a "good world economy". Originally started to fund Western Europe in the cold war. |
| Hudson Institute | | | |
| Organisation armée secrète | | | French terrorist organzation with Gladio ties |
| Interpen | | | |
| Korean Central Intelligence Agency | | | So dependent on the CIA they didn't bother to change the name. |
| Britain-Russia Centre and the British East-West Centre | | | |
| DIA | | Intelligence agency | |
Groups that were Wound Up
==Quotations== 
Deaths
Title
Born
Died
Place of death
Cause of death
Summary
Description
Ulius Amoss
1895
1961
Spook
Horace Rowan Gaither
1909
1961
Cancer
Banker
Lawyer
Deep state functionary
US deep state functionary who headed up the Ford Foundation 1953-56
E. G. Focke
1914
1961
In attendance at the first Bilderberg and two further Bilderbergs
Hans Hirschfeld
1899
1961
Diplomat
Economist
Dutch economist/diplomat. Rapporteur in the attendance list of the first Bilderberg.
Patrice Lumumba
2 July 1925
17 January 1961
Élisabethville
Katanga
Politician
The first democratically elected Prime Minister of the Republic of the Congo, abducted, tortured and murdered. Foreign intelligence service involvement is strongly suspected.
Thomas Anthony Dooley III
17 January 1927
18 January 1961
Cancer
Spook
Doctor
Doctor who was CIA operative. Collected intelligence under medical cover. After his death, it was discovered numerous descriptions of atrocities by the Viet Minh in his hugely influential book Deliver Us From Evil had been fabricated.
Oswald Rayner
29 November 1888
6 March 1961
Oxfordshire
Botley
England
Spook
Vicente Leon Leon
April 1961
Died during the failed Bay Of Pigs invasion.
Rafael Trujillo
24 October 1891
30 May 1961
Dominican Republic
(now
Santo Domingo
Ciudad Trujillo
Soldier
President of the Dominican Republic - assassinated with weapons supplied by the CIA
Clinton Golden
16 November 1888
12 June 1961
Pennsylvania
Philadelphia
Academic
Labor leader
Anti-communist labor union leader. Double Bilderberger
Ernest Hemingway
21 July 1899
2 July 1961
Idaho
Ketchum
U.S.
Gunshot
American author hounded by the FBI
Whittaker Chambers
1 April 1901
9 July 1961
Maryland
Westminster
Author
Spook
Editor
Joseph Ball
1 September 1885
10 July 1961
Spook
Politician
Lawyer
Deep state operative
Businessperson
British spook who forged the Zinoviev Letter to bring down the first British Labour Party government in 1924. "Ball also had a keen understanding of the dark arts of political manipulation, a readiness to use all means at his disposal and an ability to keep himself out of the limelight... he knew how to lie and how to keep a secret."
Hanns Seidel
12 October 1901
5 August 1961
Germany
Munich
Politician
David Petrie
9 September 1879
7 August 1961
Devon
Sidmouth
Spook
Police officer
Wartime head of MI6 after just 5 years in the organisation.
Walter Bedell Smith
5 October 1895
9 August 1961
Washington DC
Spook
Soldier
Preston Delano
2 April 1886
31 August 1961
Washington DC
Banker
Investment counselor
Businessperson
Comptroller of the Currency 1938-53, to "charter, regulate, and supervise all national banks".
David Bowes-Lyon
2 May 1902
13 September 1961
Spook
Father-in-law of queen Elizabeth 2. Member of the propaganda unit Political Warfare Executive during World War 2.
Fatin Rüştü Zorlu
20 April 1910
16 September 1961
Turkey
Yassıada
Hanging
Diplomat
Politician
Turkish diplomat and politician executed after the 1960 Turkish coup d'état, along with two other politicians.
Adnan Menderes
1899
17 September 1961
Turkey
İmralı
Politician
Turkish PM for 10 years. In this role he attended 2 Bilderbergs in the 1950s
Dag Hammarskjöld
29 July 1905
18 September 1961
Ndola
Rhodesia and Nyasaland
Author
Diplomat
Economist
The 2nd Secretary-General of the United Nations who died in highly suspicious circumstances while trying to make peace in the Congo.
Oreste Pinto
9 October 1889
18 September 1961
London
England
Spook
Charles E. Wilson
18 July 1890
26 September 1961
US
Louisiana
Norwood
Engineer
Businessperson
Rubén López Sabariego
11 June 1917
30 September 1961
Guantanamo Province
Bus driver
Cuban bus driver tortured and killed at US naval base Guantanamo
Louis Rwagasore
10 January 1932
13 October 1961
Shooting
Politician
"the Burundian Lumumba", assassinated by the Belgians.
Harry Crookshank
27 May 1893
17 October 1961
London
Chelsea
Luigi Einaudi
24 March 1874
30 October 1961
Italy
Rome
Latium
7)
Politician
Economist
Central banker
President of Italy for 7 years after WW2
Sam Rayburn
6 January 1882
16 November 1961
Texas
Bonham
U.S.
Lawyer
Josefa Johnson
1912
25 December 1961
Cerebral hemorrhage
Politician's relative
Sister of Lyndon B. Johnson, premature death.
Births
Title
Born
Place of birth
Died
Summary
Description
Victoria Nuland
1961
Louisiana
Baker
U.S.
Diplomat
Politician
High ranking member of the federal government. Served in the administrations of Barack Obama and Joe Biden.
Sergei Glazyev
1 January 1961
Ukraine
Zaporizhia
Politician
Russian politician, economist and full member of Russian Academy of Science since 2008
Adam LeBor
1961
London
UK
Author
Journalist
An author with an interest in history and the BIS
Charles Shoebridge
1961
Author
Soldier
Broadcaster
Police officer
"Terror expert"
Michael Ratney
1961
Diplomat
US envoy on Syria kicked out for not being friendly to Israel.
Rohan Gunaratna
1961
Academic
"Terror expert"
Alexis Papahelas
1961
Greece
Athens
Journalist
Editor
Greek journalist and editor who has visited 5 Bilderberg meetings.
Scott Malcomson
1961
US
California
Author
Editor
Businessperson
Bilderberger CFR "political-risk and communications consultant"
Philip Lowe
1961
Australia
New South Wales
Economist
Central banker
Governor of the Reserve Bank of Australia
Michael O'Hanlon
1961
Deep state operative
Suspected US deep state operative who co-authored Protecting the American Homeland - A Preliminary Analysis for Brookings
George Gao
1961
Virologist
Chinese virologist and immunologist who participated in the notorious Event 201 and the 2021 Monkeypox Tabletop Exercise
Kiron Skinner
1961
Academic
Deep state functionary
Former Director of Policy Planning
Shen Dingli
1961
Academic
Professor of international relations at Fudan University. Post-docorate from Princeton University
Fergus Walsh
1961
UK
Propagandist
BBC News Medical Editor despite having no medical qualifications. Also has huge conflict of interest, as wife is Big Pharma manager.
Aziz Akhannouch
1961
Morocco
Politician
Billionaire
New Moroccan Prime Minister
Carlos Del Toro
1961
Cuba
Havana
Businessperson
United States Secretary of the Navy under Joe Biden
Harry Ferguson
1961
Whistleblower
Spook
A spook who admits that the UK tortured IRA members in Northern Ireland.
Julie Brown
1961
Robert Hersov
1961
Banker
Billionaire
Billionaire banker in Epstein's black book. His father attended Le Cercle
Celeste Wallander
1961
Spook
Deep state operative
US deep state operative
Ashley Tellis
1961
India
Mumbai
Academic
CFR Bilderberg academic
Livia Leu
1961
Switzerland
Zurich
Diplomat
Civil servant
Head of the Swiss Federal Department of Foreign Affairs
Eva Andersson-Dubin
1961
Doctor
Model
Former Miss Sweden who dated [Jeffrey Epstein
Sean Joyce
1961
Massachusetts
Brockton
Police officer
Deputy Director of the Federal Bureau of Investigation 2011-2013
Sharyl Attkisson
1961
Journalist
Hal Harvey
1961
US
Colorado
Aspen
Billionaire
Deep state actor
Cut-out for Rockefeller family and Bill Gates money to capture state policies. Described as "the most powerful Green politician in the world."
Martin Brudermüller
1961
Stuttgart
Businessperson
German Bilderberger businessman, WEF AGM habit, CEO of BASF since 2018. Predicted EU ban on Russian gas imports would destroy the German economy.
Koenraad Debackere
1961
Belgium
Ghent
Academic
Belgian academic interested in big data who went to his first Bilderberg in 2023
Nick Cohen
1961
Journalist
Establishment journalist who spoke at Tackling Tools of Malign Influence, an Integrity Initiative sponsored conference
Marilyn Gladu
1961
Canada
Politician
Conservative MP in Canada; member of the shadow cabinet. Advocate of hydroxychloroquine.
Vladimir Potanin
3 January 1961
Russia
Moscow
Billionaire
Businessperson
Russian businessman. The 10th richest person in the world.
Tim Evans
10 January 1961
Deep state operative
Close to a number of Foundations, World Bank, WHO. Participated in at least two pandemic planning exercises in 2019: Event 201 and A Spreading Plague
Janey Godley
20 January 1961
Scotland
Propagandist
Comedian
Actor
Scottish Nationalist, paid to promote face masks and lockdowns in a series of ad campaigns.
Dionel M. Aviles
23 January 1961
Texas
Bryan
Mariner
United States Under Secretary of the Navy 2004-2009.
Mark Urban
26 January 1961
London
Marylebone
England
Author
Spook
Soldier
Journalist
Academic
Broadcaster
Frank Baker
27 January 1961
Diplomat
UK diplomat and ambassador
Strive Masiyiwa
29 January 1961
Spook
Billionaire
Spooky billionaire who as African Union Special Envoy for Covid-19 response pushed COVID jabs
Nuno Morais Sarmento
31 January 1961
Portugal
Lisbon
Politician
Lawyer
Attended the 2005 Bilderberg meeting as vice-president of the (liberal-conservative) Social Democratic Party.
George Stephanopoulos
10 February 1961
Massachusetts
Fall River
U.S.
Journalist
Deep politician
US/President/Senior Advisor, Bilderberg 1996 and 1997
David Graeber
12 February 1961
2 September 2020
Activist
Academic
Anarchism
COVID-19/Premature death
Anarchist anthropologist who played a leading role in the Occupy movement. Died suddenly in 2020.
Alison Saunders
14 February 1961
Scotland
Aberdeen
Lawyer
Despite the collapse of an unprecedented number of abuse cases during her tenure as Director of Public Prosecutions, she still insisted she had done a good job. Let Greville Janner go.
Angela Eagle
17 February 1961
Bridlington
England
Politician
UK Labour Party MP
Maria Eagle
17 February 1961
Bridlington
England
Politician
Lawyer
British Labour MP who held several ministerial appointments in Tony Blair's government
Joaquim Levy
17 February 1961
Brazil
Rio de Janeiro
Politician
Banker
Attended a WEF Annual Meeting while Finance Minister of Brazil
Igor Kostyukov
21 February 1961
Spook
Mariner
Head of the Russian General Staff's Main Intelligence Department (GRU)
Erna Solberg
24 February 1961
Norway
Bergen
Politician
Prime Minister of Norway 2013 to 2021
David Evans
25 February 1961
Sandra Barr
March 1961
County Tyrone
Researcher
Blogger
An independent researcher into psyops and hoaxes. Examines the numerology and why certain dates are used for such events. Exposes establishment corruption.
Simon McDonald
9 March 1961
Salford
England
Diplomat
UK Permanent Under-Secretary at the Foreign Office and Head of the Diplomatic Service 2015-2020.
Michael O'Leary
20 March 1961
Eire
Cork
Businessperson
CEO Ryanair, union buster
... further results
Many thanks to our
Patrons
who cover ~2/3 of our hosting bill. Please join them if you can.
References