1961
Jump to navigation
Jump to search
1951 < 1952 < 1953 < 1954 < 1955 < 1956 < 1957 <1958 < 1959 < 1960 < 1961 > 1962 > 1963 > 1964 > 1965 > 1966 > 1967 > 1968 > 1969 > 1970 > 1971
---
 ( 1960s: )    
 1961
1961 began with a warning by outgoing US President General Eisenhower about the danger of the military–industrial complex gaining power over the US democratic process. The assassination of his successor, John F. Kennedy, less than 3 years later, was to dramatically illustrate how prescient were Eisenhower's words, which are at least as relevant today as when he spoke them back in January 1961.
Eisenhower's warning
Outgoing US President General Eisenhower well understood how the desire of Wall Street for profits-at-all-costs represented a threat to the democratic system. On January 17, 1961, his final televised Address to the Nation addressed the rise of the what he famously referred to as "the military–industrial complex". It went more of less unheeded by the commercially-controlled media. The Defense Intelligence Agency was formed in 1961[Why?], as was Operation 40's Interpen group, intended for assassination Fidel Castro, but which whch played some part in the 1963 assassination of John F. Kennedy.
Bay of Pigs Invasion
Full article: Bay of Pigs Invasion

In May 1961, the Bay of Pigs Invasion proved a military disaster for the CIA, due to lack of air cover. In fact, this may not have been accidental. Historians have argued that failure was the planned result, since many of those involved were killed and JFK was blamed for lack of support for the venture. Naturally this angered the Cuban expat community within the CIA. These made up the majority of Operation 40, which was exploited by the deep politicians who organised the JFK assassination.
Arms Race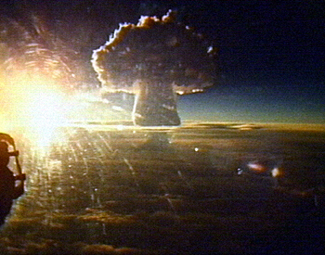 In 1961, the Soviet Union tested a 57 Megaton bomb - equal to 1400 times the bomb dropped on Hiroshima.
Assassination of Patrice Lumumba
Full article: Patrice Lumumba/Murder

A CIA-backed coup in the Congo removed Patrice Lumumba from power. Their expertise in assassinations, gathered abroad, was to be used in USA throughout the [1960s]] so dramatically as to lead to the House Select Committee on Assassinations.
Single Convention on Narcotic Drugs
Full article: Single Convention on Narcotic Drugs

In 1961, the Single Convention on Narcotic Drugs made a number of drugs effectively illegal worldwide, including cocaine. Drafting of the treaty began in 1948.
Events
| Event | Start | End | Description |
| --- | --- | --- | --- |
| Tuskegee syphilis experiment | 1932 | 1972 | A murderous experiment which looked at the progression of syphilis. Subjects were told that they were being treated, while in fact treatment was denied them. Exposed after 40 years by a whistleblower who went to the press. |
| Operation Paperclip | 8 May 1945 | 1990 | A transfer of top German scientists to USA. |
| Cold War | 1947 | 26 September 1991 | The official narrative had 2 diametrically opposed systems locked in combat with one another since soon after WW2. Each of the "superpowers" and its team of allies needed to outdo each other by creating ever more and deadlier weapons, creating a kind of perpetual war for perpetual peace, with the warring parties engaging mainly in covert/proxy wars. Deep state interests blossomed in the climate of fear and paranoia. |
| Operation Demagnetize | 1948 | 1980 | "The institutional hardening of Gladio", an expansion of Gladio in the late 1940s, early 1950s. |
| Project AERODYNAMIC | 1949 | 1970 | Program to provide funding and equipment for anti-Soviet resistance groups in Ukraine |
| Lockheed/Bribery scandals | 1950 | 1976 | A series of bribes made by officials of the U.S. aerospace company Lockheed from the late 1950s to the 1970s in the process of negotiating the sale of aircraft. |
| Project Ulysses | 1950 | 1968 | Mossad covert operation to infiltrate and subvert the Palestinian political leadership |
| Operation Midnight Climax | 1953 | 1966 | A "free-wheeling illicit criminal" CIA project which filmed the effects of prostitutes dosing up victims with drugs such as LSD. |
| Project MKUltra | 13 April 1953 | 1964 | An illegal mind control research programme. |
| Algerian War | 1 November 1954 | 19 March 1962 | The Algerian War of Independence |
| COINTELPRO | 1956 | 1971 | Series of covert and illegal projects aimed at subversion of 1960s left wing movements |
| Vietnam War | December 1956 | 30 April 1975 | The Vietnam War was a proxy war lead by US that occurred in Vietnam, Laos, and Cambodia from December 1956 to the fall of Saigon on 30 April 1975. Millions of people were killed, mostly Vietnamese. JFK was assassinated soon after declaring his intent to withdraw US troops. The war helped the CIA to refine its methods of illegal drug trafficking, torture and the like. |
| Congolese Operation | 5 July 1960 | 25 November 1965 | |
| Patrice Lumumba/Assassination | 17 January 1961 | 17 January 1961 | A US Deep state backed assassination, ordered by Allen Dulles, which was followed by decades of bloody violence. |
| Bilderberg/1961 | 21 April 1961 | 23 April 1961 | The 10th Bilderberg, the first in Canada and the 2nd outside Europe. |
| Bay of Pigs Invasion | 20 May 1961 | 20 May 1961 | A probably deliberately failed attempt to invade Cuba by the CIA. This was very possibly an attempt to entrap JFK into full scale military action against Cuba. |
| Dag Hammarskjöld/Premature death | 18 September 1961 | 18 September 1961 | |
New Groups
Groups that were Wound Up
==Quotations== 
Deaths
Title
Born
Died
Place of death
Cause of death
Summary
Description
Ulius Amoss
1895
1961
Spook
H. M. Hirschfeld
1899
1961
Diplomat
Economist
Dutch economist/diplomat. Rapporteur in the attendance list of the first Bilderberg.
Horace Rowan Gaither
1909
1961
Cancer
Banker
Lawyer
Deep state functionary
US deep state functionary who headed up the Ford Foundation 1953-56
E. G. Focke
1914
1961
In attendance at the first Bilderberg and two further Bilderbergs
Patrice Lumumba
2 July 1925
17 January 1961
Élisabethville
Katanga
Politician
The first democratically elected Prime Minister of the Republic of the Congo, abducted, tortured and murdered. Foreign intelligence service involvement is strongly suspected.
Thomas Anthony Dooley III
17 January 1927
18 January 1961
Cancer
Spook
Doctor
Doctor who was CIA operative. Collected intelligence under medical cover. After his death, it was discovered numerous descriptions of atrocities by the Viet Minh in his hugely influential book Deliver Us From Evil had been fabricated.
Oswald Rayner
29 November 1888
6 March 1961
United Kingdom
Oxfordshire
Botley
Spook
Vicente Leon Leon
April 1961
Died during the failed Bay Of Pigs invasion.
Rafael Trujillo
24 October 1891
30 May 1961
Dominican Republic
(now
Santo Domingo
Ciudad Trujillo
Soldier
President of the Dominican Republic - assassinated
Clinton Golden
16 November 1888
12 June 1961
Pennsylvania
Philadelphia
Academic
Trade unionist
Anti-communist labor union leader. Double Bilderberger
Ernest Hemingway
21 July 1899
2 July 1961
Idaho
Ketchum
Gunshot
American author hounded by the FBI
Whittaker Chambers
1 April 1901
9 July 1961
Maryland
Westminster
Author
Spook
Editor
Joseph Ball
1 September 1885
10 July 1961
Spook
Politician
Lawyer
Deep state operative
Businessperson
British spook who forged the Zinoviev Letter to bring down the first British Labour Party government in 1924. "Ball also had a keen understanding of the dark arts of political manipulation, a readiness to use all means at his disposal and an ability to keep himself out of the limelight... he knew how to lie and how to keep a secret."
Hanns Seidel
12 October 1901
5 August 1961
Germany
Munich
Politician
David Petrie
9 September 1879
7 August 1961
Devon
Sidmouth
Spook
Police officer
Wartime head of MI6 after just 5 years in the organisation.
Walter Bedell Smith
5 October 1895
9 August 1961
Washington DC
Spook
Soldier
Preston Delano
2 April 1886
31 August 1961
Washington DC
Banker
Investment counselor
Businessperson
Comptroller of the Currency 1938-53, to "charter, regulate, and supervise all national banks".
David Bowes-Lyon
2 May 1902
13 September 1961
Spook
Father-in-law of queen Elizabeth 2. Member of the propaganda unit Political Warfare Executive during World War 2.
Fatin Rüştü Zorlu
20 April 1910
16 September 1961
Turkey
Yassıada
Hanging
Diplomat
Politician
Turkish diplomat and politician executed after the 1960 Turkish coup d'état, along with two other politicians.
Adnan Menderes
1899
17 September 1961
Turkey
İmralı
Politician
Turkish PM for 10 years. In this role he attended 2 Bilderbergs in the 1950s
Dag Hammarskjöld
29 July 1905
18 September 1961
Ndola
Rhodesia and Nyasaland
Author
Diplomat
Economist
The 2nd Secretary-General of the United Nations who died in highly suspicious circumstances while trying to make peace in the Congo.
Oreste Pinto
9 October 1889
18 September 1961
London
United Kingdom
Spook
Charles E. Wilson
18 July 1890
26 September 1961
US
Louisiana
Norwood
Engineer
Businessperson
Rubén López Sabariego
11 June 1917
30 September 1961
Guantanamo Province
Bus driver
Cuban bus driver tortured and killed at US naval base Guantanamo
Louis Rwagasore
10 January 1932
13 October 1961
Shooting
Politician
"the Burundian Lumumba", assassinated by the Belgians.
Harry Crookshank
27 May 1893
17 October 1961
London
Chelsea
Luigi Einaudi
24 March 1874
30 October 1961
Italy
Rome
Latium
7)
Politician
Economist
Central banker
President of Italy for 7 years after WW2
Sam Rayburn
6 January 1882
16 November 1961
United States
Texas
Bonham
Lawyer
Josefa Johnson
1912
25 December 1961
Cerebral hemorrhage
Politician's relative
Sister of Lyndon B. Johnson, premature death.
Births
References