1954
From Wikispooks
1944 < 1945 < 1946 < 1947 < 1948 < 1949 < 1950 <1951 < 1952 < 1953 < 1954 > 1955 > 1956 > 1957 > 1958 > 1959 > 1960 > 1961 > 1962 > 1963 > 1964
---
 ( 1950s: )    
 1954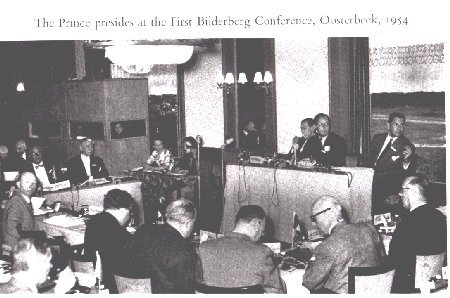 A new Deep state milieu
After 2 years of work by Józef Retinger, on the 29 May 1954, the first Bilderberg meeting was held, in the Bilderberg Hotel, Oosterbeck, the Netherlands. This was in favour of European Union from the outset and by 1955 had drawn up plans for a European Union.[1]
Agreements
The London and Paris Conferences were two related conferences in London and Paris in September–October 1954 to determine the legal status of West Germany. The talks concluded with the signing of the Paris Agreements (Paris Pacts, or Paris Accords, which granted West Germany full sovereignty, ended the occupation, and allowed its admittance to NATO. Furthermore, both West Germany and Italy joined the Brussels Treaty on 23 October 1954, estalishing the Western European Union.
1954 Guatemalan coup d'état
Full article: 1954 Guatemalan coup d'état

In another instance of Wall St exercising their covert action arm, the CIA overthrew Jacobo Árbenz the democratically elected leader of Guatemala. He has levied taxes on the vast land holding of United Fruit. The CIA, after decades of denial, were to finally admit in 1997 that they were responsible.  
Events
New Groups
References