1952
Jump to navigation
Jump to search
1942 < 1943 < 1944 < 1945 < 1946 < 1947 < 1948 <1949 < 1950 < 1951 < 1952 > 1953 > 1954 > 1955 > 1956 > 1957 > 1958 > 1959 > 1960 > 1961 > 1962
---
 ( 1950s: )    
 1952
The world's first 3D film is shown, in USA.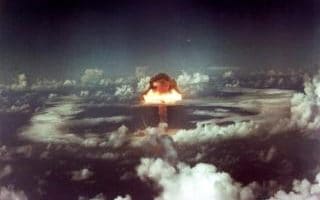 Deep State
1952 saw the meeting called by Józef Retinger which would culminate in the 1954 Bilderberg, beginning a very important deep state milieu.
Mind Control Research
Mind Control Research continued in the USA in the somewhat frenzied atmosphere of the cold war.
Events
| Event | Date | Description |
| --- | --- | --- |
| Tuskegee syphilis experiment | | A murderous experiment which looked at the progression of syphilis. Subjects were told that they were being treated, while in fact treatment was denied them. Exposed after 40 years by a whistleblower who went to the press. |
| Morgenthau Plan | | |
| Operation Paperclip | | A transfer of top German scientists to USA. |
| Guatemala syphilis experiment | | A murderous experiment which infected healthy subjects with syphilis, gonorrhea, chancroid and possibly other diseases. |
| Project CHATTER | | |
| Cold War | | The official narrative had 2 diametrically opposed systems locked in combat with one another since soon after WW2. Each of the "superpowers" and its team of allies needed to outdo each other by creating ever more and deadlier weapons, creating a kind of perpetual war for perpetual peace, with the warring parties engaging mainly in covert/proxy wars. Deep state interests blossomed in the climate of fear and paranoia. |
| Operation Demagnetize | | "The institutional hardening of Gladio", an expansion of Gladio in the late 1940s, early 1950s. |
| Project Ulysses | | Mossad covert operation to infiltrate and subvert the Palestinian political leadership |
| Korean War | | The war on the Korean peninsular between the China/Soviet-backed forces of the North and the US-backed South between 1951-53 |
| Korean War/Biological warfare | | Alleged experimental usage of insect-born biological/bacteriological weapons during the Korean war |
| Project ARTICHOKE | | An investigation into interrogation methods using drugs and other methods: "Can we get control of an individual to the point where he will do our bidding against his will and even against fundamental laws of nature, such as self-preservation?" |
| Operation Cauldron | | |
| Mau Mau Uprising | | A Kenyan independence movement in the 1950s that faced brutal opposition by the UK. |
| Project MKDELTA | | A CIA mind control research project |
| US/1952 Presidential Election | | |
New Groups
A Group that was Wound Up
==A Quotation== 
Deaths
Births
As of 27 September, our 19 Patrons are giving £64/month, almost 2/3 of our webhosting bill.
Please help keep this site running by donating or spreading the word about our Patreon page
.