OpEdNews
Jump to navigation
Jump to search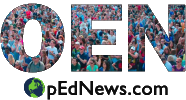 http://www.opednews.com/
Started:
2003
Founder:
Rob Kall
Origins
In early 2003 Rob Kall heard Colin Powell speaking about "Iraq's WMD" and felt a sense of injustice which lead him to "publish the Truth". He began a personal blog which developed into OpEdNews.
Documents sourced from OpEdNews
As of 5 May 2021, our Patrons are giving £80/month, which is 4/5 of our webhosting bill.
If you appreciate our efforts, please help keep this site running by donating or spreading the word about our Patreon page
.
References