Donald Rumsfeld
From Wikispooks
Donald Rumsfeld is deep politician, a senior member of the cabal and a former US Defense Secretary. He was listed as #4 on a list of top 43 Appointees Who Helped Make Bush The Worst President Ever.[1]
Background
Rumsfeld was a roommate of Frank Carlucci at Princeton University where he graduated in 1954 with a degree in political science.
Career
In December 1983, while working for G.D. Searle & Co., Ronald Reagan sent Rumsfeld to visit the Middle East, including Saddam Hussein.
September 11th
Rumsfeld was actively involved in organising 9/11 by all accounts. On the day itself he was United States Secretary of Defense. On the day before, a Monday, explaining difficulties the Pentagon had in accounting for its funds, he announced that "According to some estimates, we cannot track $2.3 trillion in transactions."[2]
WTC 7 Denial
When asked about the demolition of WTC 7, Donald Rumsfeld claimed that he had never heard of it.[3]
Defense secretary
Retired 4-star general Wesley Clark (former supreme commander of NATO forces in Europe 1997-2001) stated the US military had already formed plans to invade 7 countries in and around the Middle East:
In 2001, in the Pentagon, a general told me : 'I just received a classified memo from the Secretary of Defense [Rumsfeld]: we will take seven countries in five years, starting with Iraq, then Syria, Lebanon, Libya, Somalia, Sudan and finally, Iran.'[4]
"War on Terror"
Rumsfeld has been an active promoter of the "War on Terror".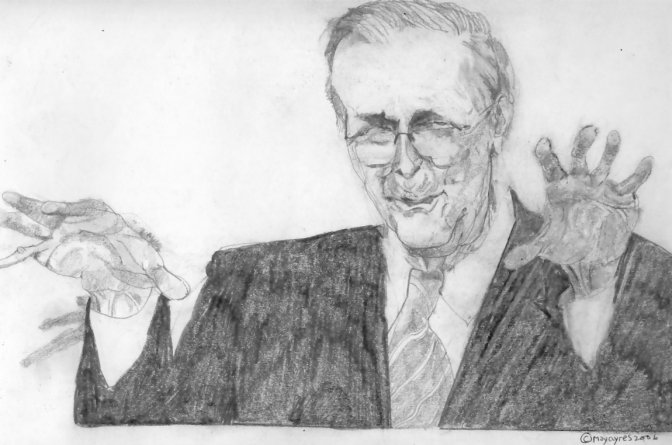 Torture
Donald Rumsfeld was an enthusiastic supporter of "enhanced interrogation", and his tenure as US Defense Secretary was marked by torture and the events of Abu Ghraib. He was convicted for these crimes in 2012 by the Kuala Lumpur War Crimes Commission.[5]
In June 2013 the US Supreme Court confirmed a federal appeals court ruling by ruling that Rumsfeld cannot be held liable for any illegal actions of his subordinates. He was being sued for personally authorising "enhanced interrogation" techniques, the court ruled that US military officials are immune to civil lawsuits over torture.[6][7]  
Legal Case
Use the Up/Dn symbols to sort
An appointment by Donald Rumsfeld
Use the Up/Dn symbols to sort
Events Witnessed
Related Documents
References
Born on
9 July 1932 +
Constitutes
Deep politician +, Politician +, War criminal +, United States Secretary of Defense +, Chairman +, White House Chief of Staff +, United States Ambassador to NATO +, Director of the Office of Economic Opportunity +, Member of the U.S. House of Representatives from Illinois's 13th district +, Director of the Cost of Living Council + and Counselor to the President +
Display born on
9 July 1932 +
Display docType
WikiSpooks Page +
Display image
File:Donald Rumsfeld.jpg +
Display image2
+
Display lifespan
Born 9 July 1932 +
Has almaMater
Princeton University + and Georgetown University +
Has birthPlace
Evanston +, Illinois + and US +
Has child
Valerie Marcy + and Donald Nicholas +
Has criminalConviction
Torture + and Cruel Inhumane and Degrading Treatment +
Has cspan
https://www.c-span.org/person/?donaldrumsfeld +
Has fullPageName
Donald Rumsfeld +
Has fullPageNamee
Donald_Rumsfeld +
Has image
+
Has image2
File:Donald Rumsfeld.jpg +
Has noRatings
0 +
Has objectClass
Person +
Has objectClass2
Person +
Has powerbase
http://www.powerbase.info/index.php/Donald_Rumsfeld +
Has religion
Protestant +
Has revisionSize
4,750 +
Has revisionUser
Robin +
Has sourcewatch
http://www.sourcewatch.org/index.php/Donald_Rumsfeld +
Has spouse
Joyce Pierson +
Has website
http://www.rumsfeld.com/ +
Has wikipediaPage
https://en.wikipedia.org/wiki/Donald_Rumsfeld +
Has wikipediaPage2
https://en.wikipedia.org/wiki/Donald_Rumsfeld +
Is not stub
true +
Has subobject

"Has subobject" is a predefined property representing a container construct that allows to accumulate property-value assignments similar to that of a normal wiki page.

Donald Rumsfeld +, Donald Rumsfeld +, Donald Rumsfeld +, Donald Rumsfeld +, Donald Rumsfeld +, Donald Rumsfeld +, Donald Rumsfeld +, Donald Rumsfeld +, Donald Rumsfeld + and Donald Rumsfeld +