"Humanitarian intervention"
Jump to navigation
Jump to search
 "Humanitarian intervention" 
(Oxymoron)
Interest of
• Federica D'Alessandra
• Bernard-Henri Lévy
• Samantha Power
The claim of intervening in other countries for their citizens own good. This falls flat when made by the same countries which fund or otherwise instigate these countries unrest. An old and increasingly tired excuse for wars of aggression.
Official Narrative
The so-called "Clinton Doctrine" justifies invasion not as a tool of empire and domination, but of liberation. When atrocities are ongoing, the moral duty of heavily armed, more principled nations is to intervene and forcibly bring an end to the wrongdoing. Under this doctrine, humanitarian intervention provides a justification for a stronger country to attack a much weaker one that poses no threat to it.
Problems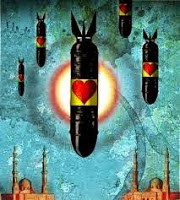 "Humanitarian justification of intervention does not benignly shape hegemonic foreign policy or reduce inter-state bellicosity; rather, it inflames both."
Amy Baker Benjamin (2015)  [1]
Like the idea of a "peace-keeping force", this notion harbours a contradiction. As Ivan Illich predicted in Yugoslavia, the doctrine would eventually lead to bombing nations into respecting human rights. Since our childhood days, most of us are familiar with the idea of adults going in to break up children's fights, but nations are not children and this is not a suitable way to consider foreign policy.
Wikipedia reports in its section on the "Obama Doctrine" that "As president, an important part of Barack Obama's foreign policy has been reaching out to Muslim countries". This is an apparently reference to his speech at Cairo University, where he "called for reform of undemocratic countries from within". This doesn't seem to fit with his instigation and escalation of armed conflicts around the globe such as in Afghanistan and Libya.
Selected Examples
As Zero Hedge observed in April 2018: "Suddenly, children in Syria matter a lot to the West, while Yemen's child victims are rarely ever mentioned. Suddenly there's an urgent moral issue being rushed through the court of public opinion. This has all the hallmarks of the prior propaganda campaigns we've seen before. Scant evidence, immediate assignment of blame, and a quick rush to military action before anybody can really properly question the train of events." [2]
False flag attacks
Full article: False flag

Where there is no humanitarian crisis, "humanitarian intervention" is not a valid reason for invasion. A fairly regular pattern has been either the direct instigation or the indirect causation of such a crisis - or at least of something that could be spun as a crisis for domestic consumption by a compliant commercially-controlled media. One recent example of such a false flag attack is the Syrian Chemical Weapons Attack of 21 August 2013.
Public response
There is evidence that after a bunch of formulaic and mendacious efforts to use the "humanitarian intervention" card as an excuse for imperialistic resource wars, the public of would-be aggressor nations is seeing through it and protesting, sometimes before war plans has been announced. Most recently, the False flag chemical attack failed to incite support for a war on Syria in 2013. This could be interpreted as a sign of increasing sophistication on the part of commercially-controlled media consumers, or - less optimistically - simply because the formula has been so heavily overused in recent years, and the attempt to provoke a Syrian crisis was so soon after an earlier application of the "humanitarian intervention" card in Libya.
Related Quotation
| Page | Quote | Author |
| --- | --- | --- |
| Refugees International | "If I'm reading in the newspaper about a crisis somewhere in the world, it is of great consolation to me to know that, if not at this moment, then very soon I will be hearing from Refugees International about how we should think about the crisis and more importantly what we should do about it."" | Samantha Power |
Related Documents
Official examples
Many thanks to our
Patrons
who cover ~2/3 of our hosting bill. Please join them if you can.
References