Olof Palme/Assassination
Jump to navigation
Jump to search
 Olof Palme/Assassination (assassination,  shooting)

Blood on a street in downtown Stockholm after the assassination of Olof Palme

Date
28 February 1986
Location
Sveavägen,  Tunnelgatan,  Stockholm,  Sweden
Perpetrators
South Africa/Deep state, Operation Gladio
Blamed on
Christer Pettersson, Stig Engström
Type
Assassination
Deaths
1
Injured (non-fatal)
1
Interest of
Lars Borgnäs, Ole Dammegård, Hans Holmér
Description
A "lone nut", Christer Pettersson, was blamed but his conviction was overturned. After a document surfaced implicating the Apartheid South Africa in the assassination, in 2020 the Swedish police blamed the assassination on a different, already deceased, "lone nut".
The Assassination of Olof Palme took place on the 28th of February 1986 in Stockholm as Sweden's Prime Minister Olof Palme was walking home from a cinema with his wife, Lisbet. He died from gunshots fired by a single attacker. Police said that a taxi driver used his radio to raise the alarm. Two young girls sitting in a car close to the scene of the shooting also tried to help Prime Minister Palme. He was rushed to hospital but was pronounced dead on arrival at 00:06 Central European Time (CET) the next day.
The commercially-controlled media was very quick to blame the assassination on a "lone-nut" gunman and exclude a political motive. Two years later, Christer Pettersson, a small-time criminal and drug addict, was arrested, tried and convicted for Palme's murder, but his conviction was later overturned by the Svea Court of Appeal.
In 2014, a document from the SADF Military Intelligence dated 15 October 1985 (4½ months before his assassination) concluded that Palme "should be seen as an enemy of the South African State", inspiring suggestions that the assassination was organised through Le Cercle by the South African Deep state.[1].
In 2020 the crime was attributed to "lone nut" and Palme hater, Stig Engström. The case was closed without legal action. A Belgian investigator connected Operation Gladio to this case in a Dutch documentary.[2][3]
Press Conference
On 5 June 2020, the Swedish Prosecution Authority and the Swedish Police Authority announced that chief prosecutor Krister Petersson would "present his decision in the case" and would together with the head of investigation Hans Melander "provide details concerning the investigation" at a press conference on 10 June 2020 at 9.30am Stockholm time.[4][5]
Hans Melander introduced the proceedings saying that the Palme investigation is one of the world's largest investigations:
"It is by far Sweden's largest criminal investigation and is sometimes compared with the murder of JFK and Lockerbie bombing. It has been ongoing since 1986 and contains 22,430 different points of interest. 90,000 people are included in the preliminary investigation of which 40,000 are named. More than 10,000 people have been interviewed, many of them several times. More than 4,000 vehicles were investigated. And 134 people have confessed to committing the murder, including 29 directly to the police."
Chief Prosecutor Krister Petersson announced his decision during the digital press conference that the killing is believed to have been performed by a lone perpetrator, Stig Engström:
"As the person is deceased, I cannot bring charges against him and have decided to discontinue the investigation. In my opinion, Stig Engström is the prime suspect. My assessment is that, after over 34 years, it is difficult to believe that any further investigation would provide us with any new details and therefore I believe we have come as far as one could expect.
"In the investigation, testimonies, statements and witness interviews were all analysed. To a large extent, we have been at the mercy of the police investigative work that was performed closer to the time of the crime. The current Palme investigation has not been able to repeat such investigative work.
"This concerns, among other things, the descriptions provided of Stig Engström which correspond well with several witness statements. His own statement concerning his actions during the period of time the crime was committed does not reconcile with statements provided by others. The evidence strongly suggests he was at the crime scene, but in a completely different role than the one he wished to present. All in all, there are a number of circumstances that point to Engström. Had the current Palme investigation group been in charge 34 years ago, Stig Engström would have been remanded in custody had he been unable to provide satisfactory explanations for his movements and actions. My assessment is that there would have been sufficient evidence to have him detained in custody.
"At one time we had a reasonable chance of securing the murder weapon as well as other evidence, and to investigate whether he had acted as part of a wider conspiracy. Now this is not possible."[6]
Towards the end of the Q & A session at the press conference, the German broadcaster ARD asked whether the decision to discontinue the investigation meant that the case was over. Krister Petersson replied that if new information came to light there would be an opportunity to re-open the case.[7]
Alternative theories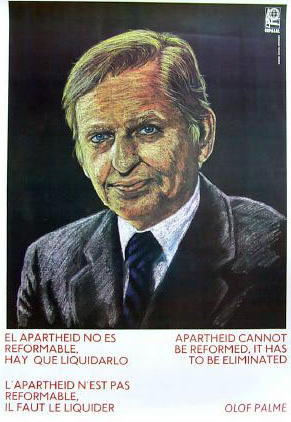 Evidence is emerging that Olof Palme's assassination was precipitated by his effective opposition to the policies of powerful geo-political interests, most notable of these being the apartheid South African regime as set out below.[8]
Apartheid South Africa
Circumstantial evidence suggests that Palme may have been killed on the orders of South African President P W Botha's State Security Council (SSC), whose sub-committee member Craig Williamson admitted being the person responsible on the SSC for "target selection".[9] According to Swedish investigative journalist Stieg Larsson, Craig Williamson orchestrated Palme's murder and mercenary Bertil Wedin carried it out.[10] Williamson was granted amnesty for a number of crimes he committed during the apartheid era, but has never applied for amnesty in respect of the murders of Olof Palme, Samora Machel or Bernt Carlsson.[11]
On 21 February 1986, Olof Palme made the keynote speech at the opening session of the 'Swedish People's Parliament Against Apartheid' which was held in Stockholm and attended by hundreds of anti-apartheid sympathisers as well as leaders and officials from the ANC such as Oliver Tambo. In his speech, Olof Palme declared: "Apartheid cannot be reformed, it has to be eliminated" (reproduced in a 1986 poster by Cuban artist Rafael Enriquez). One week later, on 28 February 1986, Olof Palme was murdered.
Olof Palme's protégé and political ally, UN Commissioner for Namibia Bernt Carlsson, died when Pan Am Flight 103 was sabotaged over Lockerbie, Scotland on 21 December 1988. Carlsson was on his way to New York to attend the signing ceremony on 22 December 1988 at United Nations headquarters of an agreement granting independence to Namibia, which had been illegally occupied by apartheid South Africa in defiance of UN Security Council Resolution 435.
Following his release from prison on 11 February 1990, Nelson Mandela chose Sweden as his first port of call in Europe because of all the support the ANC had received over many years from the Swedish government, especially from Olof Palme. Ingvar Carlsson, the new prime minister, invited British politicians Neil and Glenys Kinnock to come to Stockholm in April 1990 and greet Mr Mandela. That meeting was recalled by Neil Kinnock in a television interview on 8 December 2013 (three days after Nelson Mandela's death).[12]
2014 Revelations
In February 2014, the Swedish Dagbladet (SvD) newspaper revealed its findings after a report that South Africa lay behind the assassination of Olof Palme. Novelist and journalist Stieg Larsson's long-term partner Ewa Gabrielsson had provided Dagbladet with 15 boxes of material that Larsson had compiled on his quest to solve the murder. Much of the paperwork focused on Cyprus-based Swede Bertil Wedin, with documents stating that the suspected mercenary may have been in contact with South African security services in the run up to the murder of the fierce anti-apartheid critic Palme. SvD reported that Wedin had confessed four years before the murder in a British court case that he had been in touch with South African agent Craig Williamson.[13]
Building upon the Dagbladet story, the BBC Radio 4 programme "Document" of 28 July 2014 - presented by Gordon Corera - supported the South African narrative for Olof Palme's assassination. Corera cited the following as potentially being implicated in Palme's murder: Peter Caselton, Eugene de Kock, Bertil Wedin & Craig Williamson. The accusers were Edward Aspinall, Peter Calcara, Duncan Campbell, Gerry Gable, Barry Gilder, Stieg Larsson, Guardian journalist David Leigh, Tor Sellström and Jan Stoklasa.[14]
Western Intelligence agencies
Trowbridge H. Ford has claimed that Palme was assassinated because of the effectiveness of his opposition to arms deals, and that the assassination went according to plan, the "British and American intelligence services having completely hoodwinked their Swedish counterparts".[15]
2020 Suspect posthumously named
Stig Engström, an advertising consultant was named as a "lone nut" suspect in the murder case by authorities on 10 June 2020, 34 years since Mr Palme was assassinated in central Stockholm. Since he died in 2000, the investigation was closed.[16][17]
Planned documentary
Deep political investigative journalist and film maker Allan Francovich was planning a documentary on the Palme assassination when he suddenly died while going through customs at a US airport.[18]
A Olof Palme/Assassination victim on Wikispooks
| Title | Description |
| --- | --- |
| Olof Palme | Leader of the Swedish Social Democratic Party from 1969, and two-term Prime Minister, until his assassination in 1986. |
Related Documents
The Official Culprits
Many thanks to our
Patrons
who cover ~2/3 of our hosting bill. Please join them if you can.
References