Annalena Baerbock
Jump to navigation
Jump to search
 Annalena Baerbock  
(politician)

Born
15 December 1980
Nationality
German
Alma mater
University of Hamburg, London School of Economics, British Institute of International and Comparative Law
Member of
European Council on Foreign Relations, Marshall Memorial Fellowship, WEF/Young Global Leaders/2020

"A perfect product of transatlantic leader selection."

In office
22 September 2013 - Present
Annalena Charlotte Alma Baerbock is a German politician serving as the co-leader of Alliance 90/The Greens since 2018 alongside Robert Habeck.
Annalena Baerbock was selected as the Green Party candidate for Chancellor in the 2021 German parliamentary election,[1] when the Alliance 90/The Greens achieved their best ever result at 14.8% of the votes, winning 118 seats, and coming third behind the SPD (206 seats) and the CDU/CSU (196 seats).[2]
As a result of the coalition talks with the SPD and FDP, Baerbock will become the next Federal Minister of Foreign Affairs.
"As European democracies and part of a transatlantic democratic alliance, we are also in systemic competition with an authoritarian regime like China"
Annalena Baerbock (5 December 2021)  [3]
Trampolining student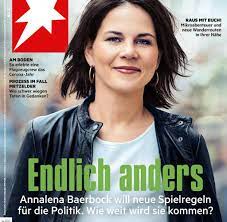 As a teenager, Baerbock was a competitive trampoline gymnast, taking part in German championships and winning bronze three times. From 2000 to 2004, Baerbock studied political science and public law at the University of Hamburg. In 2005, she graduated with a master's degree in Public International Law from the London School of Economics (LSE). In 2005, she completed a traineeship at the British Institute of International and Comparative Law (BIICL).[4]
During her studies, Baerbock worked as a journalist for the Hannoversche Allgemeine Zeitung from 2000 to 2003.[5]
Young Global Leader
After her studies, Baerbock worked from 2005 to 2008 in the office of MEP Elisabeth Schroedter and, in 2005, as a trainee at the British Institute of Comparative and Public International Law. Between 2008 and 2009, she worked as an adviser on foreign and security policies for the parliamentary group of the Alliance 90/The Greens in the Bundestag.[4]
Since 2020 Baerbock has been a participant in the World Economic Forum's Young Global Leaders program, an ongoing coaching program for political leaders that created successful leaders like Emmanuel Macron, Sanna Marin or Jacinda Ardern.[6]
A perfect product
Veteran journalist Diana Johnstone, who used to work as press spokesman for The European Greens, described her thus:
Baerbock is 40 years old, just about a year younger that the Green Party itself. She is the mother of two small children, a former trampoline champion, who smiles even while speaking – a clean image of happy, innocent fitness. She learned fluent English in Florida in a high school exchange, studied international law at the London School of Economics, and advocates (surprise, surprise) a strong partnership with the Biden administration to save the climate and the world in general.

Baerbock is a perfect product of transatlantic leader selection. In between jumping up and down on the trampoline, her professional interest has always been international relations from an Anglo-American angle, including her masters degree in international law at the LSE in London.

Her initiation into transatlantic governance includes membership in the German Marshall Fund, the World Economic Forum's Young Leaders Program and the Europe/Transatlantic Board of the Green Party's Heinrich Böll Foundation.

On that basis, she has risen rapidly to the leadership of the Green Party, with very little political and no administrative experience.

Baerbock is all for "humanitarian intervention." The Greens thus propose changing United Nations rules to make it possible to bypass the Great Power veto (held by the U.S., Russia, China, the U.K. and France) in order to use military intervention to "stop genocide." Her enthusiasm for R2P (the Responsibility to Protect, used so effectively in Libya to destroy the country) should resonate happily in a Biden administration where former U.S. ambassador to the UN Samantha Power is on the lookout for victims to rescue.

Needless to say, the Greens have not forgotten the environment, and see "climate neutrality" as the "great opportunity for Germany as an industrial location." The development of "climate protection technologies" should "provide impetus for new investments." Their program calls for creation of a "digital euro," secure mobile "digital identities" and "digital administrative services."

Indeed, the Green economic program sounds very much like the Great Reset advocated by the World Economic Forum at Davos, with a new economy centered on climate change, artificial intelligence and digitization of everything. International capitalism needs innovation to stimulate productive investment, and climate change provides the incentive. As a World Economic Forum young leader, Baerbock has surely learned this lesson.[7]
On 13 June 2021, the Greens officially nominated Baerbock as the party's candidate for Chancellor.[8]
Wikipedia manipulation
Her Wikipedia article[9] states: Baerbock is the daughter of a social worker and a mechanical engineer[10].[11] After several years in Nuremberg,[12] she grew up with two sisters and two cousins in an old reconstructed farmhouse her family owned[13][14][15]. As a child, she joined her parents at antiwar and anti-nuclear power protests organized or supported by the Green Party.[16][17] She attended the Humboldt School in Hanover[18] and at age 16 completed an exchange year at Lake Highland Preparatory School in Orlando, Florida.[19]
The Wikipedia is technically true, but misleads by playing down the facts. The purpose is to create an image of her coming from an ordinary family, "a woman of the people", a preferred image for a allegedly "left" politician. [20] In reality, she comes from a rich family, where her father was a very successful businessman[21][22] at Westinghouse Air Brake Company, a supplier to Volkswagen. The image created in Wikipedia is of a small, thriftily renovated farm house, instead of a luxurious mansion.
Rating
11 November 2021
Terje
References