Schiphol Airport
Jump to navigation
Jump to search
Schiphol Airport is the main airport in the Netherlands and the 3rd biggest of Europe in terms of passengers with 71 million travellers yearly.[1] It has over 495,000 air traffic movements, moves over 1,9 million metric ton of cargo a year and over 320 destinations.[2] It is a major entrepot for drug and weapons smuggling, and a central part of many dark government activities. Bilderberger Dick Benschop is the director.
Beginnings
Known internationally as Amsterdam Airport Schiphol (and in Dutch as Schiphol literately meaning "ship hole"), it was first created as a military airport in 1916 by the Dutch War Department (which later became the Dutch MOD), after it was deemed too small and started expanding. It lost it's military usage during the 1920s, being deemed unable due to the muddy fields it was built on. Its first commercial connection became London.
During World War 2 it got bombed by the Germans in 1940 and the US Air Force in 1943. Multiple people got arrested when taking their pilot-exams on Schiphol during the war.[3]
Since 1949, it became the main Dutch airport, eventually one of the biggest in Europe and the world. Prince Bernhard, founder of the Bilderberg group, was active in this expansion and used his extensive networks to make it happen.
Security
According to the former Minister of Transport and Water Management Annemarie Jorritsma the economical control unit at the airport did not check the cargo (and only checked the list afterwards on request) of the El Al plane that crashed into the residential 10-story flats in Amsterdam-Southeast, known as the Bijlmer disaster.[4] Radar footage of the plane does also not appear to sync with it's flight data recorder. Maintenance was also poor, but El Al said that was normal. Boeing warned about some parts (one even called in need of direct replacement) of this model plane. Shin Bet and the Mossad were noted to be a regular part of the security detail of El AL at the airport having "up to 80 agents", with one instance a "truck driving on the airfield" at which one of the security officers suspected was the Mossad, a head-figure of air-traffic control secretly called the head of public relations to keep quiet about "explosives, toxins and gasses" on the plane, at the airliner's request, chemicals for Sarin has been found to be part of it's cargo.[5][6]

ICTS, a Israeli security company was in charge of security at Schiphol when Umar Farouk Abdulmutallab (the "underwear bomber") was allowed to board the plane, without, according to Kurt Haskell, having a passport. ICTS International is founded by Shin Bet operatives including Ezra Harel and was also in charge of the airports of 9/11 and more airports such as where the 2015 Brussels bombing took place.[7][8][9]

In 2018 Dutch State-Broadcaster NOS revealed that there were almost two collisions on one day, with one small private plane "flying 300 metres passing in front of the departing Boeing with 200 people aboard".[11] The Dutch Safety Board was investigating but did not criticize, even though the Dutch Public Prosecutor already convicted hundred of employees over the decades. According to the newspaper Algemeen Dagblad in 2020, the Dutch-trade union FNV reported Schiphol "neglects the security of employers" reciting a "culture of fear" with the people working on the platforms with the air planes and with the companies that utilize the airport, citing deaths, 18 instances of collisions between planes and taxi's with 2 serious.[12] On the 18th of January, 16 planes landed on a closed runway.[13] Other nefarious operations include the use of the airport for sending "rocket-launchers to Surinam" during the civil war there in 1990 and sending arms for the nuclear weapons-program of Muammar Gaddafi in 1992.[14]
MH 17
Apparently the Israeli company GA Telesis - an aviation company headed by Aviv Tzur bought a written off plane from Malaysia Airlines to dismantle it, a 777-200. It was the only plane in their entire fleet, which was looking like the one that crashed and sat in their hangar at least since 2013, flying from France to Israel using a new registration number.
GA Telesis does business with Pentagon 2000, an aviation software company for boeing-planes, which is an Israeli family business of the Mofaz family and the father of Shaul Mofaz, Avraham Mofaz,[18] has sort of an "obituary" on the Pentagon 2000 website.[19][20] A branch company of Pentagon 2000 in Ireland listed as directors Gabriel Mofaz in New York and Yaron Mofaz in Israel, who likely is the person that took the last photo of the plane.[21]
Drug Smuggling
Drug smuggling apparently is big business at Schiphol, with Amsterdam known as the drug-capital of the world for tourists, utilizing both cargo and persons (split 50/50), as young as 13 years old, the Netherlands is called "a major transit route for cocaine, heroin and XTC.[22][23][24] Within 5 years of the establishment of an anti-drug unit at Schiphol in 1999 up to 2500 people were arrested for drug smuggling, and 11 million pounds was found in luggage and cargo. A leaked wikileaks memo revealed the US was concerned about the "very lenient policies on Schiphol", "catching and releasing low-level couriers", "not checking the baggage of employees working in shops on site". according to Minister of Justice Piet Hein Donner, at least 16 individuals of private companies working at Schiphol had been arrested for drug smuggling during that time.[25]
Willem Matser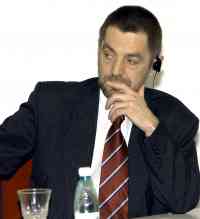 Lieutenant Colonel in Staff Willem Matser, an advisor to the Secretary of the NATO Lord George Robertson and Chris Donnelly, was arrested in February 2003[26] after a "package to Colombia" was intercepted at the airport with €200,000 in bank transfer receipts and "a CD with €200,000,000 in payment orders" with a fake document authorising the transfer of the same amount of money to Romania during the same time he tried developing projects and gaining a 51% controlling stake for the leading Romanian oil company (responsible for 10% of the Romanian GDP) for Dick Cheney's Halliburton in Romania[27] (apparently because according to French analysts in which a French investigation that questioned the sudden support from East-Europe for the war on terror caused French President Jacques Chirac to become furious, because the country was hijacked by CIA-agents for support in the War in Iraq)[28]. Apparently, Matser explained the money (up to $3,000,000,000) was running "a freelance broker company offering short term loans". He appeared connected to the Amsterdam Moroccan drug-empires by at least one well known criminal.[29][30]

The investigation-team pointed to a "drug-cartel" in Colombia "on behalf of crime boss of the Italian Mafia Pietro Fedino" according to Dutch State-broadcaster NOS and Belgian newspapers with support of the Romanian general, head of the national intelligence agency and Chief of Staff Ioan Talpes. The Dutch Public Prosecutor refused to make any statements on the issue.[31] Robertson got convicted. Matser eventually got convicted of fraud, but did not have to serve time and got 3 years probation for forgery and money laundering, even though his two Dutch accomplices (both elder businessmen) were previously convicted of drugs crimes. Romanian Secret Service connected a continental paedophile network, with the US lobbyists involved, but that investigation was met with a cover up after convicting one person, who remained silent on the matter.[32] Wikipedia does not mention this on Robertson's page and Willem Matser appears to not even have it's own page, Dutch Corporate media and state-funded media (and even "independent" journalists and activists) removed all their articles on the case. The case has dozens of unsolved questions that will probably never be answered, making it a perfect example of a third rail topic.
War on drugs
Around 500 employees were fired dring the 2010s for drug smuggling. Multiple Colombian and Turkish men seemingly operate in the secured sections of Schiphol for the Illegal drug trade, after being screened by the AIVD who runs the backgrounds-checks and contacts family members before granting access. How these men turn out to be smugglers the agency can't explain.[33] Multiple prominent activists have already coined the Netherlands a "narco-state". In 2012 the police found 661 pounds of coke in a bust on a place from South America[34], and again the same amount on one bust in 2017, with no arrests have been made, these just being a handful of hundreds of other examples.[35]
In 2019 the newspaper AD reported Dutch Royal Military Police arrested at least 11 people working at Schiphol in all sorts of jobs from luggage to catering. They apparently placed "cocaine (having up to 225 pounds in their own houses along with €100.000) and heroin on board of planes coming from "South America & Africa", bringing them secretly on planes.[36] In 2020 a drug-network of cocaine smuggling was detected to be operated by Schiphol-employees, and arrested after a drug bust on a plane from South America.[37] The Royal Military Police denied it was linked to a drug bust in Argentina where 3 crew members of Martinair - a cargo airliner of KLM - were arrested in a drug bust where 82 packages of cocaine with up to 189 pounds by a sting operation involving 50 agents were found, with a street value of €7.500.000 on a flight from Schiphol to Ecuador with stops in Buenos Aires and Brazil. The three pilots were released, their names being kept silent.[38][39]
2016 Brussels Bombing
Apparently according to the Belgian Federal Police, one of the alleged perpetrators of the 2016 Brussels Bombing Ibrahim El Bakraoui paid the Turkish authorities 6000 to 7000 Euro's to be specifically deported to the Netherlands, after being arrested in Turkey[40], after the Turkish government discovered he and his brother were the only ones still in contact with Salah Abdeslam (a "terrorist" suspected of involvement in the 2015-11 Paris attacks), even after a tip from the Turkish and the FBI, the Dutch did not arrest him at Schiphol Airport, with Minister of Security and Justice Ard van der Steur reciting "the FBI tip was not directly aimed at us as the Belgians were searching him, and not the Dutch"..[41]
Extraordinary Rendition
According to an international weekly journal of science called Nature Research Jan Peter Balkenende's government oversaw at least 27 instances of CIA planes using Dutch airports near Amsterdam, Rotterdam and The Hague and Groningen for extraordinary rendition in his first 4 years. The final destination of one plane was actually Schiphol Airport. The leaked reports, their findings or research on possible black sites were not reported in Dutch commercially-controlled media.[42]
Related Quotation
| Page | Quote |
| --- | --- |
| Underwear bombing | "Well, what I saw specifically was the two men go to the ticket agent counter together. Only the Indian man spoke and what the Indian man said was this man needs to board the plane and he doesn't have a passport. And the ticket agent then responded, well, you need a passport to board the plane. And the Indian man said, well, he's from Sudan and we do this all the time." |
References