Activist
Jump to navigation
Jump to search
An activist doesn't wait for "them" to do things, but organises.
Graffiti artists
.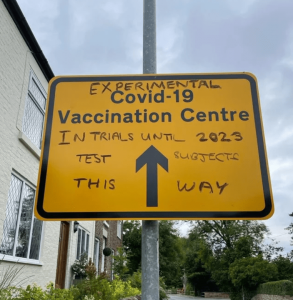 Subvertising or street art are methods of activism that spread awareness outside of control of commercially-controlled media or the internet.
Political activism
Political activists fight for meaningful reforms and societal change. This is done through political campaigning.
COVID-19
Peace activists
Examples
Page name
Interests
Description
Ralph Abernathy
Mother Agnes
Peace
Syria
Imran Ahmed
Spooky activist "Buffalo might never have happened if online hate had been tackled after Christchurch"
Kim Alberts
Vaccine
"COVID-19/Vaccine"
RNA Vaccine
Self-spreading vaccine
Activist with a focus on vaccine injury in the US.
Svetlana Alexievich
Gary Allen
US author of None Dare Call It Conspiracy, proposing that US big business and the left are in the same front.
Shepard Ambellas
Bilderberg/2012
"COVID-19/Vaccine"
Founded Intellihub. Reported on the 2012 Bilderberg.
John Amery
Brother of politician Julian Amery. A Nazi-sympathiser who was executed for high treason by the UK government.
Huda Ammori
Sheetal Amte-Karajg
WEF YGL found dead aged 39, reportedly a suicide
Tim Anderson
Kevin Annett
The Pedophocracy
Canada
VIPaedophile
First Nations
Catholic Church/VIPaedophile
When he reported that the church of which he was a minister had been involved in genocide, Rev. Kevin Annett was told to shut up. He didn't. He researched the topic and wrote books and made a movie about it. His Wikipedia page has been deleted at least 4 times as "non-notable" because he has been blacklisted with dynamic silence by corporate media. He continues to expose institutional corruption and child abuse.
Safia Aoude
Pan Am Flight 103
Ed Asner
9-11
A Jewish American actor, 9-11 activist, voice actor and a former president of the Screen Actors Guild
Dylan Avery
9-11
US filmmaker who made Loose Change
Uri Avnery
Peace
May Ayres
A passionate observer of the human condition who uses her art to express the horrors at war.
Shiva Ayyadurai
Indian-American biologist and dissident.
Jonathan Azaziah
Mikhail Bakunin
Keelan Balderson
7-7
Ajamu Baraka
Human rights
"Racism"
Black liberation
US cultural and political critic. Called Obama "moral disaster" and one of "the worst things that has happened to African-American people".
Brian Barder
Human rights
British diplomat, author, blogger and civil liberties advocate
John Perry Barlow
Richard Barnard
Ann Barnhardt
Vatican City
Roman Catholicism
Homosexuality
Gustavo Vera
Jorge Mario Bergoglio
Latin Mass
Supernatural intervention
Catholic Church/VIPaedophile
US activist who wrote about the Lavender Mafia in the Vatican
Colette Pichon Battle
"Climate change"
"Racism"
Green new deal
Climate activist and lawyer; Obama Foundation Fellows/2019
Tim Beaumont
British politician and an Anglican priest. Bullingdon Club. Transgender and euthanasia activist. Epstein's black book.
Maria Becket
On the report of the 1982 Bilderberg she is listed as "Greece, Former Advisor to Ministers of Coordination and Foreign Affairs"
Vanessa Beeley
Middle East
Peace
Syria
White Helmets
British investigative journalist focused on the Middle East. Helped expose the White Helmets.
Ann Beeson
WEF/Global Leaders for Tomorrow/2000. Executive Director of U.S. Programs at the Open Society Foundations 2007-2011.
Moazzam Begg
Moazzam Begg banged up in both Guantanamo Bay and HMP Belmarsh
Cedric Belfrage
British Security Coordination
Part of British Security Coordination, then press control officer in Germany after the WW2. Suspected Soviet agent, or British double-agent.
Sian Berry
Leader of the Green Party of England and Wales from 2018 to 2021
Steve Biko
Human rights
Apartheid
Anti-apartheid activist who after his death in police custody became an icon for the movement.
Michael Billington
Martin Birnstingl
David Kelly
British surgeon who questioned the verdict of suicide given on the death of the arms inspector David Kelly
Grace Blakeley
Brian Bogart
Jenifer Bolen
American activist conducting "Legal Campaigns," a hybrid of lawsuits and grassroots, networked activism.
Bono
Irish singer "kissing the arses of the rich and powerful" and preaching on global inequality while avoiding taxes according to Irish scolar Harry Browne.<a href="#cite_note-1">[1]</a>
Robert Bowman
9/11
Strategic Defense Initiative
Depleted uranium
US officer turned peace activist and 911 skeptic.
Billy Bragg
Russell Brand
Reiner Braun
Barrett Brown
Wikileaks
Anonymous
Military-industrial-congressional complex
Romas/COIN
Peter Thiel
Stratfor
Palantir Technologies
The Paypal Mafia
HBGary
Ellen Brown
Banking
Money reform
Derrick Broze
GM
Global control grid
SDS
Vladimir Bukovsky
Human rights
Psychiatry
Russian dissident who spoke at the 1979 JCIT.
Ronan Burtenshaw
Enough is Enough UK
... further results
Related Quotations
Related Document
Official examples
Many thanks to our
Patrons
who cover ~2/3 of our hosting bill. Please join them if you can.
References