Charles Powell
Jump to navigation
Jump to search
 Charles Powell  
(diplomat, politician, businessman)

Born

Charles David Powell


6 July 1941
Nationality
UK
Alma mater
The King's School, The Cathedral Choir School, New College (Oxford)
Parents
John Frederick Powell

Spouse

Carla Bonardi
Member of
Barrick Gold, Council on Foreign Relations/Global Board of Advisors, European Council on Foreign Relations, Henry Jackson Society, International Institute for Strategic Studies/Advisory Council, Le Cercle

Le Cercle, House of Lords, Key advisor to Thatcher, on the payroll of various defence companies
Not to be confused with Charles Powell (Integrity Initiative), a member of the II's Spanish Cluster
Charles David Powell, Baron Powell of Bayswater, KCMG is a spooky British diplomat, politician and businessman. He attended Le Cercle. His brother, Jonathan Powell, was chief of staff to Tony Blair throughout his period as Prime Minister from 1997 to 2007.
Background
Charles Powell went to The Cathedral Choir School, Canterbury, The King's School, Canterbury and then got a BA in modern history from New College, Oxford in 1963.
Career
Charles Powell became a diplomat in 1963. His first posting was as Third Secretary to Helsinki in 1965, where he was promoted to Second Secretary. In 1968, he returned to London, spending three years at the FCO. He was posted as First Secretary to Washington, D.C. in 1971, and became the Ambassador's Private Secretary. Subsequent postings were to Bonn in 1974 and, as Counsellor, to UKREP Brussels in 1980.[1]
Al-Yamamah arms deal
Full article: Al-Yamamah arms deal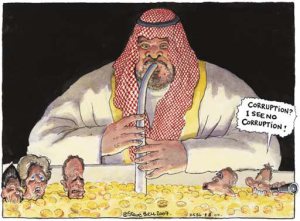 Powell was seconded to 10 Downing Street and was Private Secretary to Margaret Thatcher (1983 to 1990) and then as Private Secretary to John Major (1990 to 1991). During his time working for Mrs Thatcher, he became one of her most trusted foreign policy aides, and helped broker the Al-Yamamah arms deal with Saudi Arabia.[2]
Russian Business
E. P. Heidner refers to Lord Powell as a "key member" of "Diligence and its sister company New Bridge... demonstrat[ing] the Western political and financial muscle working with the Yeltsin family".[3]
House of Lords
He is a member of the House of Lords and has been on a range of committees since 2000:
Procedure Committee Jun 2015 -
Constitution Committee Jun 2010 - Mar 2015
European Union Committee Nov 2006 - Apr 2010
EU Sub-Committee B - Internal Market Nov 2006 - Apr 2010
Economic Affairs Committee Jun 2005 - Nov 2006
EU Sub-Committee C - Foreign Affairs, Defence and Development Policy Nov 2003 - Nov 2004[4]
Brunei conflict of interest
In 2005, it was revealed that Powell had been acting as Tony Blair's special envoy to Brunei, an unpaid role, for several years. This was controversial because Powell was on the payroll of BAE Systems, and the company was at the time in dispute with Brunei over the purchase of three warships. Lord Powell denied a conflict of interest over both his links to BAE and the fact his brother Jonathan Powell was Tony Blair's chief of staff.[5]
Companies
As of 2015, he was receiving a salary in the following capacities:
Deep political connections
He attended Le Cercle in the early 1990s. As of 2015, he was a member of the Council on Foreign Relations/Global Board of Advisers.[4]
Family
His brother, Jonathan Powell, was chief of staff to Tony Blair throughout his period as UK Prime Minister from 1997 to 2007, and his father was Air Vice-Marshal John Frederick Powell.
Event Participated in
Many thanks to our
Patrons
who cover ~2/3 of our hosting bill. Please join them if you can.
References