Kevin Ryan
Jump to navigation
Jump to search
 Kevin Ryan    
(researcher, chemist, author, 9-11/Whistleblower)

Member of
French-American Foundation/Young Leaders
Interests
• 9-11/WTC Controlled demolition
• Stratesec
• deep politics

A former Site Manager for Environmental Health Laboratories, a division of Underwriters Laboratories, who became interested in 9/11 and had the tenacity to keep asking questions. Now a very productive 9/11 researcher.
Kevin Robert Ryan is a chemist and laboratory manager, who was fired by UL in 2004 for publicly questioning the report being drafted by the National Institute of Standards and Technology (NIST) on their investigation into the collapse of the World Trade Center towers on 11 September 2001. In the intervening period, Ryan has completed additional research while his original questions, which have become increasingly important over time, remain unanswered by UL or NIST.
Kevin Ryan speaks about his book, Another Nineteen
9/11
Full article: 9-11

Ryan is an active 9/11 researcher. He recommends the journalist Margie Burns.[1] Joël van der Reijden has a mixed review of Kevin Ryan, writing that he "is by far the best and most versatile researcher of the 9/11 Truth community. He has no love for ISGP, however, at all, and is a bit of a scam artist."[2] Ryan observes that George W. Bush had 3 relatives working in the impact zones of the twin towers: Marsh & McLennan] executive Craig Stapleton (husband of his first cousin Dorothy), his first cousin Jim Pierson (who rescheduled a meeting that morning) and Prescott Bush Jr. - a consultant for a Marsh & McLennan company, Johnson and Higgins.
Publications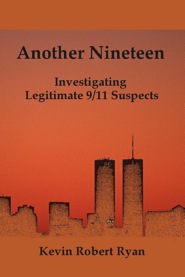 "Explosives were used in the World Trade Center and Stratesec had unparallelsed access to the building. And of course Dulles airport (of which there are some interesting coincidences there relating to evidence provided). But McDaniel had expertise in the acquisition and distribution of ordnance and the fact that he had a history going to the days of when Iran-Contra occurred and it would have occurred with his involvement, apparently - lead us to believe that Barry McDaniel is a deep state operative who was brought in [to the 9-11 plot] for the exact purpose of coordinating the implementation of explosives and the security issue related to Dulles airport and possibly United Airlines."
Kevin Ryan (24 August 2016)  [3]
Kevin Ryan has produced a number of highly creditable pieces of research, perhaps most notably Another Nineteen, published on June 14, 2013, which contained groundbreaking research on how the "19 hijackers" were brought to USA, and named an alternative 19 deep politicians who were much more worthy of investigation for the crimes of 9/11. He names[4]
Documents by Kevin Ryan
As of 8 April 2021, our 15 Patrons are giving £72/month, nearly 3/4 of our webhosting bill.
If you appreciate our efforts, please help keep this site running by donating or spreading the word about our Patreon page
.
References