Drone
Jump to navigation
Jump to search
 Drone 
(WMD,  Technology,  Weapon)
Type
Technology
Interest of
• Josh Begley
• Peter Burt
Remote controlled flying robots, used for a wide range of purposes by governments or private companies as they're getting banned throughout the world for personal use.
Drones or Unmanned Aerial Vehicles (UAVs) are flying objects which can be operated remotely. Companies in Israel and the US are leading producers of these systems, which feature more prominently in military rather than civilian life. Their use will only increase in time, for everything from delivering pizzas, surveillance, to carrying out assassinations.
While drones are being increasingly[1] restricted[2] or banned[3] for personal use outside individuals their own garden citing "national security or health" risks, multiple police[4] forces of countries have started utilizing drones and "counter-drone policies"[5]" to control crowds and patrol the streets.[6][7]
Early development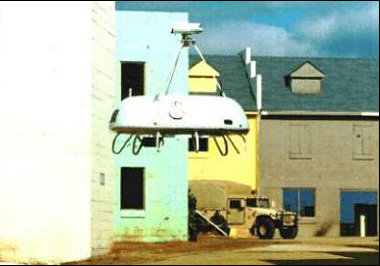 The CIA developed a prototype in 1972 that would act as a short range spy drone and from it's appearance would mimic a dragonfly that could pass over embassy walls and reach windowsills. The "Insectothopter" was built for Intel gathering and designed to be able to record audio.[8][9]
Sikorsky developed the "Cypher" as unmanned air surveillance vehicle from 1986 on.[10] It was designed for airborne reconnaissance and payload delivery. It could be equipped to locate buried objects (e.g., UXO) and underground structures[11] and was able to fly autonomously with no operator intervention.[12]
Productions
Slaughterbots - A video that tries to raise the awareness about how the technology could be used.[13][14][15][16]
Israel has lead the world in the development of drones for many years. It used the Gaza Strip as the leading testing ground for both armed and surveillance drones.[20] Israel produced 60% of all drones manufactured from 1985 to 2015. US produced 24% followed by Canada at 6.4% and France with 1.6%. from 2010-2014, UK was the world's #1 importer of drones, with 1/3 of global drone imports.[20] "Google's artificial intelligence technologies are being used by the US military for one of its drone projects."[21]
Combat use
In 2015, only 3 countries were known to have use lethal drones to kill people: US, UK and Israel. The proliferation of the technology and the advent of small killing drones produced by Turkey, made the technology accessibly to more nations.
According to some estimates, the US killed 8,858-16,901 people between 2010 and 2020 in Pakistan, Afghanistan, Yemen and Somalia. Of that 910-2,200 were civilians.[22] Israel used Gaza as a testing ground for development of drone technology.[20] Drones were initially developed for use by the military in combat - both for general warfare and assassination of particular individuals - and then rolled out for use on civilians. Electronic Intifada reports that in 2014, Israel killed 840 people in Gaza.[20]
In March 2017, Connecticut lawmakers were considering proposals to permit the US police to fire deadly weapons from drones.[23]
Use of drones can have a lasting impact on their operators.[24]
"We don't know how many hundreds of innocent civilians have been killed in these attacks ... This would have been unthinkable in previous times"
Jimmy Carter (2012)  [25]
CNN revealed in 2012 "known militant leaders have constituted only 2 percent of all drone-related fatalities" since 2004 to 2012, as it seems the main effect the strikes actually have is inciting an outright fear for blue skies with children.[26][27] The Obama Administration counted military-age males in strike zones as combatants unless explicit intelligence exonerated them posthumously.[28]
Surveillance
In February 2021 a "highly modified drone" was detected in Tucson, which evaded the pursuit of 2 helicopters.[29]
A drone was reported above Minneapolis in May 2020.[30]
Police UK
The UK Police report that drones have already proved useful in searching for missing people.[32] BBC announced in 2015 that UK police would start routine use of drones for mass surveillance, as part of the "war on terror". They also reported that the UK Police would take over responsibility for drone monitoring from the Civil Aviation Authority, preventing any effective oversight of drone use by UK police.[33] The Daily Mail announced in 2016 that "A tiny remote-controlled aircraft modelled on an insect will become Britain's latest weapon against terror."[34]
In 2022, Nottingham University is planning a £500,000 trial using drones to "protect women".[35]
Police Brazil
The Brazilian government purchased a fleet of Hermes drones to help crush the massive protests that erupted across Brazil against the 2014 World Cup.[36][20]
Monitoring workers
In 2014 drones were used in Dubai (UAE) to surveil construction site workers to: "help inspectors record when sites are breaking laws, including ignoring the midday break law that stops labourers working in the midday sun between June and September".[37][38]
In 2015, drones were used to capture video footage that shows construction progress at the Sacramento Kings' new stadium in California. Drones capture video which is fed into a computer to create a 3d model of the progress of the construction.[39][40]
The use on construction sites increased in the UAE in 2019 in Abu Dhabi to monitor the progress of the engineering work for the Expo 2020.[41][42][43][44]
In 2021 the Dubai Police used drones to: "catch 518 people without masks in Naif", with 4,400 violations in total until end of May, including traffic violations.[45][46]
A study was getting published in 2020 how to most effectively monitor construction sites with drones.[47]
By nation
US
Former US drone operators describe a culture of callousness which sanctions the murder of civilians and children, report widespread use of alcohol and other recreational drugs by operators.
Only a small proportion of those killed by US drones are the intended targets.[48] A set of former drone operators charged in a 2015 press conference that "[the Obama] administration and its predecessors have built a drone program that is one of the most devastating driving forces for terrorism and destabilization around the world",[49] asking "Have we forgotten our humanity in the pursuit of vengeance and security?"[50]
In 2015, General Atomics Aeronautical Systems, the company that makes the Predator and Reaper drones, announced plans to integrate a 150KW laser onto its Avenger (née Predator-C) drone. The company suggested that this could be a reality by 2017.[51]
In March 2019 the BBC reported:[52]
"There have been 2,243 drone strikes in the first two years of the Trump presidency, compared with 1,878 in Mr Obama's eight years in office, according to the Bureau of Investigative Journalism, a UK-based think tank."
Illegitimate off-battlefield use
Reprieve opposes the illegitimate off-battlefield use of weaponized drones anywhere in the world. This program has already killed more than 4,000 people – most of whom remain nameless, even to the Congressional Committees tasked with overseeing the policy. As Reprieve began freeing Guantánamo Bay prisoners, George Bush's Attorney-General told us "if you don't let us imprison and interrogate these guys, we will just kill them". Under the Obama Administration, this is exactly what came to pass – initially in secret. The CIA drone killing program has taken the Guantánamo 'legal black hole' strategy one step further. Instead of imprisoning without due process, the US is now executing without due process.
President Obama personally signs off each day's 'kill list', and even authorized the killing of a US citizen along with his teenage son. Targeted killing via drone warfare is a clear change in US policy: from abduction, torture and detention to extra-judicial execution; yet with the same, if not greater, radicalizing effect.
Like Guantánamo Bay, the drones program initially attracted little opposition because its victims were presented as the 'worst of the worst'. In fact, the CIA's error rate is at least as bad as at Guantánamo Bay, and victims are never given a chance to defend themselves.[53]
Police use of armed drones
In 2015, North Dakota became the first use state to allow police use of drones armed with less lethal weapons such as tasers, rubber bullets and tear gas after a last-minute push by a lobbyist.[54]
UK
In 2016, the UK Ministry of Defence tried to rebrand its new batch of airborne drones from General Atomics, terming them "Protector" drones rather than their actual trade name of "Reaper".[55] Research into both creating and disrupting drones was ongoing as of 2019.[56]
Bombing Syria
On 7 September 2015, speaking to the House of Commons on its first day back after the summer break, David Cameron justified as an act of self-defence the targeting of UK citizens fighting alongside ISIS in Syria by an unmanned General Atomics Reaper drone costing £10 million. Reyaad Khan, a 21-year-old from Cardiff, who had featured in a prominent ISIS recruiting video in 2014, and Ruhul Amin, 26, were killed in the attack on the Syrian city of Raqqa on 21 August 2015. A third Briton, Junaid Hussain, 21, was killed by a separate US airstrike three days later as part of a joint operation.
The strikes were authorised by David Cameron at a meeting of senior members of the National Security Council some months ago after intelligence agencies presented evidence to ministers that Khan and Hussain were planning to attack commemorative events in the UK. It is understood that the two events were the VE Day commemorations, presided over by the Queen at Westminster Abbey on 10 May 2015, and a ceremony to mark the murder of Lee Rigby in Woolwich on Armed Forces Day on 27 June 2015. Following preparations, which took place over a period of months, the prime minister convened a meeting of the National Security Council attended by the Attorney-General Jeremy Wright who advised that a strike would be legal on the grounds of self defence.
Questioning by Jeremy Corbyn
Questioning the legal basis for the use of drones, Labour leader Jeremy Corbyn said:
"Urgent consideration now needs to be given to the appropriate process by which attacks such as this one are sanctioned, on what evidence and on what basis of law."[57] On 11 September 2015, it was revealed that a letter sent to the UN Security Council (UNSC) by the British government had claimed drone strikes in Syria were "a necessary and proportionate exercise of the individual right of self-defence of the United Kingdom," but added that "action against ISIL in Syria is lawful in the collective self-defence of Iraq."
Jeremy Corbyn said Cameron's failure to mention the additional justification of defending Iraq raised the question of whether Parliament had been misled:
"The government appears to have used an additional and entirely separate justification for this covert strike in their letter to the UN, which was not mentioned in the Prime Minister's statement to Parliament. Why did the government cite the defence of Iraq when justifying this strike to the UN, but not when doing so to Parliament?"
"Is it because Parliament previously voted against action in Syria, making this justification at odds with the will of the Commons? The Prime Minister cannot face two ways on this issue – he needs to urgently explain this discrepancy."[58]
Legal position
In May 2016, Labour MP Harriet Harman chair of Parliament's Joint Committee on Human Rights said the legal justification for the drone strike on Khan was "confused and confusing". She called for the UK government to lead the way internationally by defining a clear legal basis for action, and to make sure that those who made decisions were held accountable:
"As the world faces the grey area between terrorism and war, there needs to be a new international consensus on when it is acceptable for a state to take a life outside of armed conflict. Our government has said they're going to be targeting people in other parts of the world, but there's no independent scrutiny afterwards."
Jennifer Gibson, a human rights lawyer from Reprieve who represents families of drone strike victims, said drone strikes also fuelled resentment in the targeted country:
"If the UK is going to go down this road of engaging in targeted strikes, much like the US, there has to from the outset be a clear policy that sets out the legal framework within which these strikes are going to be taken and proper accountability mechanisms."[59]
ISC report
In April 2017, UK Parliament's Intelligence and Security Committee published their report into the UK's drone-targeted killing of Reyaad Khan in Syria in August 2015. The ISC report was heavily censored by Theresa May's government before release and, due to the calling of the 8 June general election, the Committee stated they were prevented from "pushing back against the amount of redactions that have been imposed." Even before the redactions, however, the Committee were refused access to what they described as "central", "key" and "clearly relevant" documents on the strike against Reyaad Khan. In addition they were refused all access to information on the US drones strikes conducted in conjunction with the UK on Junaid Hussain and Mohammed Emwazi ('Jihadi John').
Whereas the ISC have apparently done their best to scrutinise the intelligence basis of the UK's first drone-targeted killing outside the battlefield, they faced determined resistance from the National Security Secretariat and the government. While it may be understandable that some information is deemed too sensitive to be publicly released, the whole point of the ISC is that they are allowed to see such information in order for there to be proper and appropriate parliament scrutiny of government activities. As the ISC report says:
"Without sight of the actual documents provided to Ministers we cannot ourselves be sure – nor offer an assurance to Parliament or the public – that we have indeed been given the full facts surrounding the authorisation process for the lethal strike against Reyaad Khan."[60]
Dystopian or perfectly utilizing new technology?[61]
Regulation
EU
The EU is seeking to close the ranks against citizens using drones banning them from all towns starting from the 2020s, requiring every owner to own a license, a registered chip inside the drone and banning all non-state operated drones from being within 150 meters of a city.[62]
US
The US Government announced in 2015 that it would require registration for anyone using a drone.[63]
South Korea
Drones are banned in various areas of Seoul.
An example
A Drone victim on Wikispooks
Related Documents
References