Dick Cheney
Jump to navigation
Jump to search
 Dick Cheney          
(deep politician, businessman, war criminal)

Born

Richard Bruce Cheney


January 30, 1941
Lincoln, Nebraska, U.S.
Alma mater
Yale University, University of Wyoming, University of Wisconsin-Madison
Religion
United Methodist

Criminal status

At large as of August 2017
Children
• Elizabeth Cheney
• Mary Cheney

Spouse

Lynne Cheney

Criminal convictions

• Torture
• Cruel Inhumane and Degrading Treatment
Member of
Australian American Leadership Dialogue, Council on Foreign Relations/Members, Project for the New American Century, The European House - Ambrosetti, US-Azerbaijan Chamber of Commerce, US/Deep state
Perpetrator of
"Iran-Contra", Cheney Loophole
Party
Republican
Dick Cheney is a neoconservative deep politician with close ties to the MICC. Named "The worst Dick since Nixon", Cheney topped a list of "The Top 43 Appointees Who Helped Make Bush The Worst President Ever".[1]
Activities
9/11
Cheney was in the White House during the attack. He said he learned of the attack from a clerical secretary. In an interview with Tim Russert on NBC, Cheney indicated that President George W Bush made the decision that day to scramble fighter jets. This is contrary to standard operating procedures, and raises the question of whether and why the President delayed the scrambling of jets. According to the 9/11 Commission's report, Cheney did not issue orders to shoot down hostile aircraft on September 11, 2001, until long after the last hijacked airliner had already crashed. However, he later admitted on camera to giving the order to shoot down a flight after three had already hit their targets that morning. This seems likely to have been flight 93.[2]
9/11 Commission
George W. Bush claimed that it was important for him and Cheney to appear together before the 9/11 Commission so that commission members could "see our body language... how we work together." Cheney and Bush testified in the Oval Office, not under oath and the session was not officially transcribed. Initially, Bush insisted that he testify only to the Chairman and Vice Chairman of the commission, but later agreed to testify before the full panel.[3]
Amerithrax
Richard Lambert is the FBI agent who headed the FBI's "investigation" into the Amerithrax case from 2002 to 2006. In a 2018 interview for the Opperman Report he stated that Dick Cheney was extremely interested in the progress of the investigation.
Invasion of Iraq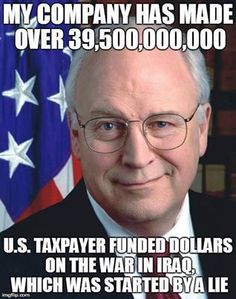 On August 26, 2002, Cheney stated "There is no doubt that Saddam Hussein now has weapons of mass destruction. There is no doubt he is amassing them to use against our friends, against our allies and against us." Newsweek referred to it as "Cheney's Biggest Lie", yet said nothing about potential charges - as if mendaciously starting a war of aggression were not agreed to be "the supreme international war crime".[4] Cheney personally made millions of dollars from the Iraq war, while Halliburton made around $40 billion from contracts with the US government.[5]
The "Cheney Loophole"
In 2005, at the urging of Vice President Cheney, a provision was inserted into the the Federal Energy Policy Act of 2005 that has come to be known as the "Cheney loophole". This allowed the fracking industry to circumvent the Safe Drinking Water Act by exempting fracking fluids, thus fast tracking shale fracking as a source of cheap natural gas.[6][7]
Torture
On Thursday, October 20, 2005, Vice President Cheney proposed a change to McCain's proposed legislation proscribing torture. Cheney wanted the proscription limited to just military personnel, thus giving CIA freedom to torture, but McCain did not accept Cheney's proposal.[8]
Assassination Squads
It is widely alleged that Cheney circumvented the Director of The CIA to order the formation of an "ultrasecret"[9] CIA assassination squad modelled on Israel hit squads (which Seymour Hersh described as an "executive assassination ring.")[10] after 9/11.[11] In early 2009 Seymour Hersh, at a speaking event at the University of Minnesota, said that Dick Cheney ran a secret hit squad that was kept from Congressional oversight.[12][13][14][15][16] As of August 2019, no connection is known to have been proven to the 9/11 Premature deaths.
War criminal
Cheney's support for torture was noted by the Kuala Lumpur War Crimes Commission, who found him guilty in absentia in connection with the events of Abu Ghraib.[17] In April 2012, Cheney cancelled a speaking engagement in Toronto "because he feared angry protests by those calling for his arrest for war crimes".[18]
Events carried out
Related Quotations
| Page | Quote | Author |
| --- | --- | --- |
| George Carlin | "This whole country has a manhood problem, biiiiiig manhood problem in the USA. You can tell from the language we use; language always gives you away. What did we do wrong in Vietnam? We pulled out! Huh? Not a very manly thing to do is it? When you're fucking people, you gotta stay in there and fuck them good! Fuck 'em all the way! Fuck 'em 'til the end! Fuck 'em to death! Fuck 'em to death! Fuck 'em to death! Stay in there and keep fucking them until they're all dead! We left a few women and children alive in Vietnam and we haven't felt good about ourselves since. That's why in the Persian Gulf George Bush had to say "this will not be another Vietnam!" He actually used these words, he said: "This time, we're going all the way!" Imagine, an American president using the sexual slang of a 13-year-old to describe his foreign policy. If you wanna know what happened in the Persian Gulf, just remember the names of the two men who were running that war: Dick Cheney and Colin Powell… somebody got fucked in the ass!" | George Carlin |
| Indira Singh | "If we do, if everyone works together, and comes real close to, ehm, closing them down, you will see the mother of all terrorist attacks." | Indira Singh |
Employee on Wikispooks
Event Participated in
Related Documents
Many thanks to our
Patrons
who cover ~2/3 of our hosting bill. Please join them if you can.
References