Richard Nixon
Jump to navigation
Jump to search
 Richard Nixon        
(Lawyer, Politician)

Born

Richard Milhous Nixon


1913-01-09
Yorba Linda, California, U.S.
Died
April 22, 1994 (Age 81)
New York City, New York, U.S.
Nationality
US
Alma mater
Whittier College, Duke University/School of Law
Religion
Quaker
Parents
• Frank Nixon
• Hannah Milhous Nixon
Children
• Patricia "Tricia"
• Julie

Spouse

Pat Ryan
Member of
Council on Foreign Relations/Historical Members, Le Cercle
Perpetrator of
Chile/1973 coup d'état
Supposed perpetrator of
Watergate coup
Interests
• "War on Drugs"
• Modified limited hangout
• Yom Kippur War
• China
Interest of
Donald Freed
Party
Republican
Subpage
•Richard Nixon/Deep state control


A relatively independent US president who may have been removed from power because he was planning to expose the conspiracy to assassinate JFK.
Richard Nixon was a US president, removed from office by the cabal, which engineered Watergate because they were concerned that he was planning to expose the Assassination of JFK.
Russ Baker comments that "the Nixon-Bush relationship is not well understood".[2]
Career
Nixon unsuccessfully applied to serve in the FBI following graduation from law school. When WW2 was declared, Nixon requested sea duty and was assigned to the South Pacific Combat Air Transport Command.[3] Without citing a source, Mark Gorton claims that "in 1945, Richard Nixon was a US Navy lawyer assigned to look in[to] captured Nazi documents which showed Nazi collusion with Allen Dulles. In exchange for helping to cover up the Dulles war time treason, Allen Dulles and Prescott Bush agreed to help finance Nixon's political career."[4]
Deep state control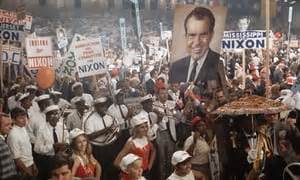 Richard Nixon accepted money the 1940s by the Bush Family, possibly directly from from Prescott Bush and in so doing became an asset of the US deep state. At Dallas on the day of the JFK assassination, he was aware that, even as US president, he was not at the seat of the real power in the US. In his second term as US president, when he began planning to purge the CIA, the US deep state moved to protect its position, carrying out at least two takedown efforts.
Takedowns
The first attempt to unseat Nixon was the Townhouse Operation, which may well have been masterminded by one of his most trusted confidants, George H. W. Bush, was unsuccessful. Bush's second attempt, the Watergate coup, was successful. Even as of 2019, the official narrative of the coup has Nixon as the crooked architect of the operation, when in fact he was the victim.
JFK Assassination
In 1963 Richard Nixon was a corporate lawyer for Pepsi-Cola. On their behalf he took a "quick business trip" to Dallas 20th of November 1963, and so was there on the morning of the JFK Assassination.[5] The purposes of his presence on that day have never been convincingly documented, but the purposes may have been as a powerful reminder of the power of the US Deep state. Some have suggested that when Nixon talked about the "Bay of Pigs thing", he was in fact referring to the JFK hit. When asked by Senator Howard Baker what he knew about the event, Nixon replied: "You don't want to know."[6]
US Presidential Election
On Aug. 8, 1968, Richard Nixon, as Republican party presidential nominee, in the last hour before he was to announce his choice of a running mate, switched from John Volpe to Spiro Agnew.[7]
Vietnam War
In 1969, Nixon told his speechwriters Ray Price, Pat Buchanan and Richard Whalen that "I've come to the conclusion that there's no way to win the war. But we can't say that, of course. In fact we have to seem to say the opposite, just to keep some degree of bargaining leverage."[8]
Giant Lance
On October 27, 1969, in what Jeremi Suri termed "a strategy of premeditated madness"[9] Nixon ordered operation Giant Lance, in which eighteen B-52 bombers armed with nuclear weapons to launch from bases in California and the state of Washington, to cross Alaska, were they were refueled in mid-air by KC-135 air tankers, while flying an oval pattern around the polar ice cap toward the Soviet Union and back for eighteen hours. This failed to get the Soviet Union to back down about Vietnam.[10]
Tapes
Nixon had some Whitehouse conversations recorded, later used by the US deep state to remove him from power in the Watergate coup. They provide insight into his thinking as US President.
Deaths in Vietnam
Nixon: The only place where you and I disagree is with regard to the bombing. You're so goddamned concerned about civilians and I don't give a damn. I don't care.
Kissinger: I'm concerned about the civilians because I don't want the world to be mobilised against you as a butcher.
Nuclear weapon use
On April 25, 1972, Nixon was recorded on tape suggesting using nuclear weapons in the war in Vietnam. "I'd rather use the nuclear bomb," he told Henry Kissinger. "That, I think, would just be too much," National Security Advisor Kissinger replied. Nixon responded, "The nuclear bomb. Does that bother you?" Later Nixon remarked, "I just want you to think big."[11]
Facing questions by reporters about possible impeachment, Richard Nixon remarked in 1974: "I can go into my office and pick up the telephone, and in 25 minutes, 70 million people will be dead".[12]
Watergate
Mark Gorton explains that what is referred to by the commercially-controlled media as the "Watergate Scandal" was in fact a coup by the cabal to remove Nixon from power. He went along with this and was duly pardoned by his successor, Ford to prevent any legal light from revealing what really happened.
Deep Political Connections
Personal contacts between the Nixon administration and Le Cercle go back to December 1970, when National Security Advisor Henry Kissinger and an NSC staff member secretly met with the Cercle leaders at David Rockefeller's residence in New York.[13] Richard Nixon personally attended the Le Cercle 1983 Bonn meeting.[14]
Cabal allegation
In 1993, Harry Miller, a Vietnam War veteran, sued Richard Nixon, together with Bill Clinton, Larry Silverstein, Ross Perot and Colin Powell, alleging that they had perpetrated acts including serial murder for 25 years, since the war in Vietnam, as part of a conspiracy to distribute heroin. In January 1994, a New York court threw out the suit; an appeal by Miller was later rejected. The suit was not reported by the commercially-controlled media at the time.[15]
An event carried out
Appointments by Richard Nixon
Related Quotation
| Page | Quote | Author |
| --- | --- | --- |
| Hunter S. Thompson | "Every GOP administration since 1952 has let the military-industrial complex loot the Treasury and plunge the nation into debt on the excuse of a wartime economic emergency. Richard Nixon comes quickly to mind, along with Ronald Reagan and his ridiculous "trickle-down" theory of U.S. economic policy. If the Rich get Richer, the theory goes, before long their pots will overflow and somehow "trickle down" to the poor, who would rather eat scraps off the Bush family plates than eat nothing at all. Republicans have never approved of democracy, and they never will. It goes back to preindustrial America, when only white male property owners could vote." | Hunter S. Thompson |
Employees on Wikispooks
Event Participated in
Related Document
Many thanks to our
Patrons
who cover ~2/3 of our hosting bill. Please join them if you can.
References