Nuri Birgi
Jump to navigation
Jump to search
 Nuri Birgi  
(diplomat, deep politician)

Born
1907
Died
1986 (Age 79)
Nationality
Turkish
Alma mater
Geneva University/Law School, Paris Political Science School
Member of
Bilderberg/Steering committee

23 Bilderbergs, Turkish Permanent Representative to NATO
Muharrem Nuri Birgi was a Turkish diplomat whose jobs included Turkey's Permanent Representative to NATO. He was the first Turk to visit the Bilderberg , and he attended 23 times in all.
Background
Nuri Birgi graduated from Galatasaray High School, Geneva University Law School and Paris Political Science School.
Career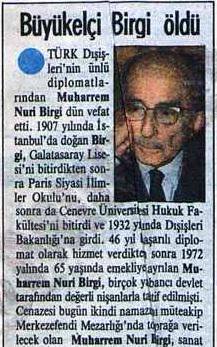 After his various overseas duties, he worked in the Turkish Delegation, which joined the United Nations General Assembly in 1946. He worked as Foreign Ministry Secretary General [undersecretary] from 1954 to 1957 and was appointed to the embassy in London (1957-1960). He was Turkey's Permanent Representation to NATO from 1960 to 1972. Nuri Birgi was the first Turkish citizen to attend a Bilderberg meeting, and was on the Bilderberg Steering Committee for over 20 years. He was possibly also a member of the Bilderberg Advisory Committee.
The KGB claimed to have removed of Nuri Birgi from office as Turkish Foreign Minister (although he not known to have held this post).[1]
Events Participated in
Event
Start
End
Location(s)
Description
Bilderberg/1957 February
15 February 1957
17 February 1957
US
St Simons Island
Georgia (State)
The earliest ever Bilderberg in the year, number 5, was also first one outside Europe.
Bilderberg/1957 October
4 October 1957
6 October 1957
Italy
Fiuggi
The 6th Bilderberg meeting, the latest ever in the year and the first one in Italy.
Bilderberg/1958
13 September 1958
15 September 1958
Buxton
UK
England
The 7th Bilderberg and the first one in the UK. 72 guests
Bilderberg/1959
18 September 1959
20 September 1959
Turkey
Yesilkoy
The 8th Bilderberg and the first in Turkey. 60 guests.
Bilderberg/1961
21 April 1961
23 April 1961
Canada
Quebec
St-Castin
The 10th Bilderberg, the first in Canada and the 2nd outside Europe.
Bilderberg/1962
18 May 1962
20 May 1962
Sweden
Saltsjöbaden
The 11th Bilderberg meeting and the first one in Sweden.
Bilderberg/1963
29 March 1963
31 March 1963
France
Cannes
Hotel Martinez
The 12th Bilderberg meeting and the second one in France.
Bilderberg/1964
20 March 1964
22 March 1964
US
Virginia
Williamsburg
A year after this meeting, the post of GATT/Director-General was set up, and given Eric Wyndham White, who attended the '64 meeting. Several subsequent holders have been Bilderberg insiders, only 2 are not known to have attended the group.
Bilderberg/1965
2 April 1965
4 April 1965
Italy
Villa d'Este
The 14th Bilderberg meeting, held in Italy
Bilderberg/1966
25 March 1966
27 March 1966
Germany
Wiesbaden
Hotel Nassauer Hof
Top of the agenda of the 15th Bilderberg was the restructuring of NATO. Since this discussion was held, all permanent holders of the position of NATO Secretary General have attended at least one Bilderberg conference prior to their appointment.
Bilderberg/1967
31 March 1967
2 April 1967
St John's College (Cambridge)
UK
England
Possibly the only Bilderberg meeting held in a university college rather than a hotel (St. John's College, Cambridge)
Bilderberg/1968
26 April 1968
28 April 1968
Canada
Mont Tremblant
The 17th Bilderberg and the 2nd in Canada
Bilderberg/1969
9 May 1969
11 May 1969
Denmark
Hotel Marienlyst
Elsinore
The 18th Bilderberg meeting, with 85 participants
Bilderberg/1970
17 April 1970
19 April 1970
Switzerland
Hotel Quellenhof
Bad Ragaz
the 19th Bilderberg meeting, in Switzerland.
Bilderberg/1971
23 April 1971
25 April 1971
US
Vermont
Woodstock
Woodstock Inn
The 20th Bilderberg, 89 guests
Bilderberg/1972
21 April 1972
23 April 1972
Belgium
Hotel La Reserve
Knokke
The 21st Bilderberg, 102 guests. It spawned the Trilateral Commission.
Bilderberg/1973
11 May 1973
13 May 1973
Sweden
Saltsjöbaden
The meeting at which the 1973 oil crisis appears to have been planned.
Bilderberg/1974
19 April 1974
21 April 1974
France
Cannes
Hotel Martinez
The 23rd Bilderberg, held in the UK
Bilderberg/1975
25 April 1975
27 April 1975
Turkey
Golden Dolphin Hotel
Cesme
The 24th Bilderberg Meeting, 98 guests
Bilderberg/1977
22 April 1977
24 April 1977
Imperial Hotel
Torquay
England
The 25th Bilderberg, held in Torquay, England.
Bilderberg/1980
18 April 1980
20 April 1980
Germany
Aachen
The 28th Bilderberg, held in West Germany, unusually exposed by the Daily Mail
Bilderberg/1983
13 May 1983
15 May 1983
Canada
Quebec
Château Montebello
The 31st Bilderberg, held in Canada
Bilderberg/1985
10 May 1985
12 May 1985
New York
US
Arrowwood of Westchester
Rye Brook
The 33rd Bilderberg, held in Canada
On 1 July 2021 crowdfunding covered our webhosting bill for the first time ever! Many Thanks to all 23 of our patrons whose generosity keeps this site running!
References