Michael Chertoff
Jump to navigation
Jump to search
 Michael Chertoff      
(deep state actor, lawyer, businessman)

Born
1953/11/28
Elizabeth, New Jersey, U.S.
Nationality
US, Israeli
Alma mater
Harvard University, London School of Economics and Political Science
Religion
Jew
Children
• Philip Chertoff
• Emily Chertoff

Spouse

Meryl Justin Chertoff
Founder of
The Chertoff Group
Member of
Atlantic Council/Board, BAE Systems, Belfer Center for Science and International Affairs, Covington & Burling, Freedom House/Board and Staff, Global Commission on the Stability of Cyberspace, Henry Jackson Society/International Patrons, Knights of Malta, Trilateral Commission
Party
Republican

A long-standing US Republican Party apparatchik and dual US/Israeli citizen who has held senior US legal and national security positions.
Michael Chertoff is a lawyer and deep state actor. He traded on his posting and position in the George W. Bush administration as United States Secretary of Homeland Security to become a businessman. He started The Chertoff Group with Chad Sweet.
United States Attorney for the District of New Jersey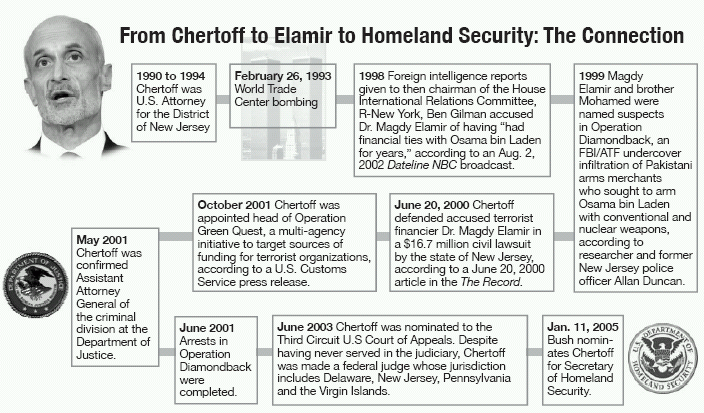 Chertoff was United States Attorney for the District of New Jersey when the 1993 WTC Bombing occurred.
Operation Green Quest
Chertoff was picked by the White House to head Operation Green Quest, a multi-agency initiative to investigate the funding of "terrorism". While doing this job (for about a month) Chertoff also acted as the defense attorney for Magdy Elamir, who was being investigated for funneling some million dollars to terrorists.[1]
United States Secretary of Homeland Security
Chertoff was United States Secretary of Homeland Security from 15th February 2005 – 21st January 2009.
911
""As of Sept. 10th, each of us knew everything we needed to know to tell us there was a possibility of what happened on Sept. 11th . . . We knew the World Trade Center was a target . . . We knew an airplane could be used as a weapon.""
Michael Chertoff [2]
Chertoff Group
Full article: The Chertoff Group

After leaving the job as Secretary of Homeland Security, he headed The Chertoff Group. He has attracted criticism for promoting TSA X-ray scanners as "ex-Secretary of Homeland Security", even as his company was dealing with customers who stood to benefit from their rollout.[3]
Related Document
As of 5 May 2021, our Patrons are giving £80/month, which is 4/5 of our webhosting bill.
If you appreciate our efforts, please help keep this site running by donating or spreading the word about our Patreon page
.
References