Harvard
Jump to navigation
Jump to search
Harvard University is a long established US university. It has a long history of service to the secret state.[1]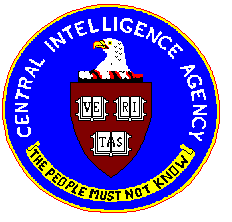 "Fake News"
Full article: "Fake News"

Harvard has been naming and denouncing US-critical internet sites for "fake news". Global Research observes that it has not criticised corporate-backed media, only independent voices.[2]
Groups Headquartered Here
Employees on Wikispooks
Sponsors
Alumni on Wikispooks
Person
Born
Died
Nationality
Summary
Description
Morton Abramowitz
20 January 1933
US
Diplomat
Spook
A key player in determining recent U.S. foreign policy.
Elliott Abrams
24 January 1948
US
Politician
Neoconservatism
Deep state actor
A deep politician heavily involved in the Iran-Contra affair, given a pardon by George H. W. Bush
Debo Adesina
Editor
WEF editor
Stephen Adler
1955
US
Journalist
Editor
editor-in-chief of Reuters, the source of most news, since 2011.
Yıldırım Aktürk
1941
Turkey
Academic
Connections in the Turkish government. Member of the Board of Directors of TUSIAD
Graham Allison
23 March 1940
US
Academic
Deep state operative
Attended the Bilderberg in 2007 after a 33 year break. First attended, as a speaker, in 1970, aged 30. Multiple deep state connections.
Joaquín Almunia
17 June 1948
Spain
Politician
Spanish politician, European Commissioner for 10 years, 6 Bilderbergs
Joseph Alsop
10 October 1910
28 August 1989
US
Journalist
Influential journalist very close to the CIA
Jaime Augusto Miranda Zóbel de Ayala
6 March 1959
The Philippines
Billionaire
Businessperson
Filipino businessman from the prominent Zóbel de Ayala family and a WEF stalwart.
Ed Balls
25 February 1967
UK
Politician
Deep state operative
UK politician. 7 Bilderbergs
Stephen Bannon
27 November 1953
Businessperson
Executive chairman of Breitbart News, at one time alleged Trump mastermind
Robert Bauer
22 February 1952
Lawyer
Zanny Minton Beddoes
1967
UK
Journalist
Editor
Deep state functionary
Financial journalist, Bilderberger, IMF economist under Jeffrey Sachs
Anthony Beilenson
26 October 1932
Spook
Politician
David E. Bell
19 January 1919
6 September 2000
US
Single Bilderberger USAID Administrator
Daniel Benjamin
16 October 1961
US
Diplomat
Journalist
"Terror expert"
Center for Strategic and International Studies, Refugees International, "Coordinator for Counterterrorism"
Douglas Bennet
23 June 1938
10 June 2018
US
Attended the 1994 Bilderberg as Assistant Secretary of State for International Organization Affairs
Jack Bennett
17 January 1924
25 April 2010
US
Financier
Bilderberg Steering committee banker/businessman. Worked alongside his father in post-war Germany to reset the country's economy. Presidential advisor in the 1970 who dismantled U.S. controls over international capital flows.
William J. Bennett
31 July 1943
Sandy Berger
28 October 1945
2 December 2015
US
Lawyer
Lobbyist
Deep state operative
A US National security advisor caught removing "terrorism"-related materials from the from the US national archives just prior to testifying before the 9/11 Commission.
Ben Bernanke
13 December 1953
US
Economist
Attended the 2008 Bilderberg as Chairman of the Federal Reserve
Richard Bernstein
5 May 1944
US
Author
Journalist
Author and Asia correspondent who attended the 1997 Bilderberg, the same year he published The Coming Conflict with China
Alan Bersin
15 October 1946
Lawyer
U.S "Border Czar" who oversaw the operations of Customs and Border Protection's 57,000-employee work force.
Georges Berthoin
17 May 1925
France
European coal and steel commission. Triple Bilderberg
Richard Betts
15 August 1947
US
Spook
Academic
Preet Bharara
1968
Lawyer
Benazir Bhutto
21 June 1953
27 December 2007
Pakistan
Politician
Prime Minister of Pakistan. YGL. Assassinated in 2007.
George Barry Bingham
10 February 1906
15 August 1988
US
Businessperson
Kentucky media owner who attended 3 Bilderbergs in the 1950s. Ran the Marshall Plan in France in 1949.
Lloyd Blankfein
15 September 1954
US
Financier
Attended the 2007 Bilderberg as Goldman Sachs/Chairman
Tony Blinken
16 April 1962
Charles Bohlen
30 August 1904
1 January 1974
US
Diplomat
US diplomat member of The Georgetown Set, advisor to all US Presidents from 1943 to 1968
Nicholas Boles
2 November 1965
UK
Politician
Notting Hill Set UK politician, Director of Policy Exchange
Charles Bonaparte
9 June 1851
28 June 1921
Lawyer
Robert R. Bowie
24 August 1909
2 November 2013
US
Spook
Soldier
Academic
Deep state actor
Wrote item one of the agenda of the 1966 Bilderberg, on the need to reorganise NATO.
John Brademas
2 March 1927
11 July 2016
US
Politician
US politician
Ben Bradlee
26 August 1921
21 October 2014
US
Newspaper editor
Peter Breggin
11 May 1936
US
Doctor
Covid-19 dissident
Peter Breggin ended psychosurgery in the United States.
Albert Bressand
France
French academic
Andrew Brimmer
13 September 1926
7 October 2012
US
Financier
Economist
Attended the 1972 Bilderberg as a member of the Federal Reserve Board of Governors
Gro Harlem Brundtland
20 April 1939
Norway
Politician
Deep state functionary
Big pharma/Lobbyist
Deep state/WHO connected Prime Minister/DG, concerned about "too much freedom of speech"
Whitley Bruner
Spook
Zbigniew Brzezinski
28 March 1928
26 May 2017
US
Politician
Deep politician
A central US Deep politician, Cercle, Bilderberg, ...
Sylvia Burwell
23 June 1965
US
Politician
Deep state functionary
Bill and Melinda Gates Foundation executive and US Secretary Health, first Bilderberg meeting in 2018.
Liam Byrne
2 October 1970
Politician
John Moors Cabot
11 December 1901
24 February 1981
Diplomat
Deep state operative
Cold War diplomat
Louis Cabot
1921
29 January 2021
US
Central banker
Businessperson
Quad Bilderberger Chairman of Federal Reserve Bank of Boston
Felipe Calderón
8 August 1962
Politician
Puppet leader?
WEF/Global Leader for Tomorrow 1997. President of Mexico 2006-2012.
Jack Caravelli
1952
31 October 2019
US
Spook
Suspected US Deep state operative, CIA, Georgetown, University
Andrew Card
10 May 1947
Politician
John Chafee
22 October 1922
24 October 1999
US
Politician
Attended 4 Bilderbergs between 1979 to 1992
... further results
References