Fort Hood
Jump to navigation
Jump to search
 Fort Hood
(City, Military base, Black site)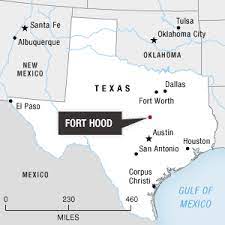 The most populous U.S. military installation in the world, the number and particularly the type of crimes reported in and around the facility is suspicious and has the hallmarks of either a black site or quite a chaotic base.
Fort Hood is a United States Army post located in Texas with an area of 860 square kilometers or 332 square miles, being the most populous U.S. military installation in the world. The number of crimes in the area, by, with, and on army and civilian personnel has been increasingly showing signs of a possible unknown criminal syndicate, an eerie iconization of American soliders' mental health, or a suspected US black site. Or some combination.
Area
The main cantonment of Fort Hood had a total population of 53,416 as of the 2010 U.S. Census. The main business area is in Bell County, with the training countryside area of the post in Coryell County. In April 2014, the Fort Hood website lists 45,414 assigned soldiers and 8,900 civilian employees with Fort Hood covering 214,000 acres (87,000 ha).
Fort Hood consists of three sections: the main cantonment, West Fort Hood, and North Fort Hood. The main cantonment is bounded by Killeen on the east and Copperas Cove on the west. The Fort Hood main cantonment area, otherwise referred to as the Main post, holds its own airfield, Hood Army Airfield. North Fort Hood is bounded by Gatesville to the northwest. West Fort Hood, bounded by Killeen and Copperas Cove, includes Fort Hood's second airfield, Robert Gray Army Airfield, which has been expanded for civilian use (Killeen–Fort Hood Regional Airport and additional training areas. To the east and southeast, the reservation is bounded by Harker Heights, Nolanville, Belton, and Morgan's Point Resort.
Official narrative
This video is blocked in certain countries outside of the US. The video is also available to watch on Wikispook's own youtube channel in case the video is not accessible. Click on this link > https://youtu.be/ubG5sC1CAXY

A US Army base, nothing wrong with that, in fact, the US has bases in all 6 continents, the south pole, alledged black site Diego Garcia after eliminating the natives of the island, everywhere, to help "overseas interests". Oh? And the string of murders[1], rapes, abductions, sex rings, and mass shootings? The few studies reporting the state of the base have not been picked up widely by corporate media. The Wikipedia page just lists a few incidents and doesn't mention the few representatives that pinpointed the absolute mess, half of the page is about the deployments.[2]
The towns surrounding the place seem quite criminal too. Already in 1991, a man drove his pickup truck into a Luby's Cafeteria in Killeen and opened fire, killing 23 people and injuring 27. Fort Hood suffered a similar fate 18 years later when Maj. Nidal Hasan shot and assassinated 13 people, injuring 30 at the base's Soldier Readiness Processing Center in 2009.
After one murder "Army investigators tasked with reviewing complex crimes at Fort Hood were vastly inexperienced, overwhelmed and understaffed, resulting in failures to protect service members and their families." Noncommissioned officers are "scared to send their children to the base". Data collected by the New York Times shows that more troops from Fort Hood have died by homicides on and off-post since 2016 than have died in combat zones.
The army base is a kind of city of its own — a self-contained ecosystem that spreads out for miles with tens of thousands of soldiers, their family members and private contractors. Fort Hood is physically larger than New York City. Violence and suicide are inevitable in such a vast world.
At least 159 Fort Hood soldiers died out of combat between 2016 and 2020, including seven homicides and 71 suicides, according to an analysis by The New York Times.[3]
Activities
Fort Hood is one of the largest United States military installations in the world, and is the home of III Corps, 1st Cavalry Division, 13th Sustainment Command, First Army Division West, 3rd Cavalry Regiment, 1st Medical Brigade and many other Forces Command and other units. Up until the 1990s, Fort Hood was named as the biggest army base in the world (with Fort Benning having more personnel and Fort Bliss have more land area).[4]
Random violent brawls
2020 saw a platoon being fired for instigating a random brawl.[6]
Rape in surrounding towns
The amount of ex-Fort Hood stationed soldiers that do commit more crimes in the cities surrounding the base is also a concern. One example of sexual assault was even filmed, resulting in a sentence of 35 years.[7]
Drug ring
Four Killeen residents and a Fort Hood soldier were arrested as authorities broke up a drug ring all the way in 2001.[8]
Human Trafficking & Prostitution Ring
Fourteen people were arrested after a two-day sex trafficking, pimp, and prostitution sting in 2020, six of the 12 traffickers are active-duty enlisted soldiers at Fort Hood[9].
Sexual Abuse
"Three out of four female soldiers ages 18-23 who report to Fort Hood report being sexually assaulted or harassed within three months of being on base." It almost being reported as an initiation, CNN reported in 2021.[10] This being just one of the hundreds of examples.
Drug Use
"Swecker told lawmakers his review team commissioned 49 research projects with West Point Military Academy to examine rates of different crimes at Fort Hood compared to other military bases. Fort Hood was an outlier in every case, he said. "Their comment to us was they had never seen a situation where one base had stood out as an outlier in terms of AWOL, in terms of deserters, in terms of drug usage and drug arrests and positive drug tests, felony cases. I mean, of the 49 it was striking, they said, to see that one base was such an outlier in terms of all the 49 different areas we had them look at".[11]
Abducting whistleblowers
23-year-old Neurobiologist Elder Fernandes was abducted after reporting sexual abuse and found "hanging from a tree".[12]
Child Sex Ring
Texas authorities cracked a child prostitution ring involving nine men, including three soldiers. Two Fort Hood soldiers and one from Fort Sam Houston in San Antonio are among the nine suspects netted in their investigation. The nine made agreements involving money, drugs, and alcohol on various social media platforms for sex acts with girls aged 15 and 16 in 2020, with sergeants only receiving misdemeanours, seemingly a cover-up by US military command.[13]
Black ops
IF there appears to be an actual syndicated network committing these crimes, the army has also failed to investigate the possible covert operation of "74 GIs had gone absent without leave since 2020 and that 53 of them had returned to duty".[14]
"Pfc. Naser Jason Abdo, an AWOL private, was arrested near Fort Hood, and in a statement by the police chief of Killeen, Texas, the man told investigators that he wanted to attack fellow soldiers at the military post. At his trial in August 2012, Abdo stated, through a cloth mask, "I will continue until the day the dead are called to account for their deeds." Abdo was sentenced to life in prison for the plot."[15]
Apathy or Cover-Up?
"Inmates live better than we do"
The Army up until 2017 didn't even require scanning of identity cards for entry to the base, according to former soldiers stationed.[16]
The surrounding towns are filled with retirees and former service members, many of who chose to return to the area, fueling some kind of mafia-style omerta, called "shut up and mind your own business" in plain American English, according to former soldiers.
Many former soldiers stationed on the site blame a combination of poor organizational planning, the army seemingly encouraging it, keep chaptering soldiers in the poor crime-ridden towns in the vicinity on sites like Reddit.[17]
Killeen Police Chief Charles Kimble told The Austin American-Statesman that many in the media and the public often fail to consider Fort Hood's population as a factor in crime.
"The Statesman requested data from Killeen police listing the violent crimes involving people whose occupation or address is listed as Fort Hood over the past 10 years. However, that information was unavailable, police said because addresses and occupations are not always collected within their database." "In my option, the scrutiny they are getting is unfair," Kimble said about Fort Hood.
Kimble continues with his "move-along, nothing sinister going on speech"; "Unfortunately, incidents happen, "People die in the city of Killeen (from) beside murder. People have accidents and fall out of trees and they have industrial accidents. But the media doesn't report that, they generally deal with the crime." [18]
References