Wikileaks/Leaks
Jump to navigation
Jump to search
Wikileaks has had some high profile material leaked on their website throughout the years, some examples include:
CIA project to bolster European support for the Afghan War
On 26 March 2010, Wikileaks posted a classified CIA analysis of possible PR-strategies to shore up public support in Germany and France for continued war in Afghanistan. After the Dutch government fell on the issue of dutch troops in Afghanistan in April 2010, the CIA became worried that similar events could happen in the countries that post the third and fourth largest troop contingents to the ISAF-mission. The proposed PR strategies focus on pressure points that have been identified within these countries. For France it is the sympathy of the public for Afghan refugees and women. For Germany it is the fear of the consequences of defeat (drugs, more refugees, "terrorism") as well as for Germany's standing in NATO. The memo is a recipe for the targeted manipulation of public opinion in two NATO ally countries, written by the CIA. It is classified as Confidential / No Foreign Nationals.
The document provides detailed insights into the covert world of intelligence sponsored propaganda.[1] A similar undertaking was started on the British side with the Integrity Initiative.
The 'Collateral Murder' video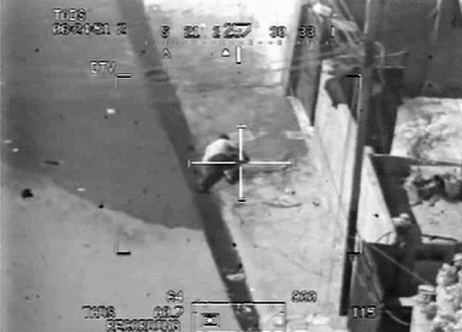 On 5th April 2010 10:44 EST WikiLeaks released a classified US military video depicting three airstrikes from a US Apache helicopter on July 12, 2007 in New Baghdad, Iraq. At least eighteen people were killed in the airstrikes, including two journalists working for Reuters, Saeed Chmagh and Namir Noor-Eldeen.[2][3][4]
The video was recorded by the gunsight camera on an Apache helicopter, identified as Crazyhorse 18, and is accompanied by the radio communications of the helicopter gunmen as they communicate with their commanders and troops on the ground.
This video was amongst 1/4 million classified US Diplomatic cables leaked by 22 year old Bradley Manning.
The 'Afghan War Diary' reports
25th July 2010 5:00 PM EST WikiLeaks has released a document set called the Afghan War Diary, an extraordinary compendium of over 91,000 reports covering the war in Afghanistan from 2004 to 2010. [5]
The reports, while written by soldiers and intelligence officers, and mainly describing lethal military actions involving the United States military, also include intelligence information, reports of meetings with political figures, and related details.
The reports cover most units from the US Army with the exception of most US Special Forces' activities. The reports do not generally cover top secret operations or European and other ISAF Forces operations.
Detailed data-searching and reading guides together with a map pinpointing each reported incident is available on a separate page [6]
Diary Dig is a separate, non-Wikileaks, site with comprehensive facilities to search and browse the entire database by any of the fields (categories) in the original data files:[7]
DiaryDig.org is an independently produced website which provides an easy way to search through the Afghan War Diaries, which were made public by Wikileaks on 25th July 2010. The documents are a set of over 76,000 reports (with more coming in the future) which cover the war in Afghanistan from 2004 to 2009.[7]



You can browse through all of the documents that have been released, organized by type, category, date, number of casualties, and many other properties. From any document page, clicking on the green underlined text will open a popup that links to other documents that contain those phrases, making it possible to see important search terms and connections that you might not otherwise notice.



Our hope is that this tool will be helpful to reporters and researchers who are interested in learning more about the US's war in Afghanistan and making sense of this important database. If you wish to support this work, we encourage you to make a donation to wikileaks or the Bradley Manning legal defense fund. [8]
Afghanistan and Pakistan Violent Event Analysis using ACLED and Wikileaks Data[9]
---
John Young comments about the release:
"When studying the Wikileaks War Logs, bear in mind that intelligence streams — hardcopy, digital, electromagnetic — are salted with spurious entries as markers to authenticate the stream, identify disruptions and unauthorized plants, direct the product to various collectors with varying levels of classification, and more. The spurious entries will not be distinguishable from the other material, it is their positions in the stream, or omissions from the stream, which will be part of authentication. None of this requires or is protected by encryption, indeed, encryption is customarily used to mislead about other means and methods — which is why it is so loudly touted."[10]
US Diplomatic Cables
Beginning on November 28, 2010, WikiLeaks published classified documents of detailed correspondence — diplomatic cables — between the United States Department of State and its diplomatic missions around the world. This was followed by other leaks from the Carter era and from 1973 to 1976. Julian Assange stated that the combined collection "covers US involvements in, and diplomatic or intelligence reporting on, every country on Earth. It is the single most significant body of geopolitical material ever published."[11]
The Stratfor Emails
In the period 2012-2014, Wikileaks published over five million e-mails from the private intelligence agency Stratfor, which works for government agencies and corporations. The emails show Stratfor's web of informers, pay-off structure, payment laundering techniques and psychological methods. Some of the emails described measures taken to spy on activist and NGOs.[12] Jeremy Hammond was later sentenced for the hack.
Hillary Clinton Emails
On March 16, 2016 WikiLeaks launched a searchable archive for over 30 thousand emails & email attachments sent to and from Hillary Clinton's private email server while she was Secretary of State. The 50,547 pages of documents span from 30 June 2010 to 12 August 2014.[13] Among other things, the leak revealed her private speeches to big Wall Street donors and private assessments of the war in Libya.[14]
The DNC emails
In July 2016, WikiLeaks released over 44,053 emails and 17,761 attachments from the top of the US Democratic National Committee[15]
Vault 7
Full article: Wikileaks/Vault 7

"Mysteriously teased in February,"[16] on 7 March 2017, Wikileaks posted a lot of information on the capabilities of the United States Central Intelligence Agency to perform electronic surveillance and cyber warfare.[17] The files, dated from 2013–2016, include details on the agency's software capabilities, such as the ability to compromise smart TVs, web browsers (including Firefox, Google Chrome, and Microsoft Edge), and the operating systems of most smartphones (including Apple's iOS and Google's Android), as well as other operating systems such as Microsoft Windows, macOS, and Linux.
Spy Files: Russia
In September 2017, WikiLeaks began publishing "Spy Files: Russia,"revealing among other things, the inner workings of the Russian Federation's extensive domestic surveillance programs.[18]
References