Harvard University
Jump to navigation
Jump to search
Harvard University is a long established US university. It has a long history of service to the secret state.[1]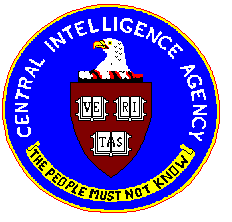 "Fake News"
Full article: "Fake News"

Harvard has been naming and denouncing US-critical internet sites for "fake news". Global Research observes that it has not criticised corporate-backed media, only independent voices.[2]
Groups Headquartered Here
Event Sponsored
Alumni on Wikispooks
Person
Born
Died
Nationality
Summary
Description
Morton Abramowitz
20 January 1933
US
Diplomat
Spook
A key player in determining recent U.S. foreign policy.
Elliott Abrams
24 January 1948
US
Politician
Neoconservatism
Deep politician
A deep politician heavily involved in the Iran-Contra affair, given a pardon by George H. W. Bush
Yıldırım Aktürk
1941
Turkey
Academic?
Connections in the Turkish government. Member of the Board of Directors of TUSIAD
Joaquín Almunia
17 June 1948
Spain
Politician
Spanish politician, European Commissioner for 10 years, 6 Bilderbergs
Ed Balls
25 February 1967
UK
Politician
Deep state operative
UK politician. 7 Bilderbergs
Stephen Bannon
27 November 1953
Businessperson
Robert Bauer
22 February 1952
Lawyer
Zanny Minton Beddoes
1967
UK
Journalist
Editor
Financial journalist, Bilderberger, IMF economist under Jeffrey Sachs
Anthony C. Beilenson
26 October 1932
Spook
Politician
David E. Bell
19 January 1919
6 September 2000
US
Single Bilderberger USAID Administrator
Daniel Benjamin
16 October 1961
US
Diplomat
Journalist
"Terror expert"
Center for Strategic and International Studies/Board and Staff, Refugees International/Board, "Coordinator for Counterterrorism"
Douglas Bennet
23 June 1938
10 June 2018
US
Attended the 1994 Bilderberg as Assistant Secretary of State for International Organization Affairs
William J. Bennett
31 July 1943
Sandy Berger
28 October 1945
2 December 2015
US
Lawyer
Lobbyist
Political consultant
Political pundit
A National security advisor caught removing "terrorism"-related materials from the from the US national archives just prior to testifying before the 9/11 Commission.
Ben Bernanke
13 December 1953
US
Economist
Attended the 2008 Bilderberg as Chairman of the Federal Reserve
Richard Bernstein
5 May 1944
US
Author
Journalist
US journalist and author who attended the 1997 Bilderberg
Alan Bersin
15 October 1946
Georges Berthoin
17 May 1925
France
European coal and steel commission. Triple Bilderberg
Richard Betts
15 August 1947
US
Spook
Academic
Preet Bharara
1968
Lawyer
Benazir Bhutto
21 June 1953
27 December 2007
Pakistan
Politician
Prime Minister of Pakistan
George Barry Bingham
10 February 1906
15 August 1988
US
Businessperson
US businessman who attended 2 more Bilderbergs in the 1950s after the first one
Lloyd Blankfein
15 September 1954
US
Financier
Attended the 2007 Bilderberg as Goldman Sachs/Chairman
Tony Blinken
16 April 1962
Charles Bohlen
30 August 1904
1 January 1974
US
Diplomat
Nicholas Boles
2 November 1965
UK
Politician
Notting Hill Set UK politician, Director of Policy Exchange
Charles Bonaparte
9 June 1851
28 June 1921
Lawyer
Robert R. Bowie
24 August 1909
2 November 2013
US
Spook
Soldier
Academic
Deep state actor
Wrote item one of the agenda of the 1966 Bilderberg, on the need to reorganise NATO.
John Brademas
2 March 1927
11 July 2016
US
Politician
US politician
Andrew Brimmer
13 September 1926
7 October 2012
US
Financier
Economist
Attended the 1972 Bilderberg as a member of the Federal Reserve Board of Governors
Gro Harlem Brundtland
20 April 1939
Norway
Politician
Deep state functionary
Big pharma/Lobbyist
Deep state/WHO connected Prime Minister/DG, concerned about "too much freedom of speech"
Whitley Bruner
Spook
Zbigniew Brzezinski
28 March 1928
26 May 2017
US
Politician
Deep politician
US Deep politician, Cercle, Bilderberg, ...
Sylvia Burwell
23 June 1965
US
Politician
Businessman
Deep state functionary
Bill and Melinda Gates Foundation executive and US Secretary Health, first Bilderberg meeting in 2018.
Liam Byrne
2 October 1970
Politician
John Moors Cabot
11 December 1901
24 February 1981
Diplomat
Louis Cabot
1921
US
Central banker
Businessperson
Quad Bilderberger Chairman of Federal Reserve Bank of Boston
Jack Caravelli
31 October 2019
US
Spook
Andrew Card
10 May 1947
Politician
John Chafee
22 October 1922
24 October 1999
US
Politician
Attended 4 Bilderbergs between 1979 to 1992
Elaine Chao
26 March 1953
Michael Chertoff
28 November 1953
Israel
US
Lawyer
Deep state actor
Businessperson
A long-standing US Republican Party apparatchik and dual US/Israeli citizen who has held senior US legal and national security positions.
Helen Chu
Whistleblower
Doctor
An expert in infectious diseases whom the CDC told to stop her tests for COVID-19 in January 2020.
Eric Ciaramella
US
Whistleblower
Spook
Richard Clarida
18 May 1957
US
Economist
Ray S. Cline
4 June 1918
16 March 1996
Spook
Academic
"Terror expert"
Charles Cogan
11 January 1928
14 December 2017
US
Spook
CIA officer, admitted the agency had "funded the worst fellows right from the start, long before the Iranian revolution and long before the Soviet invasion."
Vittorio Colao
3 October 1961
Italy
Banker
Businessperson
Bilderberger Vodaphone/CEO who was given charge of the Italian COVID Lockdown
Richard Cooper
14 June 1934
US
Academic
Attended two Bilderbergs in the 1970s. Chairman of the National Intelligence Council in the 1990s.
Yvette Cooper
20 March 1969
UK
Member of Parliament for Normanton
Pontefract and Castleford
Chair of the Home Affairs Select Committee
... further results
On 1 July 2021 crowdfunding covered our webhosting bill for the first time ever! Many Thanks to all 23 of our patrons whose generosity keeps this site running!
References