Halliburton
Jump to navigation
Jump to search
Halliburton is a US PMC responsible for most of the world's hydraulic fracturing operations and US foreign oil profits. In 2009, it was the world's second largest oil field service company, in more than 70 countries.[1] It has had "definite intention to hide [its] illegal behaviour".[2]
Official narrative
As of June 2017, Wikipedia reports that "the company has been involved in numerous controversies".[3]
Concerns
Wikipedia writes that "the company has been criticized for its involvement in numerous controversies, including its involvement with Dick Cheney – as U.S. Secretary of Defense, then CEO of the company, then Vice President of the United States – and the Iraq War, and the Deepwater Horizon, for which it agreed to settle outstanding legal claims against it by paying litigants $1.1 billion."
Activities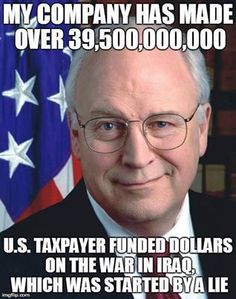 Acquisitions
In 1998, the group acquired Dresser Industries. A company which "provided a wide range of technology, products, and services used for developing energy and natural resources".[4]
Invasion of Iraq
DemocracyNow.org - Bunnatine "Bunny" Greenhouse, the former chief oversight official of contracts at the Army Corps of Engineers, has reached a $970,000 settlement six years after she was demoted for publicly criticizing a multi-billion dollar, no-bid contract to Halliburton — the company formerly headed by then-Vice President Dick Cheney. Greenhouse had accused the Pentagon of unfairly awarding the contract to Halliburton subsidiary, Kellogg Brown & Root. Testifying before Congress in June 2005, she called the contract the worst case of government abuse she had ever witnessed in her 20-year career. Just two months after that testimony, Greenhouse was demoted at the Pentagon, ostensibly for "poor performance." She had overseen government contracts for 20 years and had drawn high praise in her rise to become the senior civilian oversight official at the Army Corps of Engineers. With the help of the National Whistleblower Center, Greenhouse filed a lawsuit challenging her demotion. In a Democracy Now! broadcast exclusive, Greenhouse announces that a settlement has been reached in what is seen as a major victory for government whistleblowers. We're also joined by Greenhouse's attorney, Michael Kohn, and by Stephen Kohn, executive director of the National Whistleblowers Center.
NATO Drug Cartel link?
In 2002, NATO special advisor Jan Willem Matser went to two meetings of secret services in NATO countries and candidates in Romania: April 2002 in Sinaia when he was co-opted in Tender's business, and in September 2002 from Snagov, where one of the sponsors was the Romanian tycoon Ovidiu Tender, owner of Timisorene.[5] Matser was introduced to Tender in April 2002 by Ioan Talpes, a special adviser to President Ion Iliescu, at a NATO-related conference at a Romanian ski resort.[6] Matser spoke at an intelligence services conference in 2003, in Sinaia, Romania, to which he personally contributed around £50,000. There he met up with director of Tender SA, one of the country's largest diversified concerns. At the first meeting between Col. Matser and Mr Tender, two generals from the Romanian secret services were present.[6]
Before Matser's arrest, Tender announced to the Romanian media that he and Matser were going to bid to gain control of PETROM National Society (SNP),[6] a Romanian oil-company, which produces 10% of the Romanian GDP. Together with Tender SA and Halliburton, Matser sought a controlling 51% share (at a cost of approximately US$ 1 billion). A few days after the announcement of this trio's interest, Matser was arrested and charged with having worked out an illegal financial arrangement designed to bring $200 million to Romania from Colombia. Romania's Economy Ministry subsequently announced that the Matser/Tender/Halliburton consortium was no longer being considered for the privatisation of PETROM.[7]
On 3rd February 2003, Willem Matser, then aged 50, was arrested in his office at NATO HQ in Brussels on suspicion of laundering around USD 200 million for a Colombian drug cartel. Police seized a $200,000 transaction document issued by Bank Santander in Bogota, Colombia in favour of Tender SA, together with a CD detailing a $200,000,000 transfer to the company.[6][8][9]
Black Ops secrecy?
In 2005, a convoy of four Halliburton trucks was ambushed north of Baghdad. The trucks were escorted by US Military from the US National Guard. The national guard was reported to have "run away" leaving the drivers defenceless in a video the only surviving truck driver made. Three of the four truck drivers were killed. The national guard left the remaining drivers to bleed to death there and did not return for 45 minutes, Halliburton and the US Army failed to explain why apart from the mentioning the drivers were "trained and were under responsibility of the military".[10] [11]
"WMD"
Full article: Iraq War

On August 26, 2002, Cheney stated "There is no doubt that Saddam Hussein now has weapons of mass destruction. There is no doubt he is amassing them to use against our friends, against our allies and against us." Newsweek referred to it as "Cheney's Biggest Lie", yet said nothing about potential charges - as if mendaciously starting a war of aggression were not agreed to be "the supreme international war crime".[12] Cheney personally made millions of dollars from the Iraq war, while Halliburton made around $40 billion from contracts with the US government.[13]
Rape?
A former KBR/Halliburton contractor says she was raped by colleagues in Iraq. Congress is investigating why no criminal charges have been filed in the case of Jamie Leigh Jones' attack
A former KBR/Halliburton contractor named Jamie Jones reported she was raped by colleagues in Iraq. Congress investigated why no criminal charges have been filed in the case of Jamie Leigh Jones' attack. Jamie Lee Jones reported that when she awoke the next morning after going for drinks, she "found her body naked and severely bruised, with lacerations to her vagina and anus, blood running down her leg, her breast implants were ruptured, and her pectoral muscles torn" – which would later require reconstructive surgery. Upon walking to the rest room, she passed out again. Although several more reports came known, Jones was found to have agreed by a jury in the US with the "violent" sex and was found to be liable for court costs of up to $145.000. [14][15]
Related Quotations
Page
Quote
Author
Date
Fracking
"Researchers at Halliburton Co's. Technical Center here working with Oak Ridge National Laboratory scientists, have combined the oil well cementing technique with the hydraulic fracturing production stimulation technique to entomb radioactive wastes in an impermeable shale formation a thousand feet underground. The method used at Oak Ridge begins by mixing the waste with a cement slurry, pumping the mixture down a hole drilled into the Conasuaga shale and then fracturing the shale to create a horizontal crack. The crack fills with the mixture to form a thin, horizontal sheet several hundred feet across. The mix sets to permanently hold the radioactive waste in the formation."
1964
Bill Gammell
"Either Gammel was an extremely visionary businessman, or he had great connections, or both. One way or the other, along with Enron and Cheney's Haliburton, Gammel's Cairn was soon making a fortune off oil in India, a country not noted for its prospects in that regard."
Russ Baker
Bill Gammell
John Perkins
"My job was to convince heads of state of countries with resources our corporations covet, like oil, to accept huge loans from the World Bank and its sister organizations. The stipulation was that these loans would be used to hire our engineering and construction companies, such as Bechtel, Halliburton, and Stone and Webster, to build electric power systems, ports, airports, highways and other infrastructure projects that would bring large profits to those companies and also benefit a few wealthy families in the country, the ones that owned the industries and commercial establishments. Everyone else in the country would suffer because funds were diverted from education, healthcare and other social services to pay interest on the debt. In the end, when the country could not buy down the principal, we would go back and, with the help of the International Monetary Fund (IMF), "restructure" the loans. This included demands that the country sell its resources cheap to our corporations with minimal environmental and social regulations and that it privatize its utility companies and other public service businesses and offer them to our companies at cut-rate prices."
John Perkins
Many thanks to our
Patrons
who cover ~2/3 of our hosting bill. Please join them if you can.
References