Steven Raeburn
Jump to navigation
Jump to search
Steven Raeburn is the former editor of Scots Law magazine The Firm published by the Carnyx Group[1] and Red Cloud Legal Publishing Limited.[2]
On 1 February 2014, Steven Raeburn announced that he had moved to Australia and was working as the Australia/Asia-Pacific reporter for the marketing and media magazine The Drum.[3]
In 2015, he became a producer at the Australian Broadcasting Corporation, WoW FM.[4]
Lockerbie bombing article
In December 2010, Steven Raeburn wrote a widely-acclaimed article entitled "The Perception Filter" on the Lockerbie bombing, for which he was congratulated by many, including UN Observer at the Lockerbie trial Professor Hans Köchler and 'Justice for Megrahi' campaign member Professor Noam Chomsky.[5]
However, several commentators (Morag Kerr and her associate Adam Larson) were highly critical of the article, complaining that Steven Raeburn had constructed a "completely different scenario" to the Lockerbie Official Narrative.[6]
Professor Black intervened into the dispute on his website to say: "I've been asked by Steven Raeburn, who was unable to access the comments facility, to post the following":
The article makes no reference at any point (no pun intended) to needles or flechettes.
I do not know who 'Rolfe' is, but do feel free to get in touch. I am happy to engage and discuss any comments or criticisms on my work. I may be emailed at <steven@firmmagazine.com>.
I am interested to know how 'Rolfe' sourced the confident claim about the crew's contact with ATC, in the absence of transcripts or data from the AAIB report.
No doubt I'll hear from 'Rolfe' directly.
Steven Raeburn[7]
On 14 October 2013, Steven Raeburn retaliated on Twitter by describing Morag Kerr's upcoming book ("Adequately Explained by Stupidity?") as "Dangerous, suspicious Government-fed propaganda, based on the discredited Feraday/Hayes lies. Beware."[8]
"The Perception Filter"
The public remain largely in the dark when it comes to the confusing, convoluted and complex details of the Pan Am 103 affair, whilst those that have followed it closely remain concerned about the implications of the absence of a judicial resolution. Steven Raeburn investigates the impenetrable veil of the case that won't go away.
"Lockerbie", whatever that word now means, is a stain on Scotland, its justice system, and its institutions. Since the release of Abdelbaset Ali Mohmed Al Megrahi, "Lockerbie" has allowed Scotland to bear the scorn of US senators, the angst, bloodlust and ire of bereaved families who feel they have been denied justice, and has become both a hot potato and a political football between Edinburgh and London. Governments around the world are prepared to condemn Scotland for the international embarrassment of Lockerbie.
I've been covering the Pan Am 103 debacle for a number of years now: a tragic event that became a 22-year-long rolling news story. It's a story that won't go away, because the answers thus far yielded by due process satisfy no one. For this reason, Scotland sadly deserves its shame, disgrace and international condemnation. But certainly not for the reasons offered and repeatedly churned.
The story of the Lockerbie events has been allowed to be drowned out by one version, promoted, if not manufactured, by US intelligence and repeated by our own prosecution service and our government, in denial of later revelation, who maintain even to this day that they "do not doubt the safety of the verdict against Abdelbaset al-Megrahi," despite it being utterly discredited, in addition to adjudged a possible miscarriage by our Criminal Cases Review Commission. It continues to be upheld, with every opportunity to address it spurned or frustrated. Perhaps its last chance for resolution rests with the Scottish Parliament, who have until 10 December 2010 to respond to the public petitions committee and advise if they will hold an inquiry that may bring some clarity to what has become an international scandal.
The scandal is not that Scotland released a mass murderer. It is that we allowed a man to be convicted as one in the first place, and have done nothing to erase the stain of what could be the greatest miscarriage of justice ever perpetrated by our courts. Worse, Scotland's own institutions, its police, its Crown Office, its Government, have since all actively prevented any steps to be taken that would address the issue. The truth may be ugly, and its revelation would be likely to reveal the shame and embarrassment of those at the highest level of Scotland's political power elite.
Those elite institutions were at first trusting of our US allies who assisted -some say controlled- the initial investigation. Then -desperate to get a ride on the golden gravy train to glory- our elite were duped, and latterly became willing accomplices. Finally -in the words of the United Nations appointed special observer to the proceedings- became criminals. All of this has taken place transparently and openly. Right in front of us. Yet most of the general public do not see it.
Scotland is now considered a laughing stock: a judicial backwater; a banana republic; sadly, regrettably, rightly so. The conduct of our government and civil service, which they themselves have taken no steps to rectify, shames our once proud legal system. Many of those within it have had enough, and want to see the stain of Scotland's shame wiped clean. It is their voices which are often kept peripheral to the proceedings, in favour of the voices of our politicians and government, whose motives and conduct require the deeper inquiry that they have continued to resist, and even obstruct.
"I don't think there's a lawyer in Scotland who now believes Mr Megrahi was justly convicted. The Americans were out for vengeance. With their barrow loads of money to buy witnesses, aided by our police and prosecution, they hoodwinked our courts. HMA v Megrahi is fast becoming an international scandal and touching our law with shame. The Scottish Government must face up to the need for an enquiry." Ian Hamilton QC
Hamilton is one of those who has called on the judicial establishment to defy convention and stand up to be counted. In October 2010 he said the confidential report of the judges who convicted Megrahi, placed before the appeal court which contained their views of the conviction, should now be revealed. If Scotland's justice system and its international reputation are to be restored, it needs to finally face up to what has been allowed to happen to it. What it needs is a reckoning.
Those 22 years comprising (amongst other things) police and intelligence services investigation, the international trial, the subsequent conviction of Megrahi – and acquittal of co-accused Lamin Khalifah Fhimah - the criminal appeal, referral to the Scottish Criminal Cases Review Commission, their decision that a miscarriage of justice may have occurred, the UK and Libya's prisoner transfer agreement, Megrahi's second appeal, the deal in the desert, the announcement of Megrahi's terminal illness, the compassionate release, the abandonment of the second appeal, the international petition calling for a full examination of the entire affair, and a similar petition before the Scottish Parliament (to pick just a sample of the main events), have all collectively failed to free the justice system from the belief, once considered marginal but now widespread, that the Scots legal system, formerly renowned as an example to the world, has been corrupted to deliver a politically driven outcome. And worse, has failed to take the necessary steps to investigate and correct what may be the greatest and most transparent miscarriage of justice in history.
Former father of the House Tam Dalyell once said in the House of Commons that one has to be a Professor of Lockerbie Studies to keep abreast of the almost overwhelming amount of information that has pertained to the case since 21 December 1988. From it all though, a commonly accepted narrative has emerged. A narrative perpetuated by our political masters that masks the full truth of the events of that terrible night.
It tells us that Scotland's smallest police force took charge of the UK's biggest ever investigation, and bravely amassed evidence that pointed to a terrorist bombing of Pan Am airways flight 103 from Heathrow, bound for New York, crashing on Lockerbie and killing a total of 270 people.
Iran and Syria were considered to be the states responsible for sanctioning the attack, purportedly carried out by the Popular Front for the Liberation of Palestine - General Command, as revenge for the shooting down of an Iranian passenger aircraft six months earlier by the USS Vincennes.
However, two years later the investigation shifted to new, Libyan suspects, and a unique trial was convened in the Netherlands under Scots law to hear the case against them. It alleged that a bomb was loaded at Malta's Luqa Airport, transported on a feeder flight to Frankfurt, reloaded onto a flight bound for London, where it was again transferred, this time onto Pan Am 103.
Megrahi was convicted and Fhimah acquitted, from the same indictment, by a quorum of judges who in this case - and for the first time in their lives - also acted as jurors. Even a nominal knowledge of the law, far less this level of expertise, is sufficient to disqualify the citizenry from jury service. Jurors as masters of fact, and judges as masters of law is an inbuilt and fundamental prerequisite to a fair trial in Scotland. In this case it was cast aside and the roles combined, without the consent of Megrahi and Fhimah, according to Fhimah's then solicitor, Eddie Mackechnie.
Megrahi lodged a criminal appeal, unsuccessfully, and remained in jail until freed compassionately in 2009, still a convicted terrorist to the world. So what's wrong with that?
Perhaps to most people who have not followed the case in depth, nothing. And it sounds pretty solid, too. But the simple fact is, it is not solid. It is so flimsy that the logic and law behind it cannot stand up to even the most basic scrutiny.
Political considerations
Let's look a little closer. Firstly at that shift of blame from Iran to Libya. Perhaps the first, but not the last, of the obvious acts of political interference in judicial process. In 2009 Magnus Linklater revealed that, when he was editor of The Scotsman, UK Government and intelligence services influenced coverage of the Lockerbie inquiry to implicate Iran and Syria.
Linklater admitted that both the police and UK Government ministers directed the newspaper to concentrate their coverage on Iranian and Syrian links with the downing of Pan Am 103, the suspects initially favoured by the US and UK administrations.
"At The Scotsman newspaper, which I edited then, we were strongly briefed by police and ministers to concentrate on this link, with revenge for an American rocket attack on an Iranian airliner as the motive," he said. As an Editor it is disturbing to me that 'police and government ministers' should be attempting to influence the reporting of the mainstream, influential press. As a reader, I'm sure it troubles you too. One wonders how often that occurs."
The involvement of Iran and Syria has been promoted consistently and heavily as an alternate explanation for the Lockerbie event, and PFLP-GC group member Mohammed Abu Talb was named by the two accused, Megrahi and Fhimah, in their special defence of incrimination. However, only three of the hundreds of listed defence witnesses were actually called at the trial, and this avenue of inquiry was never explored in a judicial forum.
Only a token gesture of defence was offered, instead of a real rebuttal of the Crown's case. Evidently according to the desire of the three governments involved. UN appointed special observer Hans Köchler said that the conduct of the trial and the evidence of witnesses was being directed by "actors outside the judicial framework", and that he:
"reached the general conclusion that the outcome of the trial may well have been determined by political considerations and may to a considerable extent have been the result of more or less openly exercised influence from the part of actors outside the judicial framework – facts which are not compatible with the basic principle of the division of powers and with the independence of the judiciary, and which put in jeopardy the very rule of law"
Government interference spread beyond the confines of the court. Linklater adds how former Lord Advocate Lord Fraser expressed concerns to him about whether the CIA could also have been involved in planting some of the "evidence".
"No one ever came to me and said, 'Let's go for the Libyans', it was never as straightforward as that. The CIA was extremely subtle," Lord Fraser is reported to have said.
The implication behind this is so disturbing and devastating that it threatens the entire fabric and foundation of Scots law, and suggests that our justice system can be set aside at will to satisfy purely political ends.
This isn't conspiracy. This is happening quite openly and transparently. Right in front of us, as it was in front of Hans Koechler, and many of the families at the trial who are not satisfied the conviction is safe, and the journalists, campaigners and Parliamentarians who have joined them. The question is why?
The lack of evidence in the circumstantial case against Megrahi and Fhimah has been the focus of much of the criticism of the judgement against Megrahi. The star witness, Abdul Majid Giaka, produced by US intelligence and whose existence and promised testimony was the key factor in persuading the Scots legal establishment to permit the trial at all, was found to be salaried by the CIA, and was described as a fantasist. By the three trial judges, no less. His testimony was dismissed by them.
Very little physical evidence was offered at the Zeist trial. But, as Gareth Peirce observed, you don't need evidence to secure a conviction against an innocent man when there is political will to do so. Something she has witnessed and knows all too well.
"It is not difficult to achieve a conviction of the innocent. Over many decades several common factors have been identified, and the majority of them are present, centre stage, in this case," she said.
"Achieving the co-operation of witnesses by means of a combination of inducements and fear of the alternative (the tried and tested method of obtaining evidence for the prosecution on which many US cases rely); the provision of factual information by scientists where there is no proper basis for it (a recurrent theme in UK convictions as well as in the US); reliance on 'identification' evidence which is no such thing. Add to that the political will to achieve a prosecution, and the rest is easy.
"Fabrication demands outright dishonesty, but it isn't always necessary, or necessary in every aspect of an investigation: the momentum of suspicion, and a blinkered determination to focus on a particular thesis and ignore evidence pointing to the contrary, is a certain route to achieving the desired end."
Given Köchler's assessment of the trial, the entire process must be considered tainted, and for that reason alone, it is hard to fathom why to this day the Scottish Government maintain their faith in its verdict.
'Crime' at Zeist
This is "Maid of the Seas" on 22 December 1988. It has been destroyed. 270 people are dead. The damage couldn't be more evident. It has been blown apart, whilst travelling at high speed, five miles up. It has broken into pieces and many those have blown up on impact with the ground. The criminal case told us that a semtex bomb did this. Packed into a Toshiba radio cassette player. The evidence was a fragment of circuit board timer, backed up by a fragment of clothing, traced back to a shop in Malta. The clothes, the court was told, were sold to Abdelbaset Ali Mohmed Al Megrahi who, together with co-accused Fhimah, loaded an unaccompanied brown samsonite suitcase containing a semtex bomb onto an Air Malta flight at Luqa airport. Except there is no evidence of this happening. In fact, there is very little evidence at all. Air Malta were able to prove that all 55 bags on that flight were ascribed to passengers. They sued Granada TV for repeating the court's claim in a TV documentary and won an out of court settlement. And Both Dr Jim Swire, and Holyrood MSP Christine Grahame wrote to STV in August 2010 warning them that they faced similar legal action by repeating the same claim in a documentary of their own. The judgement in the 2001 conviction of Megrahi makes for interesting reading, especially on this point. As a piece of prose, it fails to rationally or logically explain how it reached the verdict it did. The Crown, prosecuting the case, even conceded that they had not been able to prove how a bomb might have got into the interline baggage system and onto the aircraft. The judges said that this was a "major difficulty for the Crown case". The Crown case also relied on the identification of Megrahi as the purchaser of the clothes that were claimed to have been packed with a bomb. The shopkeeper who claimed to have sold them, Tony Gauci, is reported to have been paid around £2 million dollars for his testimony, although accounts of this from Richard Marquise of the FBI are inconsistent. Gauci's identification of Megrahi was nevertheless tortuous, shaky and long in coming. This aspect of the conviction alone was among the reasons given by the Scottish Criminal Cases Review commission for concluding that a miscarriage of justice may have occurred. There are many others, but their full report to the court has never been published. Professor Robert Black QC, instrumental in setting up the forum of the Zeist trial has always said no reasonable tribunal could have convicted Megrahi on the evidence led. The key fragment of timer introduced as evidence was, according to an affidavit sworn by Ulrich Lumpert in 2007, after the case had already been referred back to the appeal court as a potential miscarriage of justice, manufactured by him and handed over to "officials" investigating the case. Lumpert was an employee of MEBO, and his claim that he not only fabricated the crucial forensic evidence in this case, but passed it to those charged with investigating the case suggests corruption, connivance and a cover up, if it can be demonstrated to be true. This claim has also never been investigated in a judicial forum, nor subjected to official inquiry. Perhaps it should be.
Lumpert is not a lone figure in the 22-year Lockerbie saga whose claims have troubling implications. UN Special observer Hans Köchler, appointed to observe the trial and its procedures and ensure accordance with the international agreement, was quite clear in his conclusions that a fair trial had not taken place. He said there had been falsification of evidence. He said the testimony of witnesses had been influenced by intelligence personnel who had been directing their answers.
On 14 October 2005, Köchler called for a full public inquiry. The falsification of evidence he witnessed, selective presentation, manipulation and interference were "criminal offences in any country, and the possible criminal responsibility of people involved in the Lockerbie trial should be carefully studied by prosecution authorities." A crime, he says, took place in Camp Zeist.
But why? Many journalists have asked this question and found the answers given by those in authority to be lacking, hence the widespread dismay that Megrahi's second appeal was dropped, and the ongoing and continued calls for a full inquiry to attempt to find these answers. Looked at very simply, it is clear that once the fractured evidence of Megrahi's identification is discounted, the apparently planted evidence of the timer fragment is discounted, and the evidence of "star" witness Abdul Majid is taken out of the equation, what is left? The tenuous case convicting Megrahi seems to have been constructed from a tissue of planted evidence and dubious testimony paid for by US intelligence services. It must be looked at with scepticism at best.
Some still favour Iran/Syria and the PFLP as alternative suspects. And there is a compelling circumstantial case that can be constructed against them. Many observers favour this case, and an inquiry would hopefully subject its key thesis to rigorous examination. However the hills of Dumfriesshire were combed for evidence, and aside from what has been offered so far and discredited, no physical evidence has been offered to implicate them, and no other evidence of a bomb appears to have been found.
The evidence gathering exercise was fraught with well reported problems. Not least those of searchers Eric Spofforth, Alison Collau and Ron Smith, all of whom - according to John Ashton and Ian Ferguson's book "Cover Up of Convenience" - were warned by airborne snipers to stay clear of tarpaulins on the ground near Lockerbie. Covering what, that it needs armed guards to ward off innocent rescuers? This question has not been addressed in a judicial or inquiry forum.
There is a ruined plane, currently sitting in Roger Windley's scrap yard in Lincolnshire. When I asked if I could take a look at it he told me he had been instructed by the police not to discuss it, nor to even acknowledge that he was holding the wreck. However, the police told me no such instruction had been given.
What evidence can we gather from the plane? Well, it is clear that it has been blown apart. Something forceful and powerful has shot through the framework, peppering it with fragmentation damage. The holes are plain to see, here, here and here, and also on the Getty photo, linked above.
On unedited news tape taken at the time, it can be seen clearer. These irregular holes are not in evidence throughout the remainder of the structure. And as can be seen here, are not present in the structure of an undamaged 747. What caused them?
Not semtex, according to those who know their explosives, who advise that semtex, especially if packed around luggage to attenuate the blast, does not propel metal-puncturing fragments.
A BBC Newsnight investigation said the key evidence fragment of circuit board could not have survived the explosion. It also found that it was never subjected to chemical analysis or swabbing to establish whether it had in fact been involved in any explosion.
In the programme John Wyatt, the UN's European consultant on explosives, conducted a series of tests and demonstrated that a semtex explosion as claimed at the trial would also not leave traces of material of the type introduced as evidence at the Zeist trial:
"I do find it quite it extraordinary and I think highly improbable and most unlikely that you would find a fragment like that – it is unbelievable," he said.
Separately, Dr Ludwig De Braeckeleer published findings over a year earlier concluding that the Crown's case was "scientifically implausible". De Braeckeleer and researchers at the Centre of Explosives Technology Research in Socorro, New Mexico estimated that up to thirty pounds of explosive was needed to destroy a Boeing 747, if the explosion had occurred in the hold as the Crown claimed:
"As the explosion of one pound of Semtex H [as claimed at Zeist] inside the luggage container does not generate a blast wave sufficiently powerful to fracture the skin of the fuselage, we have little choice but to conclude that the verdict appears scientifically very implausible," they said.
When that report was published Professor Robert Black QC and UN appointed international observer Hans Köchler backed a campaign initiated by the Lockerbie Justice Group which challenged the Lord Advocate to openly demonstrate that Pan Am 103 could have been brought down by a semtex bomb, under controlled laboratory conditions.
"The Crown theory utterly depended upon Judges believing that this white-hot sphere with a temperature of 6,800°F, travelling in all available directions at 20,000mph did not scorch, never mind totally annihilate, a printed circuit board and a fabric label, which it was able to wholly detach from the shirt. Our group finds this utterly incredible," the group said.
"It is highly important to address this question to the Scottish prosecutor's office and I shall add my name to such an initiative," said Hans Köchler. "It is equally important that an explosives expert with impeccable academic credentials, ideally a University professor from a European country, endorses this initiative or confirms the basic physical facts in writing. Under this condition I can join the initiative."
Neither the Crown Office or Scottish Government engaged with this inquiry, and this avenue of internationally held doubt has never been probed judicially or independently. Perhaps it should be.
Former Ferranti electrical engineer Aitken Brotherston, experienced in testing circuitry for use in military applications also said:
"Although no doubt there have been some advances in the construction of circuit boards the predominance of boards in current use are the same as those I tested. In most cases the boards would happily catch light with a flame source similar to that of a Swan Vesta and the others merely required a butane blowtorch with temperatures being at most in 100s of degrees C," he says. "While we did not test them to the 3000 plus degrees C temperatures of a Semtex explosion bright spot, even as an apprentice electronics engineer with Ferranti, my experience at much lower temperatures would persuade me that nothing of the circuit boards would survive that environment.
"The proposal that fragments of the board, of sufficient size to permit identification, packed with the bomb had survived a temperature environment of more than 3000 degree C in the explosion is to me just not credible. What it does demonstrate is the extent to which anyone promulgating that theory believes us out here in the real world to be completely stupid."
So what caused those holes, if it wasn't a semtex blast? The AAIB report, the official investigation into the cause of the crash, would, one would have hoped, shed considerable light on the visible damage and its causes. However, it does not contain a single photograph of the fragmentation holes. It is imprecise about the most crucial time index of the entire flight, the moment when the explosion took place, and offers several conflicting accounts with no definitive transcript of the chain of events in the key moments leading up to the events that destroyed the plane.
As Pan Am 103 crossed the Scottish Border into the Shannon/Prestwick air traffic control zone it was required to switch to VHF2 transmission, for which there is a specific procedure laid down in transatlantic protocols of the day, which The Firm has examined. The report is inconsistent about who is talking to whom during these transmissions, contradictory about when communication started, vague about whether communication was one or two way between the plane and air traffic control, and contradictory about timing and transmission details.
Despite the obfuscation, it is clear that the crucial explosives event on the plane took place during the time index when Pan Am 103 was in contact with Shanwick air traffic control, having switched to using VHF2. It is unclear from the report whether or not the crew had made the long return call to Shanwick, in which they would have copied back their complex transatlantic crossing instructions.
It is extraordinary that such a crucial piece of the entire Lockerbie puzzle is imprecise. This is relevant because this type of radio transmission is well known as a RAD-HAZ risk, the phenomenon in which radio transmissions adversely influence the functioning of complex electronic circuitry. This was a particular problem in the 1980s as sophisticated military weaponry was being developed and perfected. There is an entire body of literature devoted to the subject, albeit perhaps of little interest to those not involved in what is a complex, specialised field.
Sophisticated military weaponry relies heavily on electronic guidance and jamming to function as designed. Missiles are sensitive to long VHF frequency transmissions, which can cause weaponry to function and detonate. The question to be asked in a judicial or inquiry forum is, could such a thing have caused damage of the kind evidenced on the hull of the plane?
The Scottish Office at the time was in fact advised of this possibility in the testimony of one eyewitness at the crash site with explosives expertise. His report and testimony submitted to them at that time offered no conclusions as to the cause of the event, but his account floats the possibility that Pan Am 103 may not have been brought down by a semtex bomb at all, but by an entirely different type of explosives event, based on what he witnessed in Lockerbie in the immediate aftermath of the crash.
John Parkes is a former soldier, MOD contractor, consultant and designer of bomb blast mitigation techniques, whose work has been referenced by NASA as recently as 2002. He travelled to the scene that night from Edinburgh and returned to assist in the rescue and clear up operations that followed. He has over 40 years' experience of explosives engineering. Parkes was asked to examine the bodies of three victims in the improvised mortuary at Lockerbie Ice Rink ahead of their post-mortems. The first victim Parkes examined was a young girl, perhaps eight or nine years of age. The rear of her body showed what he described as fragmentation strikes, pieces of metal penetrating her skin. Their distribution, the blast shadowing caused by her seat, and in particular, minute holing in her socks which he said revealed a chemical propellant, all confirmed a specific blast signature. It provided clues to the type of explosive event that occurred on the plane, and where it was situated in relation to the girl. The holing and fragmentation in particular are not characteristic of Semtex or similar explosives, he says, and whilst there is insufficient data to confirm the nature of the explosives event evidenced on the young girl, he concluded that it ruled out a Semtex blast as the cause of the wounding. This conclusion is consistent with the later explosives work undertaken by Wyatt and De Braeckeleer.
The fragments were explosively propelled at high velocity, Parkes said.
"Every munitions or explosives device has its own characteristic signature," he said.
"The signature I saw was not consistent with the device they maintained was used. There was not enough power or heavy material around that device to have gone through the luggage and floor and through the back of an aircraft seat to inflict these wounds. If I could have seen the girl's aircraft seat I could have further deduced the angle from which the blast struck."
Pathologist Anthony Busutil, who examined the same body, told me that what Parkes witnessed was caused by "scraping" as the body impacted the gravel of Dumfriesshire after her five-mile freefall. Parkes initially submitted a report on his findings to the Scottish Office, who acknowledged it on 18 January 1989. Parkes was assured in that acknowledgment that his data would be taken into account. It had been clear to him from the outset that in order to punch through the floor of the aircraft, the explosive would have had to have been at the very top of the baggage container otherwise it couldn't have caused any of the damage he witnessed. Even at this early stage Parkes, like most of his contemporaries, believed a far larger explosive device had been used on the plane than was admitted and led in evidence, and this was perhaps being necessarily concealed to avoid revealing embarrassing gaps in airport security.
When it became evident during the trial that the case against the two accused did not make reference to the damage he witnessed, he made extensive efforts to pass his findings to the Crown Office, to MSPs, MPs, the defence teams and to news agencies.
By this time, he had concluded that the explosives signature pointed to an entirely different type of propellant and explosive event, which he later postulated may have resulted from the accidental misfiring of mainstream weaponry components carried illicitly on the plane. The Scotsman reported Parkes's claims in August 2006, and they also received coverage from The Herald following Megrahi's conviction, but before the appeal. They were also reported in The Firm in 2007.
MSP Phil Gallie raised the matter with then Lord Advocate Colin Boyd. The Lord Advocate's response to Phil Gallie in March 2001 did not address the implications of Parkes' testimony. Rather, it simply pointed out that the defence team did not lead evidence during the trial to contradict the findings of the AAIB report. Boyd did not explain why the Crown didn't act upon Parkes' findings once they had been passed to them.
The possibility that this line of inquiry ought to be further explored in a judicial or inquiry forum was echoed by Dr Jim Swire, who relayed the account to the UK families group in 2006.
"Governments have closed ranks behind the extraordinarily unlikely fantasy of the Malta bomb story," he said. "Parkes deserves to be listened to. Attendance at the Zeist trial convinced me the story about the Libyans in Malta using a MEBO timer from Zurich was pure fabrication."
If the US was indeed ferrying weaponry on a civilian aircraft, resulting in 270 deaths on UK soil, it becomes apparent why the two governments would try to avoid the revelation of this information. And Libya, once implicated, would do what was asked of it to escape the brutal sanctions regime imposed on it.
Visible, but hard to perceive
Saif Gaddafi was careful to state explicitly when Libya paid the families of the victims of Pan Am 103 compensation money, that Libya accepted responsibility for the payment of the money, but not for the destruction of the plane.
"Yes, we wrote a letter to the [UN] Security Council saying we're responsible for the acts of our employees, our people, but it doesn't mean that we did it in fact," he told the BBC. "Without writing that letter, you will not be able to get rid of the sanction. I admit we played with the words. We had to, there was no other solution."
In her memoirs, 'The Downing Street Years', Margaret Thatcher fails to mention Lockerbie at all. Although she does mention on page 448 that Libya's capability to launch a terror attack had been removed by the infamous 1986 UK launched air raids.
"The much vaunted Libyan counter-attack did not and could not take place. Gaddafi had not been destroyed but he had been humbled. There was a marked decline in Libyan sponsored "terrorism"," she wrote, in 1993.
Tam Dalyell was concerned about the omission of the Pan Am 103 event, and said Thatcher turned a blind eye to exploring the possible truth of the fall of Pan Am 103 in favour of "blind obedience" to US wishes. He recollects meeting Thatcher for the first time in 13 years at a diplomatic dinner, at which they discussed her memoirs.
"The last thing that Washington wants is the truth to emerge about the role of the US in the crime of Lockerbie," Dalyell said, "Why in 800 pages did you not mention Lockerbie once?" he asked her.
Mrs Thatcher replied:
"Because I didn't know what happened and I don't write about things that I don't know about."
"My jaw dropped. You don't know. But, quite properly as Prime Minister, you went to Lockerbie and looked into First Officer Captain Wagner's eyes. She replied:
"Yes, but I don't know about it and I don't write in my autobiography things I don't know about."
"My conclusion is that she had been told by Washington on no account to delve into the circumstances of what really happened that awful night. Whitehall complied. As soon as I left the Colombian ambassador's residence, I reflected on the enormity of what Mrs Thatcher had said," Dalyell said.
That may have been her explanation at dinner parties, but can we really accept that a Prime Minister of the day didn't know what had happened at all?
Today's politicians at 22 years remove perhaps may be able to offer more of an excuse for not knowing exactly what happened, but that does not excuse their willing refusal to inquire deeply when asked. Scottish and UK politicians spoke confidently of public revulsion at the reception Megrahi received on release in Libya, but this assertion was not borne out with equal confidence in public polling. The dialogue our politicians and government speak seems perpetually discordant with those of the public and the bereaved families. It is hardly surprising that the current generation of news reporters, given little time or budget to investigate for themselves, find it hard to penetrate the case when they are provided with Crown and Government statements that stick to rigid, repeated lines of obfuscating spin. The media are very effectively steered by the aggresive press managers of those whose conduct in this case seems to warrant the most investigation.
Nevertheless, journalism has not been defeated. At the time of Megrahi's return to Libya, reports abounded of oil deals, negotiations and evident pressure brought to bear on Megrahi to drop his appeal from our own Justice Minister, revealing the degree to which Scotland's judicial system was evidently subordinate to political decision making made elsewhere. Ahead of Megrahi's release, Peter Mandelson was reported to be in talks with Saif Gaddafi about the case, a meeting described at the time as coincidental. It is a challenge to logic to accept that this level of politicking, precisely as observed by Hans Koechler, was not connected to not only the decision to release Megrahi, but the entire handling of his case. All this is quite visible if you are a "Professor of Lockerbie Studies", as Tam Dalyell bitterly joked. It is hard to perceive, if not.
Maggie Scott QC's remarks announcing that her client Abdelbaset al-Megrahi was dropping his appeal in the interests of his applications for both prisoner transfer to Libya and compassionate release raises legitimate questions as to whether Megrahi was pressured into dropping his appeal when visited at Greenock jail by Robert Gordon, Linda Miller and Kenny MacAskill. Again, all carried out right in front of us, yet the details of that meeting have never been probed in a judicial forum or an independent inquiry. Perhaps they should be.
In one of his earliest broadcast statements in the first hours after the event, transport secretary Malcolm Rifkind described the destruction of Pan Am 103 as an accident to an assembled group of journalists. Not a disaster, a tragedy, an incident or an attack. An accident.
So did former US Secretary of State Madeleine Albright in August 2009. She described the event, live on air as a "terrible, terrible accident" in an unscripted two-way on MSNBC.
The majority of the persuasive testimony and evidence that continues to give those who have scrutinised this affair reasonable doubt has never had an opportunity to be tested in court, and no government has convened an inquiry, despite persistent calls endorsed by the families of the victims, by the UN Observer, by luminaries such as Archbishop Desmond Tutu, Professor Noam Chomsky, John Pilger, Gareth Peirce, Robert Black QC, Cardinal Keith O'Brien and those who endeavoured to sign an online petition submitted to the Holyrood petitions committee by the JFM group. All of whom have looked at the case for themselves and staked their reputations against the need for an inquiry.
It is outrageous that in the face of such unified and respected challenge, neither the UK, Scottish or US governments will explore the possibility of definitively examining the cause of the deaths of those 270 people. Equally deserving of scrutiny is the persistent conduct of actors in our judicial and government systems who have on one hand frustrated and blocked legitimate inquiry into these matters, and on the other appear to have applied political and civil service control into the strictly judicial arena. Justice has been hijacked. That it can be done so without accountability or sanction renders our justice system nothing more than a disposable inconvenience, a reality which is totally incompatible with Scots jurisprudence, the social contract and the separation of powers. It is frankly unsustainable. If not addressed, one can only speculate the extent to which our once proud justice system will be further eroded, degraded and corrupted. Its own lawyers are already turning against it, with Ian Hamilton QC challenging the Judges and 86% responding to a Firm poll to say they wanted an inquiry into these events. Others may follow. Our law stands on the cusp of a slippery slope.
Jim Swire received a remarkable insight while at a meeting with UK Families 103 at the US embassy in London. "One of our number was told by an official on the US Commission of Inquiry, in an aside that: "Your government and mine know exactly what happened, but they're never going to tell", Swire says.
I think it is time we were told. Before it is too late.
Steven Raeburn (Photo Credit: Michael Baumann) (Note: The AAIB report states on page 3 that Shanwick Oceanic transmitted the oceanic clearance approximately 7 minutes after the aircraft reached level flight at 18.56hrs, [logically, we can conclude this means at 19.03hrs] but this transmission was not acknowledged. It says the radar return was lost during this transmission. The report is therefore telling us 2 different things. Both that the Shanwick transmission had ceased, awaiting acknowledgement, and that Shanwick were still transmitting. On page 13 the report tells us that 2-way radio contact had been established at 18.58hrs, not "7 minutes after 18.56hrs". It says this time that the oceanic clearance was transmitted [in full presumably] but the aircraft failed to acknowledge this. It says no subsequent transmission was made from the flight. The report tells us the clearance was transmitted at 19.02 and 44 seconds. It then advises, further down the page, that Shanwick was in the act of transmitting the clearance when the voice recorder stopped. [So on the one hand the transmission is complete and awaiting acknowledgement, and on the other, the transmission was in progress.] The report then goes on to state that the Shanwick controller continued to transmit the clearance 'through the initial destruction of the aircraft'. On page 15, the report then tells us that that the cockpit voice recorder ceased whilst the crew were copying their transatlantic clearance from Shanwick. [So it is the flight crew who are transmitting, and not Shanwick. Contradicting the information given earlier that no acknowledgement had been made by the crew.] That appears to add up to five differing versions of the final moments on the flight deck. I think.
The AAIB report says that tape recordings and transcripts were available. They would presumably provide a definitive account of what was and was not transmitted, received or copied. Yet they are not included in the report.[9]
HMA v HMA: The next Pan Am 103 trial
On 14 March 2012, Steven Raeburn published this article as an "Editor's blog" in The Firm magazine:
As the discredited Pan Am 103 case continues to crumble further, with damning revelations coming to light on an almost daily basis, the failure of duty by some of Scotland's senior law officers over the years since the aircraft was destroyed is becoming clearer. Their actions and inaction is being exposed to scrutiny that reinforces the UN trial observer Hans Koechler's conclusion that they amount to new criminal offences in themselves.
For example, The Herald is quoting former Lord Advocate Colin Boyd this morning as follows:
"I reject the suggestion that I or anyone else in the prosecution team failed to disclose material evidence to the defence. All of the relevant CIA cables were disclosed subject to some exceptions, principally to ensure that the lives of named individuals were not put at risk. They were disclosed as a result of a request from the court directed to me.
"I am satisfied that the Crown acted with propriety throughout the trial and endeavoured in this case, as with any other conducted in my name as Lord Advocate, to secure the accused's right to a fair trial."
Subject to some exceptions… This is crucial, and reveals the identifiable moment when the showpiece trial (or was it simply a show trial?) was corrupted. Leaving aside for the moment the numerous flaws in the handling of the case between 1988 and the commencement of the trial, co-accused Fhimah's solicitor Eddie McKechnie told me that the process of disclosure of these cables was tortuous. He said the Crown dissembled, hummed and hawed and delayed passing them over to the defence for months (it was reported yesterday that the SCCRC threatened civil action against the Crown Office for the same reason).
As is now well known, the cables revealed only the useless testimony of CIA salaried informer Abdul Majid Giaka, whose evidence as a "fantasist" was dismissed in its entirety by the trial judges. What is not generally known, McKechnie told me, is that the Crown Office themselves did not know what was in the cables until after the trial had commenced, because they had only been given redacted versions from the CIA, and hollow assurances from US intelligence that they contained key evidence that would stand up in court. In particular, they were told that Giaka could positively identify Megrahi and Fhimah and link them to the atrocity. The material in the cables was not evidence gathered by COPFS or Dumfries and Galloway police, as would normally be the case in a trial brought in Scotland. It was delivered on a plate fully formed by US intelligence services, a somewhat murky group of people not renowned for their honesty nor the integrity of their motivations.
This point is rarely if ever understood or reported. It is often overlooked that Megrahi and Fhimah themselves were sourced and presented to the Crown Office by the CIA. They were not tracked down nor placed in the frame by Scottish investigators.
By the time the cable contents were disclosed, the trial arrangements were irrevocable and the geopolitical deals that continue to define this case were done at UK level in Westminster. Scots law was a passenger from this point, and a hijacked one at that. The revelation of the non-redacted cables is the key moment when the case should have been dropped by Lord Fraser, and where the criminal ineptitude begins. Everything COPFS has done since then (and the Scottish Government, to a more or less equal degree) is designed to shore up that mistake and the shoddy trial that resulted from it, and to deflect any suggestion of error, or worse. It was under Fraser's tenure that key witness Tony Gauci was bribed, or rather, received "possible reward payments".
Key Crown personnel can be forgiven for naiveté, but the mistakes that have been evidenced escalate from incompetence in the first instance, but morph into negligence, malfeasance and dereliction of duty as time has gone on and every opportunity to address and correct these issues is not only spurned, but actively blocked. The trial itself was tainted by the perpetuation of this error, as witnessed by United Nations Observer Hans Köchler. In 2005 he said that "the falsification of evidence, selective presentation of evidence, manipulation of reports, interference into the conduct of judicial proceedings by intelligence services," he observed at the Zeist trial were "criminal offences in any country." He said that the "possible criminal responsibility, under Scots law, of people involved in the Lockerbie trial should be carefully studied by the competent prosecutorial authorities."
Successive Crown regimes have aggressively protected their own flawed conduct to preserve the personal reputations of a very few. The justice system has suffered, and a new culture of paranoia, fear and insularity has put the Crown Office in a permanent mode of lockdown. The late Paul McBride described it as a siege mentality, although in the real world, removed from the paranoid fantasies of the Crown Office, the only assault it has actually been under is from the truth, sought by bereaved families, and, as time has gone on, a growing army of observers including luminaries such as Archbishop Desmond Tutu, Professor Noam Chomsky, John Pilger, Gareth Peirce, Robert Black QC, Cardinal Keith O'Brien and those who signed an online petition submitted to the Holyrood petitions committee by the JFM group, all of whom have looked at the case for themselves and staked their reputations against the need for an inquiry.
A full re-examination of the case will reveal the truth of Pan Am 103. It will also expose those culpable in our system to ridicule and the damning judgement of history. If Scotland retained an independent Lord Advocate and a mature justice system, rather than the current degraded, paranoid runt of the once proud system, indictments would be issued at once by Frank Mulholland against former Lords Advocate Fraser, Boyd and Angiolini. Mulholland himself would step aside and submit to his successor for criminal scrutiny. The fact that the case of HMA v HMA is unlikely to be appearing on the rolls of court anytime soon demonstrates the scale of the problem our system now faces in respect of this case. Her Majesty's Advocate requires to investigate itself, but will not. Does the International Criminal Court now beckon? We are through the looking glass now.[10]
Adequately Explained by Government-fed Propaganda?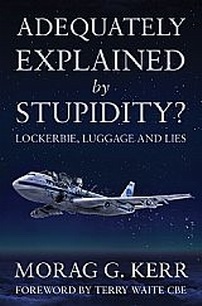 On 14 October 2013, BenSix posted this Tweet:
"Imminent and intriguing book from Dr Morag "Rolfe" Kerr on the Lockerbie bombing."[11]
A long series of increasingly acrimonious Tweets between Steven Raeburn, Robert Black and Morag Kerr then ensued.
Professor Black tweeted:
"I have always found that it's a good idea to read a book before criticising its contents."[12]
Steven Raeburn tweeted:
"Odd that "Rolfe" gets apoplectic and abusive at these contents.[13]
Morag Kerr tweeted:
"Government-fed? Who do you think gave me the evidence?"[14]
Patrick Haseldine joined the conversation by tweeting:
"Morag aka #SlimVirgin is #MI5 agent, so defo Govt-fed propaganda."[15]
On 15 October 2013, The Firm magazine tweeted:
"Good old fashioned twitter spat between @MrStevenRaeburn @drmoragkerr and @rblackqc last night. See the RT's to follow...[16]
Patrick Haseldine tweeted:
"Adequately Explained by Government-fed Propaganda?", which was Retweeted by The Firm to its 5,448 followers.[17]
A Document by Steven Raeburn
Many thanks to our
Patrons
who cover ~2/3 of our hosting bill. Please join them if you can.
References