Jeb Bush
Jump to navigation
Jump to search
 Jeb Bush        
(politician)

Born

John Ellis Bush


1953-02-11
Midland, Texas, U.S.
Alma mater
Phillips Academy, University of Texas at Austin
Religion
Episcopalian
Parents
• George H. W. Bush
• Barbara Pierce Bush
Children
• George
• Noelle John Ellis

Spouse

Columba Bush
Member of
Bush family, Knights of Malta, Phi Beta Kappa, Project for the New American Century, United Against Nuclear Iran
Perpetrator of
Savings and loan fraud
Party
Republican
Relatives
• See
• Bush family

A Bush crime family member whom the cabal are trying to get elected.

In office
January 5, 1999 - January 2, 2007

In office
January 6, 1987 - September 9, 1988
Jeb Bush is son of the late George H. W. Bush, de facto head of US Deep State for decades, and brother of former President George W. Bush. Initially considered the favourite to win the Republican Party's nomination for the 2016 US presidential election, Jeb Bush dropped out of the presidential race in February 2016 after a string of defeats in the early primaries.[1]
Republican front-runner Donald Trump claimed the credit:
"I think Jeb would have been the nominee had I not gotten in, but I was able to define Jeb early. Don't forget I'm the one that, when Jeb would say, 'The country was safe when my brother was president,' I said, 'Excuse me, the World Trade Center came down'."[2]
Savings and loan fraud
Full article: Savings and loan fraud

Jeb Bush was heavily implicated in the Savings and loan fraud initiated by the regulatory change of his father, US Vice President, George H. W. Bush.[3]
Deep political connections
The Medellín drug cartel reportedly appealed to Jeb Bush to appeal to his father for an amnesty for Pablo Escobar.[4]
Jeb Bush appealed to his father to release the convicted Cuban terrorist Orlando Bosch from prison and grant him US residency status, according to a book published in 2002 about the Bush family's links with exiled hard-liners. Those connections date from 1984 when Jeb Bush began a close association with Camilo Padreda, a former intelligence officer with the Batista dictatorship overthrown by Fidel Castro.[5]
Jeb was then on the payroll of the prominent Cuban exile Miguel Recarey[6], who had earlier assisted the CIA in attempts to assassinate President Castro. In 1985, Jeb acted as a conduit on behalf of supporters of the Nicaraguan contras with his father, then the vice-president, and helped arrange for Recarey's International Medical Centres to provide free medical treatment for the contras.[7]
9/11 Involvement
Jeb Bush manifestly floundered when Mike Jackman asked him "According to Sergeant Marty (Mike) Treanor and other law enforcement officials in Sarasota Florida, the files pertaining to 9/11 hijacker pilots Marwan Al-Shehhi and Mohamed Atta from Huffman Aviation Flight School in Venice Florida were loaded onto two Ryder trucks and driven onto a C-130 cargo plane which left Sarasota the day after 9/11. Is it true that you were onboard the C-130? And, if so, can you tell us what became of the files?" He first issued a 3 word denial and took another question before expanding upon his denial and claiming that he "was in the Emergency Operations Center". This account of events is contradicted, reports Daniel Hopsicker by Mike Treanor's testimony.[8]
Businesses
Since 2008, Jeb Bush and his partners have registered a lengthy array of secretive companies in the state of Florida which have not apparently done any businesses yet.[9] As a private citizen, Bush's holdings and investments didn't need to be disclosed, but as a presidential hopeful he would have to complete a personal financial disclosure, and face the same sort of scrutiny as the Republican candidate Mitt Romney did in the 2012 election. Indicating his presidential ambitions, Jeb Bush announced his resignation from all of the businesses as of 31 December 2014.[10]
2016 US Presidential Bid
Mark Gorton wrote in 2013 that the cabal was trying to get Jeb Bush elected US President.[11] Rolling Stone magazine reported in September 2014 that Jeb may be trying to run for president, in an article entitled "Jeb Bush Just Took a Big Step Toward Running for President. Here Are 23 Reasons He Should Reconsider."[12] In October 2014, it was reported by CNN that Jeb Bush may be running for president in 2016. "The family will be behind him 100% if he decides to do it." said his eldest son, George P. Bush.[13]
After his defeat, Bush gave this ironic remark about Trump;
"Whatever his views are this morning, they might change this afternoon, and they were different than they were last night, and they'll be different tomorrow. ... They seem to be ever, ever-changing, depending on what crowd he's in front of. Sounds like a typical politician, by the way, where you get in front of one crowd and say one thing, and then say something else to another crowd that may want to hear a different view. All the things that Donald Trump railed against, he seems to be morphing into — it's kind of disturbing. ... He doesn't believe in things, this is all a game."
Jeb Bush (August 2016)  [14]
According to Olan Thomas of Cut2TheTruth:
What can be said about Jeb Bush that hasn't already been said about the Devil himself? To begin with, he's a Bush. That should be enough reason to kick his ass out of politics for good right there. This is the son of George, Sr. — a man not only thought by millions to have had direct involvement in the 9/11 attacks, but also the JFK assassination, the Reagan assassination attempt, and Lawrence E. King's pedophile ring, to name a few — and brother of George, Jr. — another man majorly thought of as being directly involved in the execution and cover-up of the 9/11 attacks on New York which killed thousands of innocent people; 2,996 by an official count. This is the family which brought the whole "war on terror" into existence, and from Jeb we can expect more of the same. No matter what Bush you look into, corruption riddles its roots, and the more power they are given, the more abuse they are sure to inflict, and not just on the American people, but the entire world. Jeb is definitely a dangerous choice to sit in the White House and appoint the people to fill top government positions. This is unarguable as the facts speak for themselves.[15]
Asked about the 28 pages of the 9-11/Joint Congressional Inquiry he denied all knowledge.[16]
NSA support
In 2015, Jeb Bush was asked for his thoughts on "the best part of the Obama administration," he singled out the president's continuation and enhancement of the National Security Agency's (NSA) bulk phone records surveillance program:
"I would say the best part of the Obama administration would be his continuance of the protections of the homeland using the big metadata programs, the NSA being enhanced. Advancing this — even though he never defends it, even though he never openly admits it, there has been a continuation of a very important service, which is the first obligation, I think of our national government is to keep us safe. And the technologies that now can be applied to make that so, while protecting civil liberties are there. And he's not abandoned them, even though there was some indication that he might.[17]
Foreign Policy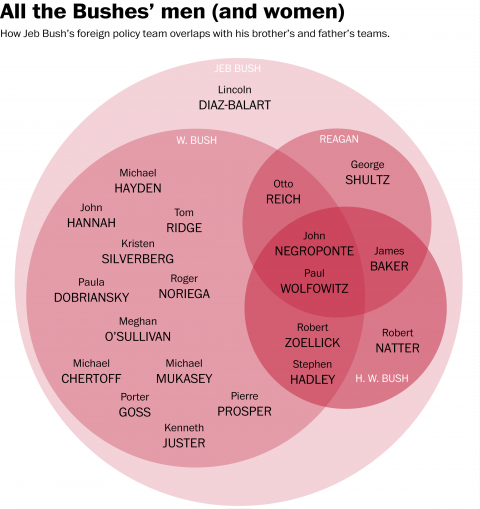 The Washington Post noted in February 2015 that 19 of the 21 people on his team of foreign policy advisors worked in the administrations of either his father, or brother. Of the two exceptions Lincoln Diaz-Balart and George Schulz, the latter is a veteran of Ronald Reagan's foreign policy team.[18]
Economic policy
More people should be working, and for longer hours:
"Under President Obama, we have the lowest workforce participation rate since 1977, and too many Americans are falling behind".
"My aspiration for the country and I believe we can achieve it, is four percent growth as far as the eye can see. Which means we have to be a lot more productive, workforce participation has to rise from its all-time modern lows. It means that people need to work longer hours and, through their productivity, gain more income for their families. That's the only way we're going to get out of this rut that we're in."[19]
An event carried out
| Event | Location | Description |
| --- | --- | --- |
| Savings and loan fraud | US | "The largest theft in the history of the world", carried out in broad daylight, with legislative assistance. So many US politicians were directly or indirectly involved, that it was never properly exposed and efforts are ongoing to try to hide the fact that it was no mere accident. |
Many thanks to our
Patrons
who cover ~2/3 of our hosting bill. Please join them if you can.
References