Time bomb
Jump to navigation
Jump to search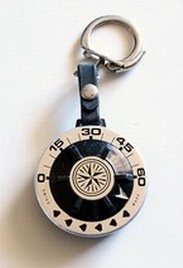 A time bomb or Timer and Power Unit (TPU) is a bomb that is triggered by a timer which can delay detonation by hours, weeks or months. Since the 1970s, time bombs with Memopark timers have been employed extensively by the Provisional IRA both in Northern Ireland and on the British mainland.[1]
In the 1980s, long-delay TPUs were allegedly used for the Regent's Park bombing and the Brighton bombing, and a so-called ice-cube timer (barometric trigger) for the Lockerbie bombing.[2]
Construction
The explosive charge is the main component of any bomb, and makes up most of the size and weight of it. It is the damaging element of the bomb (along with any fragments or shrapnel the deflagration might produce with its container or neighbouring objects). The explosive charge is detonated by a detonator.
A time bomb's timing mechanism may be professionally manufactured, either separately or as part of the device, or it may be improvised from an ordinary household timer such as a wind-up alarm clock, wrist watch, digital kitchen timer, or a laptop computer.
Types
Types of time bombs include:
Delayed-action bomb (bombs dropped by aircraft with a delay to increase damage/disruption)
Improvised explosive device (IED) ("home-made" bombs with a delay to allow the person placing the bomb to escape)
Limpet mine (attached to enemy ships by naval divers)
Notable TPU incidents
Year
Event
Location
Perpetrator(s)
Deaths
Injuries
Comments
1871
Attack on the Mosel (ship)
Bremerhaven
Alexander Keith, Jr.
80
unknown
bomb set for insurance fraud purposes; detonated prematurely
1910
Los Angeles Times bombing
Los Angeles
John J. McNamara and James B. McNamara
21
100
Union-related action
1916
Preparedness Day Bombing
San Francisco
Labour leaders
10
40
Isolationist political action
1920
Wall Street bombing
New York City
Anarchists (suspected)
38
400
Followed other bombings in 1919
1939
Bürgerbräukeller
Munich
Georg Elser
7
63
Failed assassination attempt on Adolf Hitler
1942
St Nazaire Raid
St Nazaire, France (wartime)
Royal Navy, British Commandos
590
unknown
To damage port facilities being used by enemy forces
1944
July Plot
Wolf's Lair, Poland (wartime)
German Resistance
4
?
Failed assassination attempt on Adolf Hitler
1955
United Airlines Flight 629
over Longmont, Colorado, USA
Jack Gilbert Graham
44
0
Murder; insurance fraud
1972
Aldershot Bombing
Aldershot, UK
IRA
7
18
A 280 lb time bomb in a car
1974
M62 Coach Bombing
West Yorkshire
IRA
12
38
Continuing anti-British campaign
1974
Birmingham pub bombings
Birmingham, UK
IRA (suspected)
21
182
Continuing anti-British campaign
1974
Guildford pub bombings
Guildford, UK
IRA
5
65
Targeted against Army personnel
1977
Lucona sinking
Indian Ocean
Udo Proksch
6
0
Attempted insurance fraud
1982
Regent's Park bombing
Beneath the bandstand in London's Regent's Park
IRA
7
31
Targeted against Army bandsmen
1983
Church Street bombing
Pretoria, South Africa
probably Department of Military Intelligence
19
217
False flag by apartheid regime to blame ANC
1983
Harrods bombing
Knightsbridge, London
IRA
6
90
Car bomb
1984
Brighton hotel bombing
Brighton, UK
IRA, using long-delay MST-13 Timer
5
31
Attempt to assassinate PM Margaret Thatcher
1986
La Belle discotheque bombing
West Berlin
probably Mossad
3
230
False flag operation to blame Libya
1986
El Al Flight 016
Heathrow, UK
probably Mossad
Nil
Nil
False flag operation to blame Syria
1987
Korean Air Flight 858
Andaman Sea
North Korea
115 (all)
0
State "terrorism" against South Korea
1987
Remembrance Day bombing
Enniskillen, Northern Ireland
IRA
12
63
Continuing anti-British campaign
1988
Pan Am Flight 103
Above Lockerbie, Scotland
South African CCB with possible help from CIA, SIS and Mossad
259 (all)
0
Targeting UN Commissioner for Namibia Bernt Carlsson
1989
UTA Flight 772
Over the Sahara Desert (Niger)
possibly CIA and/or MI6
170 (all)
0
Persuading France to vote for UNSCR 748 (1992) which imposed sanctions on Libya
1989
Deal barracks bombing
Deal, Kent, UK
IRA
11
21
Targeted against military personnel
1994
Philippine Airlines Flight 434
Between Cebu and Tokyo
Ramzi Yousef
1
10
Foiled attempt.
1996
Centennial Olympic Park bombing
Atlanta, Georgia, USA
Eric Rudolph
1
111
Politically-motivated anti-abortionist; occurred during 1996 Summer Olympics.
1998
Omagh bombing
Omagh, Northern Ireland
IRA
29
220
Worst single incident loss of life during the anti-British campaign.
1999
Russian apartment bombings
Buynaksk
Moscow
Volgodonsk
unknown
293
651
4 bombs over 4 days; purpose unknown.
2006
Moscow market bombing
Moscow
Racist organisation
13
46
Racially motivated attack
Time bombs in fiction
Time bombs are common plot devices used in action/thriller TV series, cartoons, films and video games, where the hero often escapes the blast area or defuses the bomb at the last second. Many fictional time bombs are improvised, and usually involve a beeping sound with a large prominent countdown timer (on rare occasions, the timer will count up).
Such fictional appearances include:
Kojak, Knight Rider, MacGyver, Get Smart, Men in Black: The Series, 24, Sonic X, Hogan's Heroes, VR Troopers, and Walker, Texas Ranger on television;
James Bond: Goldfinger, Die Hard with a Vengeance, The Hindenburg, The Mask, The Peacemaker, 3 Ninjas: High Noon at Mega Mountain, Battle Royale, Battle Royale 2: Requiem and New Police Story in film;
Counter-Strike, Sonic Adventure 2, Metal Gear Solid 2: Sons of Liberty, Red Faction, Halo, F-Zero GX, Wolfenstein: Enemy Territory, Trauma Center: Under The Knife, Trauma Center Second Opinion and Call of Duty: Black Ops 2 and
Songs by The Old 97's, Dave Matthews Band, Chumbawamba, Godsmack, The Format, Rancid, Buckcherry, The Dismemberment Plan, Faber Drive and Beck titled "Time bomb" or "Timebomb".
The popular Super NES video game Chrono Trigger takes its name from the timer-detonator assembly of a time bomb, although the game itself has nothing to do with time bombs but with time travel instead.
Related Document
Many thanks to our
Patrons
who cover ~2/3 of our hosting bill. Please join them if you can.
References
This page imported content from
Wikipedia
on 18 February 2015.
Wikipedia is not affiliated with Wikispooks.
  Original page source
here