Michael Russell
Jump to navigation
Jump to search
 Mike Russell     
Born
1953-08-09
Bromley, Kent
Nationality
Scottish
Alma mater
Edinburgh University
Religion
Episcopalian
Children
• son
• Caileen

Spouse

Cathleen
Party
Scottish National Party
Michael William "Mike" Russell,[1][2] (born 9 August 1953 in Bromley,[3] Kent) is a Scottish National Party (SNP) politician and Member of the Scottish Parliament for the Argyll and Bute constituency. He is also a television producer and director and the author of seven books.
Mike Russell was Chief Executive of the SNP from 1994 to 1999 and was elected to the Scottish Parliament as a regional MSP for the South of Scotland at the first Scottish Parliament elections in 1999. However, he lost his seat in the 2003 Scottish Parliament Election. He was elected again in May 2007 and was appointed Minister for Environment in Scotland's first-ever SNP administration by First Minister Alex Salmond.[4] He was then reshuffled on 10 February 2009 to become Minister for Culture, External Affairs and the Constitution, and was later promoted on 1 December 2009 replacing Fiona Hyslop as Cabinet Secretary for Education and Lifelong Learning.
The appointment of Nicola Sturgeon as First Minister in November 2014 saw the departures of Cabinet ministers Mike Russell and Kenny MacAskill.[5] Within two years, however, Russell was back as the Scottish Brexit Secretary (formally Minister for UK Negotiations on Scotland's Place in Europe).[6]
Background
Russell was born in Bromley to an English mother and a Scottish father.[7] He was educated at Marr College,[8][9] Troon and Edinburgh University, there studying firstly Theology and then Scottish History and Literature. He worked in television and the media prior to establishing his own media company, Eala Bhan Ltd.
Personal life
Russell married Cathleen MacAskill, a primary school head teacher, in March 1980 and they have one son Caileen "Cally" Russell (born 1988). Since August 1992 the family have lived in an 18th-century single story farm dwelling in Glendaruel on the Cowal peninsula in Argyll and Bute.[10][11]
Russell previously separated from his wife for a time after he lost his seat at Holyrood in 2003 and had an affair with his researcher Elidh Bateman.[12][13] Bateman, who was 21 years his junior, later dumped Russell just 10 days after he publicly announced he was leaving his wife.[14][15]
Russell is a fluent speaker of Scottish Gaelic and gave a speech in the language which was the first occasion the European Council was addressed in Gaelic.[16][17]
Political career
Russell was Chief Executive of the Scottish National Party (SNP) in the period prior to the first Scottish election in 1999 and has been an active member of the SNP for over three decades, often working closely with party leader, Alex Salmond.
Originally a member of the Labour club at Edinburgh University, Russell joined the SNP in 1974 during the February election of that year, was active in Edinburgh, in the Western Isles and in the Inverness constituency and stood for the first time for as an SNP candidate in 1984 in Clydesdale in a local government election. He was then the Clydesdale candidate for the Westminster Parliament in June 1987. Later that year he became the elected Vice Convenor of the SNP responsible for Publicity (succeeding Alex Salmond) and in 1990 was Salmond's campaign manager during the SNP leadership campaign.
During that time he worked as Executive Director of Network Scotland, a media and educational company, but he gave up his party posts in 1991 to concentrate on establishing his own TV production company, Eala Bhan Ltd. He returned to active politics in December 1994 when he became the SNP's first full-time Chief Executive. In that role, he was the party's election director for the 1997 and 1999 campaigns as well as for the successful Perth and Kinross by-election in 1995 (having been deputy campaign director in the 1992 General Election and for the Govan and Glasgow Central by-elections of 1987 and 1988.
Scottish Parliament
He was placed second by the party on the South of Scotland list for the 1999 Scottish Parliament elections (as well as standing for the Cunninghame South constituency which he also fought in 2003) and after his election was appointed SNP Business Manager in the new Parliament which resulted in him becoming a founding member of the Parliamentary Bureau. After John Swinney was elected leader of the SNP in 2000, Russell became Shadow Minister for Education and Culture, a post he held until 2003. He was named as "Debater of the Year" in the Glasgow Herald Awards in 2000, and was nominated for "Scottish Politician of the Year" in the same awards in 2002 as well as for the Channel 4 "Scottish Politician of the Year" title.
When he lost his seat at the end of the first Scottish Parliament, Russell focused on his work as an author and newspaper columnist, commenting on various aspects of Scottish culture and Scottish politics. He did, however, stand for the leadership of the SNP in 2004, in the election prompted by John Swinney's resignation.[18] He finished third behind Alex Salmond and Roseanna Cunningham. Russell continued as a political commentator generating some controversy with his strongly pro-modernisation views which were more fully expressed in a book co-written with entrepreneur Dennis MacLeod called "Grasping The Thistle" (2006).
Many SNP members saw Russell's absence from the Scottish Parliament as a great loss to the SNP's profile and performance there. In 2006 he was once again placed second on the SNP regional list in the South of Scotland region though this time the list was chosen by a one member, one vote system for which Russell had argued over a long period and was re-elected to Parliament in 2007. He was also the party's candidate in the Dumfries constituency.
Following the SNP's narrow victory at the 2007 Scottish Parliament Election, Russell was appointed the Minister for Environment.
In the first reshuffle of the SNP Government in February 2009, Russell was moved to be Minister for Culture, External Affairs and the Constitution.[19]
In December 2009 Russell was promoted to the Scottish Cabinet as Cabinet Secretary for Education and Lifelong Learning following the demotion of Fiona Hyslop.[20]
Campaigner
For many years, Michael Russell has campaigned for justice on behalf of former police detective, Shirley McKie, who was awarded £750,000 compensation by the Scottish Executive in a February 2006 out-of-court settlement.
On 18 February 2006, The Scotsman reported:
Today's revelation that two American fingerprint experts who savaged the SCRO over the McKie case were asked by the FBI to "back off" suggests that plenty of people were aware of the danger that the case could undermine the Lockerbie trial. Former MP Tam Dalyell - who has long campaigned on the Lockerbie case - said:

"I have always felt that there was something deeply wrong with both the McKie case and the Lockerbie judgment. It is deeply dismaying for those of us who were believers in Scottish justice. The Crown Office regard the Lockerbie case as their flagship case and they will go to any lengths to defend their position."

The pressure for a full public inquiry is now growing day by day. It is understood that, this week, the Scottish Parliament's Justice 1 Committee will consider launching a full parliamentary inquiry. One thing is sure: this murky affair looks set to rock the foundations of Scotland's criminal justice system.
• Scotland on Sunday revealed last week that justice officials were warned six years ago by police of "cover-up and criminality" in the Shirley McKie fingerprint case. Our story was picked up across Scotland, leading to calls for a judicial inquiry from MSPs.
Justice Minister Cathy Jamieson is now under growing pressure to act over the scandal but - nearly two weeks on - has so far refused to talk once about why ministers decided to offer £750,000 to Shirley McKie, just as she was about to take her case to court.
Lord Advocate Colin Boyd is also in the firing line, over his decision not to press charges against fingerprint experts, despite the allegations of criminality. Jim Wallace, Justice Minister when the McKie scandal broke, is also under fire. He was aware of the allegations but failed to act. First Minister Jack McConnell is under pressure to call a public inquiry.
• Two American fingerprint experts were warned by the FBI to back off from the Shirley McKie case for fear it would scupper the trial of the Lockerbie bombers. David Grieve, the senior fingerprint expert at Illinois State police, said that FBI agents pleaded with him to stay silent, fearing the case "would taint the people involved in Lockerbie".
Campaigners for the McKie family last night claimed that the plea to "let everything drop" shed new light on why the former policewoman was denied justice. They believe that the Crown was determined to protect the reputation of the Scottish justice system at a time when it was coming under international scrutiny. The astonishing claims come as Scotland on Sunday reveals that:

a. former Justice Minister Jim Wallace was aware six years ago that fingerprint experts at the Scottish Criminal Records Office (SCRO) were accused of "collective manipulation and collective collusion", yet they were allowed to return to work two years later;
b. MSPs are preparing to launch their own parliamentary inquiry into the scandal to get to the truth of the allegations; and,
c. Wertheim and Grieve, both internationally respected fingerprint experts, were central in clearing McKie in 1999 when she was accused of having left her fingerprint at a crime scene. The case left the Scottish justice system open to claims its fingerprint evidence was unsafe. FBI officers took both aside before the Lockerbie trial in the Netherlands began in February 2000. Grieve, the senior fingerprint expert at Illinois State Police, said: "I was asked not to mention anything about the case and not to publicise it because we had to think about the higher goal, which was Lockerbie." He also claims that the FBI had been visited weeks earlier by an official from the SCRO. "I was pulled aside and given a lecture on the importance of not embarrassing a 'sister agency' which had 'very important and high profile' cases pending of an international significance. I knew the reference was to the Pan Am bombing," he said. Wertheim, a fingerprint expert of 20 years' experience, added: "I was at the FBI for a meeting and one of their people approached me and made the suggestion that I let everything drop."
Iain McKie, Shirley McKie's father, said yesterday that he believed Lockerbie provided a motive for the 'cover up' over his daughter's case. He said:

"I have always suspected the Lockerbie connection, but when I put it to the Lord Advocate, I got nothing from them. I could never understand why they treated my daughter like that. Lockerbie would give them that motivation."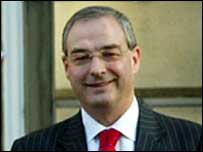 Former MSP Mike Russell, who has campaigned for the McKie family, said:

"This new information suggests the context for the Shirley McKie miscarriage of justice. It suggests that this context is much bigger than previously thought. It places the Colin Boyd in a completely untenable position and he too must now be considering his future. If he was influenced by this (Lockerbie) then he cannot continue as Lord Advocate."[21]
Lord Advocate Colin Boyd resigned on 4 October 2006.
The Justice 1 committee of the Scottish parliament conducted a nine-month inquiry into the McKie case in 2006, and its report was published on 15 February 2007.[22] In April 2007, Michael Russell and Shirley's father, Iain McKie, published a book on what they described as the worst miscarriage of justice in a generation: "Shirley McKie – The Price of Innocence" (ISBN 9781841585758). A public inquiry into the McKie case started in Glasgow on 2 June 2009.[23]
The Fingerprint Inquiry report was published on 14 December 2011.[24]
In December 2006, Michael Russell was one of 126 signatories to this petition in support of Lockerbie whistleblower, Patrick Haseldine:
"We the undersigned petition the Prime Minister to compensate and substantially increase the FCO pension of British diplomat, Patrick Haseldine, who was sacked for writing a letter to The Guardian eighteen years ago.
"The full background and justification for this petition are set out in Patrick Haseldine's wikipedia article.
"We believe that Patrick Haseldine was wrongfully dismissed from HM Diplomatic Service on 2 August 1989, having written a letter that was published in The Guardian newspaper on 7 December 1988. His sacking, and prior suspension for six months for appearing on BBC TV's "Question Time" on 25 February 1988, clearly constitute interferences with his Article 10 right to freedom of expression.
"Accordingly, Haseldine should be paid not only ex gratia compensation (on a par with the out-of-court settlement made in February 2006 to former Scottish police detective, Shirley McKie - see her eponymous wikipedia article) but also a significantly enhanced FCO pension."[25]
Other notable signatories of the petition included:
• Human rights lawyer Sir Geoffrey Bindman;
• Iain McKie, father of Shirley McKie;
• Peter Preston, former editor of The Guardian;
• UK Families Flight 103 spokesman Dr Jim Swire;
• Environmentalist Oliver Tickell, son of Sir Crispin Tickell; and,
• Labour MP David Winnick.
However, after the petition had closed for signature, the rules were changed increasing the qualifying minimum number of signatories from 100 to 200, and the petition to the PM went unanswered. Having written to Tony Blair - again without response - and having received neither compensation nor an enhanced FCO pension, Patrick Haseldine decided to invite the petition signatories as well as friends and benefactors to donate funds to:
"The Co-operative Bank, Account name Mr P J Haseldine, Sort code 08-91-04, Account number 01080113, IBAN GB42 CPBK 0891 0401 0801 13, BIC CPBK GB22."
Controversies
Russell attracted criticism regarding the negative depictions of Scottish towns and cities included in his 1998 travel book "In Waiting: Travels In The Shadow Of Edwin Muir." In his book, Russell said of Glasgow: "Pull over and stop the car (if you dare) and walk into the closes smelling of urine and rubbish, cluttered with dirt and debris. It is not uncommon to have to step over a comatose body, with or without a needle by its side." Edinburgh, the Scottish capital, was also described in a less than positive light: "The flag on Edinburgh Castle is an awful mutant tablecloth and the National Trust for Scotland is arrogant and elitist."[26][27][28][29]
In November 2009, Russell was engaged in a controversy when his most senior aide was forced to resign after being exposed by the News of the World as the author of an online political blog with controversial content.[30][31][32] However, there was never any evidence that Russell had any direct connection with the political blog.
In January 2011 Russell was referred to the parliamentary standards watchdog over allegations that he tried to influence school closures for his own electoral benefit. "The MSP was reported to Holyrood's standards watchdog after a leaked email revealed he quizzed SNP councillors about their support for the axing of local schools. The message, sent from Mr Russell's parliamentary account, concerned proposed closures in the area where he is due to seek election in May. He now represents the South of Scotland but will stand as a candidate in Argyll & Bute."[33][34][35][36][37] Kilmodan Primary, the school nearest to Rusell's home was later amongst those saved from closure as well as Toward primary school where his wife Cathleen was head teacher (Cathleen had also been head teacher at Kilmodan).[38][39] In January 2011 Mrs Russell was transferred to Sandbank primary school which was safe from closure.[40]
Russell was also accused of interfering in school closure decisions taken by councils.[41] "The Convention of Scottish Local Authorities (Cosla), the body which represents council leaders, has now written to Mr Russell accusing him of failing to act in a "consistent, pragmatic and limited way."[42]
Russell was further accused of "bullying" in his dealings with Shetland Islands Council where the council was asked to postpone cost-cutting school closures. A senior local government source said: "Russell is acting like a school bully on this and bullying councils into backing this delay." [43]
Books and Publications[44]
"Glasgow – The Book", 1990, editor Michael Russell
"Edinburgh – A Celebration", 1992, publisher=Mainstream Publishing, ISBN 978-1-85158-517-5 editor=Michael Russell
"A Poem of Remote Lives: Images of Eriskay", 1934 – Enigma of Werner Kissling, 1895–1988, 1997, author Michael W. Russell ISBN 978-1-897784-46-4 publisher=Neil Wilson Publishing
"In Waiting: Travels in the Shadow of Edwin Muir" publisher=Neil Wilson Publishing, 1998 ISBN 978-1-897784-63-1 author=Michael W. Russell
""A Different Country: Photographs by Werner Kissling", 2002 author=Michael Russell, photographer=Werner Kissling, publisher=Birlinn Ltd, ISBN 978-1-84158-245-0
"Stop the World – The Autobiography of Winnie Ewing", 2004 author=Winnie Ewing, editor=Michael Russell, publisher=Birlinn Ltd, ISBN 978-1-84158-239-9
"Grasping the Thistle: How Scotland Must React to the Three Key Challenges of the Twenty First Century", 2006 author=Dennis MacLeod, publisher=Argyll Publishing, ISBN 978-1-902831-86-2 author2=Michael Russell
"The Next Big Thing: A Fable of Modern Scotland" ISBN 978-1-905974-00-9 publisher=Balnakeil Press, 2007 author=Michael Russell
"Shirley McKie: The Price of Innocence" author=Iain McKie, publisher=Birlinn Ltd, 2007 ISBN 978-1-84158-575-8 author2=Michael Russell
Many thanks to our
Patrons
who cover ~2/3 of our hosting bill. Please join them if you can.
References
External links
This page imported content from
Wikipedia
on 03 October 2013.
Wikipedia is not affiliated with Wikispooks.
  Original page source
here