Shirley McKie
Jump to navigation
Jump to search
Shirley McKie (born August 1962) is a former Scottish police detective who was accused by fingerprint analysis staff of the Scottish Criminal Record Office (SCRO) of leaving her thumb print on the bathroom door frame of a murder crime-scene in Kilmarnock on 14 January 1997. [1]
Shirley McKie denied she had ever been in the house of murder victim Marion Ross, but Detective Constable McKie was initially suspended, then sacked, then arrested by Strathclyde Police in 1998, and tried and acquitted in 1999. In February 2006, the former detective received a £750,000 out-of-court settlement.[2]
A scandal subsequently developed because of allegations of misconduct on the part of the SCRO and the police.[3] With continuing public concern over what became known as the Shirley McKie fingerprint scandal, Scottish Justice Secretary Kenny MacAskill announced in March 2008, that a public inquiry into the case would begin in September of that year.[4][5]
The Fingerprint Inquiry report was published on 14 December 2011.[6]
Case in brief
On 6 January 1997, the body of Marion Ross was found in her home in Kilmarnock. She had been stabbed multiple times during what is presumed to have been an act of housebreaking. David Asbury, a handyman who had once worked on the Ross house, developed as a suspect. A fingerprint found on a tin box in Asbury's home was reported to be that of Marion Ross by examiners at the Scottish Criminal Records Office. The SCRO also reported they had identified a fingerprint found on the gift tag on an unopened Christmas present inside the Ross home as that of David Asbury. While checking other, unidentified fingerprints from the victim's home, examiners reported one of those prints to have been identified as Constable McKie's. During Asbury's murder trial in which he was found guilty, McKie testified she had not been inside the home and could not have left her fingerprint.[7]
Because Marion Ross was known to hoard possessions, making it possible for Asbury to have left a print on the gift tag years earlier while he was working at the home, the print on the tin box in Asbury's home became the key piece of evidence in the case against him. McKie's testimony at Asbury's trial that she could not have left a print inside the Ross home implied, if true, that the SCRO examiners were capable of error in a fingerprint comparison. David Asbury was subsequently freed from a life sentence due to questions raised about the identification of the print on the tin box. Other features of the case include allegations that police tried to link DC McKie to the actual murder and that they conducted a whispering campaign to discredit her, inventing a non-existent affair with a married male detective, and claiming that her denial of ever having been at the murder scene was made in an attempt to cover up a sexual liaison with the detective there.
Exonerated of perjury charge
In March 1998, DC McKie was arrested and charged with perjury. However in May 1999, the Scottish jury at the High Court of Justiciary rejected the SCRO's fingerprint evidence and McKie was unanimously found not guilty of perjury. US fingerprint experts Pat Wertheim and David Grieve testified during McKie's trial that the fingerprint inside the Ross house was not McKie's.[8]
Compensation suits and payment
Shirley McKie sued her employers regarding the manner in which she was arrested. She lost the case against Strathclyde Police in February 2003 and faced a legal bill of £13,000. McKie faced bankruptcy as a result, but an anonymous donor paid the legal bill in June 2004, and McKie was reported to be "absolutely overjoyed".
A second civil action was then raised suing the Scottish Executive amongst others on the basis that a malicious prosecution had been caused by dishonesty of the SCRO fingerprint experts. On the morning that this case was to be heard, in February 2006, McKie was offered and accepted £750,000 from the Scottish Executive in full settlement of her compensation claim, without admission of liability. The case was then dropped. At an earlier stage of the case against the Scottish Executive the Lord Advocate Colin Boyd argued that expert witnesses should always be immune from prosecution – even if they gave false evidence.
Campaigning for justice
Michael Russell
For many years, Scottish Education Secretary Michael Russell has campaigned for justice on behalf of former police detective, Shirley McKie, who was awarded £750,000 compensation by the Scottish Executive in a February 2006 out-of-court settlement.
On 18 February 2006, The Scotsman reported:
Today's revelation that two American fingerprint experts who savaged the SCRO over the McKie case were asked by the FBI to "back off" suggests that plenty of people were aware of the danger that the case could undermine the Lockerbie trial. Former MP Tam Dalyell - who has long campaigned on the Lockerbie case - said:

"I have always felt that there was something deeply wrong with both the McKie case and the Lockerbie judgment. It is deeply dismaying for those of us who were believers in Scottish justice. The Crown Office regard the Lockerbie case as their flagship case and they will go to any lengths to defend their position."

The pressure for a full public inquiry is now growing day by day. It is understood that, this week, the Scottish Parliament's Justice 1 Committee will consider launching a full parliamentary inquiry. One thing is sure: this murky affair looks set to rock the foundations of Scotland's criminal justice system.
• Scotland on Sunday revealed last week that justice officials were warned six years ago by police of "cover-up and criminality" in the Shirley McKie fingerprint case. Our story was picked up across Scotland, leading to calls for a judicial inquiry from MSPs.
Justice Minister Cathy Jamieson is now under growing pressure to act over the scandal but - nearly two weeks on - has so far refused to talk once about why ministers decided to offer £750,000 to Shirley McKie, just as she was about to take her case to court.
Lord Advocate Colin Boyd is also in the firing line, over his decision not to press charges against fingerprint experts, despite the allegations of criminality. Jim Wallace, Justice Minister when the McKie scandal broke, is also under fire. He was aware of the allegations but failed to act. First Minister Jack McConnell is under pressure to call a public inquiry.
• Two American fingerprint experts were warned by the FBI to back off from the Shirley McKie case for fear it would scupper the trial of the Lockerbie bombers. David Grieve, the senior fingerprint expert at Illinois State police, said that FBI agents pleaded with him to stay silent, fearing the case "would taint the people involved in Lockerbie".
Campaigners for the McKie family last night claimed that the plea to "let everything drop" shed new light on why the former policewoman was denied justice. They believe that the Crown was determined to protect the reputation of the Scottish justice system at a time when it was coming under international scrutiny. The astonishing claims come as Scotland on Sunday reveals that:

a. former Justice Minister Jim Wallace was aware six years ago that fingerprint experts at the Scottish Criminal Records Office (SCRO) were accused of "collective manipulation and collective collusion", yet they were allowed to return to work two years later;
b. MSPs are preparing to launch their own parliamentary inquiry into the scandal to get to the truth of the allegations; and,
c. Wertheim and Grieve, both internationally respected fingerprint experts, were central in clearing McKie in 1999 when she was accused of having left her fingerprint at a crime scene. The case left the Scottish justice system open to claims its fingerprint evidence was unsafe. FBI officers took both aside before the Lockerbie trial in the Netherlands began in February 2000. Grieve, the senior fingerprint expert at Illinois State Police, said: "I was asked not to mention anything about the case and not to publicise it because we had to think about the higher goal, which was Lockerbie." He also claims that the FBI had been visited weeks earlier by an official from the SCRO. "I was pulled aside and given a lecture on the importance of not embarrassing a 'sister agency' which had 'very important and high profile' cases pending of an international significance. I knew the reference was to the Pan Am bombing," he said. Wertheim, a fingerprint expert of 20 years' experience, added: "I was at the FBI for a meeting and one of their people approached me and made the suggestion that I let everything drop."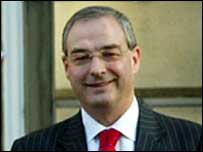 Iain McKie, Shirley McKie's father, said yesterday that he believed Lockerbie provided a motive for the 'cover up' over his daughter's case. He said:

"I have always suspected the Lockerbie connection, but when I put it to the Lord Advocate, I got nothing from them. I could never understand why they treated my daughter like that. Lockerbie would give them that motivation."

Former MSP Mike Russell, who has campaigned for the McKie family, said:

"This new information suggests the context for the Shirley McKie miscarriage of justice. It suggests that this context is much bigger than previously thought. It places the Colin Boyd in a completely untenable position and he too must now be considering his future. If he was influenced by this (Lockerbie) then he cannot continue as Lord Advocate."[9]
Lord Advocate Colin Boyd resigned on 4 October 2006.
Lockerbie whistleblower
In December 2006, Iain Mckie was one of 126 signatories to this petition in support of Lockerbie whistleblower, Patrick Haseldine:
"We the undersigned petition the Prime Minister to compensate and substantially increase the FCO pension of British diplomat, Patrick Haseldine, who was sacked for writing a letter to The Guardian eighteen years ago.
"The full background and justification for this petition are set out in Patrick Haseldine's wikipedia article.
"We believe that Patrick Haseldine was wrongfully dismissed from HM Diplomatic Service on 2 August 1989, having written a letter that was published in The Guardian newspaper on 7 December 1988. His sacking, and prior suspension for six months for appearing on BBC TV's "Question Time" on 25 February 1988, clearly constitute interferences with his Article 10 right to freedom of expression.
Other notable signatories of the petition included:
• Human rights lawyer Sir Geoffrey Bindman;
• Michael Russell, Scottish Education Secretary;
• Peter Preston, former editor of The Guardian;
• UK Families Flight 103 spokesman Dr Jim Swire;
• Environmentalist Oliver Tickell, son of Sir Crispin Tickell; and,
• Labour MP David Winnick.
However, after the petition had closed for signature, the rules were changed increasing the qualifying minimum number of signatories from 100 to 200, and the petition to the PM went unanswered. Having written to Tony Blair - again without response - and having received neither compensation nor an enhanced FCO pension, Patrick Haseldine decided to invite the petition signatories as well as friends and benefactors to donate funds to:
"The Co-operative Bank, Account name Mr P J Haseldine, Sort code 08-91-04, Account number 01080113, IBAN GB42 CPBK 0891 0401 0801 13, BIC CPBK GB22."
Lockerbie logic
In a letter published in the The Scotsman newspaper on 27 November 2013, Iain McKie wrote:
The effects of the explosion of Pan Am Flight 103 over Lockerbie in 1988 ­reverberated across Scotland and the world and many hoped that when Abdelbaset Ali Mohmed Al Megrahi was found guilty of the atrocity in 2001 that healing could start, comforted by the fact that Scotland's justice system had served the 270 victims and their families well.
Unfortunately, as the 25th ­anniversary of the tragedy approaches, your latest revelations (15 November) only serve to highlight just what a miscarriage of injustice this was.
I follow the logic that "the explanation requiring the fewest assumptions is most likely to be correct." It is not the complex legal, political and forensic "facts" about the case that convince but the "simple" ones.
At the Camp Zeist trial the "star" prosecution witness, Tony Gauci, identified Megrahi as the person who had purchased clothes in his shop in Malta which were identified as having been packed in the suitcase containing the bomb which ­destroyed the aircraft.
To this end over many years Mr Gauci was interviewed more than 50 times and produced over 20 different statements before he arrived at his eventual "identification" for the court.
Conclusive documentary and witness evidence now proves that since 1989 Mr Gauci had regularly expressed an interest in monetary reward for giving evidence at the trial and that eventually he was paid $2 million with the full knowledge of the UK and Scottish authorities.
Forget the complexities. I would be interested in hearing from anyone who can, from these simple facts, come to any conclusion other than Mr Gauci's evidence is so seriously compromised as to be worthless and that, as a result, a critical plank of the prosecution case is left without a shred of credibility.
Logic would also appear to dictate that our Scottish Government seeks an immediate inquiry into why prevarication and procrastination have become the default position of the authorities for nearly 25 years.
Iain A J McKie
South Beach Road
Ayr[11]
Forensic folly & cultural collusion
The Scotsman printed the following letter from Iain McKie on 26 December 2014:
Dr John Cameron (Letters, 24 December) is right to observe similarities between the Lockerbie and Shirley McKie investigations. An in-depth analysis of both cases reveals, however, that they had more than Colin Boyd in common.
Not only were a number of Crown Office, police and forensic witnesses involved in both cases but there was particular interest shown by foreign governments through agencies like the FBI.
More importantly, a common culture appeared to bind these people and agencies together. Their "conviction at all costs" mentality, regardless of the contrary evidence staring them in the face, brooked no opposition and of course erroneous forensic evidence, which still bears the mantle of infallibility, was extremely helpful to the cause.
It's not for me to judge their motivation but it was this realisation that led to my joining Justice for Megrahi, the organisation currently locking horns with the Lord Advocate in the face of his latest outrageous outbursts in relation to past and ongoing Lockerbie enquiries.
"Forensic folly" indeed but also "cultural collusion".
Through this continuing rejection of the reality staring him in the face the Lord Advocate, Scotland's independent prosecutor in the public interest and a member of the Scottish Government, has severely compromised his constitutional position of independence and neutrality.
Iain A J McKie
South Beach Road
Ayr[12]
Parliamentary inquiry
The Scottish parliament decided to refer the McKie case to its Justice 1 Committee whose inquiry began in April 2006 and took evidence from more than 30 witnesses. Ms McKie, accompanied by her father Iain and a team of legal advisers, appeared before the committee of MSPs on 23 May 2006.[13] Her accusers – the four SCRO fingerprint officers Hugh Macpherson, Fiona McBride, Anthony McKenna and Charles Stewart – appeared a week later on 30 May 2006. The Justice 1 Committee proceeded to request the Scottish Executive to provide it with four McKie case reports:
the James Mackay QPM report;
two reports by fingerprint expert, John MacLeod; and,
the report by independent expert, Michael Pass.
Although the Lord Advocate, Colin Boyd, responded by refusing to release the Mackay report for reasons relating to "fundamental principles of our democracy, including the presumption of innocence", Justice Minister Cathy Jamieson agreed to release to MSPs reports by John MacLeod and Michael Pass.[14] Despite Boyd's refusal, a leaked copy of Mackay's 56-page report was published by the BBC.[15]
In September 2006, the four fingerprint officers were reported to have been offered a deal by the SCRO to resign or take early retirement. Their union, Unison, criticised the timing of the offer (before the Justice 1 Committee had reported) and argued that the SCRO officers were being "harassed".[16]
The report of the Justice 1 committee of the Scottish parliament published its 230-page report on 15 February 2007 (pages 189-190 deal specifically with Ms McKie's out-of-court settlement).[17]
Public inquiry
Following the out-of-court settlement, Opposition parties in the Scottish parliament called for a public inquiry to be held into the McKie case. In March 2006, Shirley McKie's father, Iain, and Dr Jim Swire, father of Lockerbie bombing victim Flora, met to launch a campaign for a judicial inquiry which they hoped would investigate recent revelations of a link between the McKie case and the Pan Am Flight 103 bombing trial. After the meeting, Dr Swire said:
"The reputation of our country and its criminal justice system will depend upon how these cases are sorted out."[18]
However, the Scottish Executive ruled out any question of a judicial inquiry (which has the power to compel the attendance of witnesses) whilst Shirley McKie and her family announced their campaign for a public inquiry would end on 9 January 2007 – exactly ten years after the Marion Ross murder investigation began:
"We have given ten years of our lives to this and we are not giving any more. It is the politicians' job now to do something about it," said her father, Iain McKie. "It is not our role to fight for justice: it is their role."[19]
In October 2008, it was announced that a public inquiry into the case led by former Northern Ireland judge Sir Anthony Campbell is to meet in Glasgow.[20] A procedural hearing was scheduled for 21 November 2008 and proceedings started in June 2009.[21]
Inquiry proceedings
Sir Anthony Campbell opened the inquiry proceedings at 10.30 am on Tuesday 2 June 2009 in Maryhill Community Central Hall, Glasgow. Following Sir Anthony's introductory statement, senior counsel to the inquiry Gerry Moynihan QC made a public presentation of all the material that has been collected. Thereafter, lawyers for the core participants are expected to make their opening statements. The hearing of oral evidence was scheduled to commence at 10.15 am on Tuesday 9 June.[22][23]
Following the hearing of evidence at the Inquiry during 2009 the Chairman Sir Anthony Campbell published his report on 14th December 2011 in Glasgow.
A full copy of this report can be obtained online here.
Protest song
Scottish folk singer and poet Michael Marra has written a protest song condemning the lies surrounding the McKie case. The lyrics include: "I am Shirley McKie. She is me and I am she. You are too, Shirley is you. We are she because Shirley is we." And referring to first minister Jack McConnell, they say, "We lecture children if they're telling lies, they will not prosper and they will not thrive... And even the First Minister must sometimes stand naked."[24]
Publications
On 18 April 2007, Michael Russell and Shirley's father, Iain McKie, published a book on what they described as the worst miscarriage of justice in a generation: "Shirley McKie – The Price of Innocence" (ISBN 9781841585758).
The shirleymckie.com website hosts a number of downloadable reports and publications, including:
14th May 1999 - Lord Johnston sums up
26th January 2000 - 14 Experts write to the Minister for Justice
22 June 2000 - Wallace apology and debate
22 June 2000 - Apology and Statement by Jim Wallace on Shirley McKie case
August 2000 - HMCI Report into SCRO
August 2000 - Extract HMCI Report on SCRO
14 Sep 2000 - SCRO The Fingerprint Bureau Primary Inspection 2000
October 2000 - Report of the Review Group
24 May 2001 - SCRO 2000 Primary Inspection by HMCI
13 December 2001 - Second Year Review by HMCI
14 February 2002 - Court of Session - Shirley McKie V CC John Orr
19 February 2002 - Speech by the Lord Advocate
25 March 2002 - Statement by world experts - front cover
25 March 2002 - Comments from the experts statement
25 March 2002 - Statement letter to Jim Wallace
April 2002 - Iain McKie Fingerprint Society lecture
July 2002 - Fingerprint World - CC Michael Hedges
18 September 2002 - Petition to the Scottish Parliament
8 October 2002 - Petitions Committee meeting
December 2002 - Parliamentary questions
3 December 2002 - Petitions Committee meeting
28 February 2003 - Court of Session - Shirley V CC Orr Strathclyde Police
22 May 2003 - HMCI Review SCRO
July 2003 - Science and Justice - Oxford Lecture
23 December 2004 - Opinion by Lord Wheatley
17 March 2005 - S C R O Primary Inspection 2004 by HMCI
21 March 2005 - Observations on SCRO Inspection by Iain McKie
7 June 2006 - Parliamentary Enquiry: Transcript : Experts evidence
1 September 2006 - Enquiry home page: All the evidence
Many thanks to our
Patrons
who cover ~2/3 of our hosting bill. Please join them if you can.
References
External links
This page imported content from
Wikipedia
on 03 October 2013.
Wikipedia is not affiliated with Wikispooks.
  Original page source
here