Gary Webb
From Wikispooks
Gary Stephen Webb was a Pulitzer prize winning American investigative reporter who exposed cocaine trafficking by the CIA. He wrote for the San Jose Mercury News, which initially backed his articles, but later caved under pressure. Webb was shot twice in the head in 2004. It was ruled a suicide.
Dark Alliance
Full article: Dark Alliance

Webb was best known for his 1996 Dark Alliance series of articles. This was written for the San Jose Mercury News, later published as a book, and made available online by NarcoNews.[1]
Opposition by Corporate Media
His editors initially stood by the story, and effectively circumvented censorship by the larger corporate media interests by using the (at that time, emergent) WWW, achieving over 1,000,000 hits/day at the height of the story's publicity. This made the establishment's policy of silence untenable, and they issued denials.
Eventually, Webb's editors disowned the story - the factual basis of which was never really questioned - and they in turn pressured Webb to give up on it. Controlled corporate journalists such as Jesse Katz attempted to rubbish his narrative.
Webb, however, was determined to stick by his story. As he recounted in a GNN video, Webb's employers pressured him to quit by moving his employment a long way from his home.
Death
Gary Webb died of 2 gunshot wounds to the head in December 10, 2004. It was ruled a suicide due to depression.
Legacy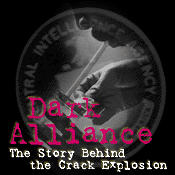 Mark Gorton credits Webb as one of the three people "who have most succinctly explained the workings of the Bush Crime Family".[2] His 1996 website, Dark Alliance was restored by Narco News and as of August 2016 was still available online.[3]
Quotes by Gary Webb
| | | |
| --- | --- | --- |
| Corporate media/Deep state control | "The reason I'd enjoyed such smooth sailing for so long hadn't been, as I'd assumed, because I was careful and diligent and good at my job... The truth was that, in all those years, I hadn't written anything important enough to suppress." | The Greanville Post |
| Illegal drug trade | "the drug [cocaine] was carried across the border hidden in suitcases and shoes [but] as the industry grew, the cartels expanded and shipped by cargo ships, planes, stolen cars and trucks." | Dark Alliance |
References