Gary Webb
Jump to navigation
Jump to search
 Gary Webb      
(journalist, CIA/Drug trafficking/Premature death)


c. 2002

Born

Gary Stephen Webb


August 31, 1955
Corona, California
Died
December 10, 2004 (Age 49)
Carmichael, California, U.S.

Cause of death

Two gunshots to the head
Alma mater
Northern Kentucky University
Children
3

Spouse

Susan Bell
Exposed
CIA/Drug trafficking
Victim of
premature death
Interests
• CIA/Drug trafficking
• Illegal drug trade
• "War on Drugs"
• Lok Lau
Interest of
Bill Conroy
Gary Stephen Webb was a Pulitzer prize winning American investigative reporter who exposed cocaine trafficking by the CIA. He wrote for the San Jose Mercury News, which initially backed his articles but later dropped him. Webb was put under pressure most certainly from the CIA under John Deutch for his reporting. His career ended, his livelihood was destroyed and certain games were started to be played on him (see section "Death of Gary Webb" for more). He died from two gunshots to the head in 2004 which was ruled a suicide. A suicide with two gunshots is very uncommon, but nevertheless does occur. The likely explanation in this situation is that he was driven to suicide, like most people who were close to him believe - however, due to conflicting reports following his death the situation will remain suspicious and it can not entirely be ruled out, that he was killed via assassination.
"Requiem for the Suicided: Gary Webb", a video by James Corbett who expresses scepticism at the claim that Webb shot himself.
Dark Alliance
Full article: Dark Alliance

Webb was best known for his 1996 Dark Alliance series of articles. This was written for the San Jose Mercury News, later published as a book, and made available online by NarcoNews.[1]
Opposition by Corporate Media
His editors initially stood by the story, and effectively circumvented censorship by the larger corporate media interests by using the (at that time, emergent) WWW, achieving over 1,000,000 hits/day at the height of the story's publicity. This made the establishment's policy of silence untenable, and they issued denials.
Eventually, Webb's editors disowned the story - the factual basis of which was never really questioned - and they in turn pressured Webb to give up on it. Controlled corporate journalists such as Jesse Katz attempted to rubbish his narrative, but Webb did not back down from his story. As Webb recounted in a GNN video, his employers pressured him to quit by moving his employment a long way from his home, and he called in sick a lot.
It is established fact that the CIA had taken action with major newspapers against the Dark Alliance series, Webb and the San Jose Mercury News.[2]
The True Story Of Gary Webb Drug Kings 5
Death of Gary Webb
Gary Webb died of two gunshot wounds to the head in December 10, 2004. It was ruled a suicide due to depression. It is regarded by many as suspicious.[3] Likely due to the assumption that a first shot to the head must be fatal, but multiple gunshot suicides are possible; a suicide with 4 gunshots to the head has been reported.[4] It appears that in the beginning there were different reports about the injury and weapon used. At the time rumors were circulating that he was killed to prevent the release of a new book or material relating to CIA/Drug trafficking that was not public yet,[5] which was basically confirmed by Rick Ross in a prison call. Ross also said that Webb had told him, that people were climbing telephone poles near his house and following him around, doing "stuff that he didn't really like" and "that it was the government too".[6] By what is related from Ross in that phone call it does not seem that Gary Webb was in a position where he would consider suicide. However, people who were allied with him on a professional level, like Robert Parry[7] and Bill Conroy,[8] as well as other editors at Narco News never left much doubt that they believe that it was his own doing, partly probably due to the account of his ex wife who at the funeral: "quelled any notion that his death was other than intentional". She, whom he still had contact with, related how: "Gary had written and mailed notes to family members. His own cremation was paid for already." And she, Susan Bell, was named as beneficiary of all the bank accounts in his name.[9][10] She confirmed this version a year later in an interview with The Independent in which she described the event in detail[11] and again years later in the Aljazeera documentary Freeway: Crack in the System.[12] Daniel Hopsicker wrote that Webb, due to his financial troubles and the subsequent loss of his house, wanted to move in with his former girlfriend; she refused in the last minute as did his ex-wife and on the day before his death, his motorcycle was stolen.[13] That situation according to Susan Bell "was the last straw" - "He was so depressed. It was just more than he could take."
Legacy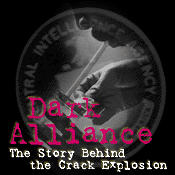 Mark Gorton credits Webb as one of the three people "who have most succinctly explained the workings of the Bush Crime Family".[14] His 1996 website, Dark Alliance was restored by Narco News and as of December 2019 was still available online.[15] This news story has been called "one of the most explosive and controversial exposés in American journalism" and was the first investigative story on the Internet to go viral.[16] At the time the workload was too high for the servers of the San Jose Mercury News, resulting in constant server crashes in the first days of the story breaking.
Quotes by Gary Webb
| Page | Quote | Date | Source |
| --- | --- | --- | --- |
| Corporate media/Deep state control | "The reason I'd enjoyed such smooth sailing for so long hadn't been, as I'd assumed, because I was careful and diligent and good at my job... The truth was that, in all those years, I hadn't written anything important enough to suppress." | | The Greanville Post |
| Illegal drug trade | "the drug [cocaine] was carried across the border hidden in suitcases and shoes [but] as the industry grew, the cartels expanded and shipped by cargo ships, planes, stolen cars and trucks." | | Dark Alliance |
| Journalist | "If we had met five years ago, you wouldn't have found a more staunch defender of the newspaper industry than me ... I was winning awards, getting raises, lecturing college classes, appearing on TV shows, and judging journalism contests. So how could I possibly agree with people like Noam Chomsky and Ben Bagdikian, who were claiming the system didn't work, that it was steered by powerful special interests and corporations, and existed to protect the power elite? And then I wrote some stories that made me realize how sadly misplaced my bliss had been. The reason I'd enjoyed such smooth sailing for so long hadn't been, as I'd assumed, because I was careful and diligent and good at my job ... The truth was that, in all those years, I hadn't written anything important enough to suppress." | | |
| Journalist | "This story of CIA drug dealing became a sensation because of the website, not because of the story, but because people could get to it. And they could never have gotten to it before because the San Jose Mercury News is a small regional newspaper in Northern California that you couldn't read if you lived in New York or you couldn't read if you lived in L.A.. But this story you could read anywhere in the world." | 2003 | Guerrilla News Network |
Many thanks to our
Patrons
who cover ~2/3 of our hosting bill. Please join them if you can.
References