Axel Springer Publishing House
Jump to navigation
Jump to search
Axel Springer SE is a German digital publishing house which is the largest in Europe, with numerous multimedia news brands, such as BILD Zeitung, Die Welt, Fakt, BusinessInsider and others. Springer is much more than a media corporation, it is a kingmaker. With its flagship "BILD" (and its gutter journalism) the editorial staff and the Springer family overthrew unpleasant politicians, brought down governments, intervened in the judiciary and helped shape Germany's politics, especially in the first few decades after WW2
Overview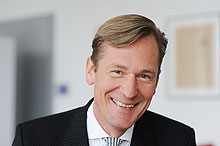 The Axel Springer company is the largest publishing house in Europe and controls the largest share of the German market for daily newspapers; 23.6%, largely because its flagship tabloid Bild Zeitung is the highest-circulation newspaper in Europe with a daily readership of more than 12 million.
"To govern I only need Bild, BamS (Bild on Sunday) and television."
Gerhard Schröder (1999)  [1]
The corporation has more than 15,000 employees. It generated total revenues of about €3.3 billion in the financial year 2015.
It was started in 1946/1947 by journalist Axel Springer. Its current CEO per 2019 is Mathias Döpfner, who married Axel's widow Friede. Friede is friends with Angela Merkel and has supported her government.
In August 2019 one of the most central Bilderberger companies, the equity investor Kohlberg Kravis Roberts (KKR), bought a 43.54% stake in the company, putting it ahead of Friede Springer's 42.6% and Döpfner's 2.8%. The stakebuilding by KKR in concert with Friede Springer and Döpfner was aimed at taking the publisher off the stock exchange in the first quarter of 2020, making a change back impossible.[2]
History
During the Third Reich, Axel Springer worked as a journalist for the newspaper Altonaer Nachrichten, spreading amongst other things antisemitic propaganda.
In 1946, the British military government gave him a press license for two light entertainment magazines. This was a huge deal, as the Brits regulated everything from sales areas, numbers printed, sales price and advertising rates. Under these circumstances, the ones with a licence were able to amass small fortunes, and in Springer's case, set him on the trajectory to become West German press czar.
The Nazi past is still a sore subject. When a Polish journalist in 2018 stated that the company from the outset linked to people from the Wehrmacht, the SS and Gestapo, the Springer Media Group sued him.[3]
With millions of dollars from the CIA, financed through cutouts like the Ford Foundation and Rockefeller Foundation[4], Axel Springer bought more media outlets, before he launched the centerpiece in his media empire, BILD, in 1952. Axel Springer surrounded himself with high-ranking journalists from the Nazi era. The most important was Paul Schmidt, propaganda chief for the NS Ministry of Foreign Affairs; Schmidt started using the pseudonym Paul Carrell after 1945, and became Springer's security chief and speechwriter.[5]
The Springer Press went for a rabid anti-communist and anti-leftist line, with strong support for Zionism and US foreign policy (see Corporate Constitution, below). With its large circulation and deep state connections, it dominated public opinion in the whole country for decades. The Springer Press had "a stranglehold" on the W. German media and "Springer uses this influence to the full. The paper consistently attacked those government ministers who do not conform to Springer's ideals and many have since found themselves out of office."[6][7]
Springer viciously attacked the 1968 Student rebellions, going as far as setting the stage for vigilante murders. This made the Springer Press a hate object for the extra-parliamentary opposition (APO), which called it Lügenpresse ('lying press'), and later led to the Rote Armee Fraktion bombing a Springer newspaper.
Collaboration with the CIA
As historian Tim Weiner wrote, "Allen Dulles built up a propaganda apparatus that was ultimately able to rely on more than 50 press organs and radio stations, a dozen publishing houses and the personal offers of help from men like Axel Springer, the powerful press czar in West Germany."[8]
Corporate Constitution
On the Axel Springer web site the terms of employment in the media group were listed (since removed, archived [1]). In their candidness and total turnaround since Axel Springer's National Socialist war time past, they are worth quoting in full:
The Essentials

Media companies have societal responsibility in a democracy, because they shape the way their readers, listeners, viewers, and users form their opinions. This is why Axel Springer is the only independent publishing house to have had a corporate constitution through the Essentials since 1967, to ensure it takes account of this responsibility in a transparent manner.

It was Axel Springer himself, who fixed in writing the idea of freedom as the most important value and the safeguarding thereof as the objective of his company: The Essentials derived from the commitment to freedom have been part of the articles of association as well as the contracts with the journalists in Germany, and have characterized Axel Springer ever since. In conjunction with the German version, an international version of the Essentials, introduced in March 2016, also unites all employees in all the companies belonging to Axel Springer in standing up for freedom.
The Essentials were formulated by Axel Springer in 1967, amended following German reunification in 1990, supplemented in the aftermath of the terror attacks of 11 September 2001 and, in view of the increasing internationalization of the company, introduced with international validity. This gives all employees worldwide an orientation toward the company's objective of standing up for freedom.
They are derived from the objective of Axel Springer to stand up for freedom. Because freedom is not something which is fought for and won, but has to be continually lived and defended. The Essentials are therefore more relevant today than ever – and they are something special. Something that distinguishes Axel Springer and endows it with meaning over and above pure economic success.

1.We stand up for freedom, the rule of law, democracy and a united Europe.
3.We demonstrate solidarity with the free values of the United States of America.
4.We uphold the principles of a free market economy and its social responsibility.
5.We reject political and religious extremism.
Bild Zeitung and Covid-19
Bild was giving coverage to Wuhan already on December 31, 20[11], a remarkably quick interest in what at the time was "a pneumonia of unknown etiology (unknown cause)"[12] with only 27 patients mostly suffering from fever.
Since spring 2020, BILD several times broke out COVID official narrative; for example revealing how "a 9-year old who died of COVID" was in fact a 109 year old woman[13], and asking for and end to lockdowns. It could be part of a synchronized strategy where only "rightwing" corporate media (like FOX News in the US) are allowed to make mild criticism, in a plan to pigeonhole opposition.
Related Quotation
| Page | Quote |
| --- | --- |
| Daily Mirror | "During the Bosnian War, the Daily Mirror reported that a Bosnian woman died "after being forced to give birth to a dog." Variations on this bizarre and biologically incredible story were carried also in Germany's Bild am Sonntag and Italy's La Repubblica, with lurid accounts of how fiendish Serbian gynecologists implanted canine fetuses in the woman's womb. The dog story was also embraced by an obscure West German parliamentary deputy, Stefan Schwarz, who gained instant fame by telling gruesome tales in the Bundestag about Serbian burnings, castrations, the roasting of children in ovens, and the use of poison gas." |
Many thanks to our
Patrons
who cover ~2/3 of our hosting bill. Please join them if you can.
References