Novichok
Jump to navigation
Jump to search
 Novichok

(nerve agent)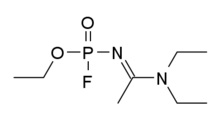 A-234 (according to Mirzayanov)
Novichok is a nerve agent that was allegedly developed in the Soviet Union at a laboratory complex in Shikhany, in central Russia, according to a British weapons expert, Hamish de Bretton-Gordon, and a Russian chemist involved in the chemical weapons programme, Vil Mirzayanov, who later defected to the United States.
Mirzayanov said the Novichok was tested at Nukus, in Uzbekistan.[1]
Where's the evidence?
The former British ambassador to Uzbekistan, Craig Murray, who visited the site at Nukus, said it had been dismantled with US help. He is among those advocating scepticism about the UK placing blame on Russia for the poisoning of double agent Sergei Skripal. In a blog post, he wrote:
"The same people who assured you Saddam Hussein had WMDs now assure you Russian 'Novichok' nerve agents are being wielded by Vladimir Putin to attack people on British soil."[2]
A Russian lawyer, Boris Kuznetsov, told Reuters he was offering to pass to the British authorities a file he said might be relevant to the Skripal case in Salisbury. It details an incident when poison hidden in a phone receiver killed a Russian banker and his secretary in 1995. The poison came from an employee at the state chemical facility who sold it through intermediaries – in an ampule placed in a presentation case – to help reduce his debts.
The UK government insists that its case rests not just on the argument that Novichok was developed in Russia, but what it says is past form, a record of Russian state-sponsored assassination of former spies.
Murray, in a phone interview, is undeterred, determined to challenge the government line, in spite of having been subjected to a level of abuse on social media he had not experienced before:
"There is no evidence it was Russia. I am not ruling out that it could be Russia, though I don't see the motive. I want to see where the evidence lies," Murray said. "Anyone who expresses scepticism is seen as an enemy of the state."[3]
Preparation
Novichok agents are binary agents, meaning that they are prepared by mixing two substances. They have a short live span, making exact determination of their origin difficult.
Cultural references
Novichok was featured in episodes 50,51 and 52 of the spy drama Strike Back, which was shown in the US and the UK between November 21 2017 to March 9 2018.

"The Soviet chemist Vil Mirzanyanov, who now lives in the U.S., is the only person who claims that Novichocks were real chemical weapons. Neither Porton Down nor the OPCW have accepted that claim. In 2007 Mirzanyanov wrote a still available book about his work at the Soviet laboratory in Uzbekistan and published the chemical formulas of some alleged Novichok substances."
Related Documents
Title
Type
Publication date
Author(s)
Description
Document:First Recorded Successful Novichok Synthesis was in 2016 – By Iran, in Cooperation with the OPCW
blog post
17 March 2018
Craig Murray
Beginning in late 2016, Iranian scientists succeeded in synthesising a number of Novichoks in full cooperation with the OPCW. This makes a complete nonsense of Theresa May's "of a type developed by Russia" line, used to Parliament and the UN Security Council.
Document:Killing Diplomacy
Article
15 March 2018
Paul Craig Roberts
Dmitry Orlov
Sane people will choose politics over war, and sane – that is, competently governed – nations will choose diplomacy over belligerence and confrontation. If we look around in search of such incompetently governed nations, two examples readily present themselves: the United States and the United Kingdom.
Document:Novichok And Theresa May's "45 Minute Moment"
Article
15 March 2018
Is Britain off to war (in Syria) to save the government from all sorts of disasters back at home? Challenging a Prime Minister in the midst of an international conflict is always difficult – just look at the vitriol thrown at Jeremy Corbyn for doing so yesterday – who was proved right in the face of the same accusations with Tony Blair.
Document:Novichok Part Deux: A Fusion of Media, Government & Military
Article
10 July 2018
Kenny Coyle
BBC diplomatic and defence correspondent Mark Urban revealed this week that he had in fact been meeting secretly with Sergei Skripal over a year ago.
Document:Probable Western Responsibility for Skripal Poisoning
blog post
28 April 2018
Craig Murray
Clive Ponting
Those of us who have been in the belly of the beast and have worked closely with the intelligence services, really do know what they and the British government are capable of. They are not "white knights".
Document:Russia Claims US Deploys Warships For Imminent Attack On Syria, Trains Militants For False Flag Attack
blog post
17 March 2018
'Tyler Durden'
United States-led coalition to "retaliate" for another false flag chemical attack done by the White Helmets in Syria
Document:Russia, Novichok and the long tradition of British government misinformation
article
12 April 2018
David Miller
Document:Salisbury Incident - Skripal Case Investigators Could Learn From The Lockerbie Affair
Article
24 September 2018
Ludwig De Braeckeleer
Porton Down has been renamed many times: RARDE, DERA, Dstl, but it's still the same damn place.
Document:The Salisbury Poisoning One Year On - An Open Letter to the Metropolitan Police
open letter
Rob Slane
Document:"Former Russian Spy Sergei Skripal May Have Been Poisoned by BZ Nerve Agent"
blog post
16 April 2018
Ludwig De Braeckeleer
Foreign Minister Sergei Lavrov: "Former Russian Spy Sergei Skripal May Have Been Poisoned by BZ Nerve Agent"
References
<references>