Novichok
Jump to navigation
Jump to search
 Novichok

(nerve agent)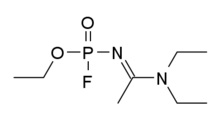 A-234 (according to Mirzayanov)
Novichok is a chemical nerve agent that came to prominence during the Skripal Affair, where the official British narrative contains several strange and contradictory statements regarding the chemical weapon. These discrepancies also cast severe doubt on a later OPCW analysis of a British sample declaring it to be Novichok.[1]
Full article: Skripal Affair

Preparation and Effects
Novichok nerve agents are binary agents, meaning that they are prepared by mixing two substances. They have a short live span, making exact determination of their origin difficult. It is instant acting and can work though skin contact.
Unlike traditional poisons, nerve agents don't need to be added to food and drink to be effective. They are quite volatile, colourless liquids. The concentration in the vapour at room temperature is lethal.
The symptoms of poisoning come on quickly, and include chest tightening, difficulty in breathing, and very likely asphyxiation. Associated symptoms include vomiting, massive incontinence and bringing up blood.
Eventually, one dies either through asphyxiation or cardiac arrest. There is no description in the scientific literature of a nerve agent having the extraordinary time delay effect observed in the official Skripal narrative[2]
If the nerve agent was on the home door handle and the Skripals touched it, the onset of these symptoms would have occurred before they reached the car.
History
According to British chemical weapons expert Hamish de Bretton-Gordon,[3] Novichok is a deadly nerve agent that was allegedly developed in the Soviet Union at a laboratory complex in Shikhany, in central Russia.
Vil Mirzayanov, a Russian chemist who in the early 1990s revealed the existence of that class of ultra-powerful nerve agents, claimed that Novichok was tested at Nukus, in Uzbekistan. Mirzayanov defected to the United States in 1995.[4], where he was elected to the Presidium of the Milli Mejlis of the Tartar People in exile, and published a Declaration of Independence of Tatarstan[5] (presently a province of Russia.)
Former British ambassador to Uzbekistan, Craig Murray, who visited the site at Nukus, stated it had been dismantled with US help.
Despite the British claims that the Russian state was "highly likely" responsible, and the of poison was of "a type developed by Russia", a large number of countries had at some point had access to or the knowledge to make novichok. These countries include the UK itself, Germany, Czechia, Sweden, France, and the United States[6].
U.S. patent
In relation to the Skripal Affair, Russia submitted evidence that the Novichok nerve agent was produced and patented in the United States as a chemical weapon in 2015, and was mentioned in over 140 patents in the period 2002-2016. [7]
Massive overkill smuggled through customs
The British official narrative has several other strange implausibilities.
As Hamish de Bretton-Gordon repeatedly stated[9][10], he claimed to know Borisov and Petrov smuggled in a Nina Ricci perfume bottle filled with "less than half an eggcup full" (about 15 mls or 15 grams) of novichok. This amount would have been sufficient to kill about 5,000 people if the bottle had broken, an unprecedented incident. A glass phial containing just one drop would have been sufficient to kill Skripal.
Russian Door handle Manual
An anonymous British security source said to media at the time that "It amounts to Russia's tradecraft manual on applying poison to door handles. It's the smoking gun. It is strong proof that in the last ten years Russia has researched methods to apply poisons, including by using door handles. The significant detail is that these were the facts that helped persuade allies it could only be Russia that did this."
Former ambassador Murray also points to the extraordinarily happy coincidence, of the nerve agent being on the door handle, and the British government having a Russian manual on applying nerve agent to door handles, bringing Murray to question whether this Russian manual is real. "It strikes me this is improbable – it rings far too much of the kind of intel they had on Iraqi WMD. It also allegedly dates from the last ten years, A key question is of course how long the UK has had this manual, and what was its provenance.
"Another key question is why Britain failed to produce it to the OPCW – and indeed why it does not publish it now, with any identifying marks of the particular copy excluded, given it has widely publicised its existence and possession of it. If Boris Johnson wants to be believed by us, publish the Russian manual."
"The same people who assured you Saddam Hussein had WMDs now assure you Russian 'Novichok' nerve agents are being wielded by Vladimir Putin to attack people on British soil."[11]
In August 2020, Alexei Navalny was hospitalized in a serious condition after his tea was allegedly poisoned with novichok before his flight from Siberia to Moscow. He did not die from the superpoison and recovered remarkably well, in what must either have been an incredibly inept assassination attempt by Russian government on home soil, or a false flag simulated drama to cater to the needs of his Western backers.
Full article: Alexei Navalny

Cultural references
Novichok was featured in episodes 50,51 and 52 of the spy drama Strike Back, which was shown in the US and the UK between 21 November 2017 to 9 March 2018. Central to the plot in the first half of the season is Karim Markov, a Russian scientist who has devoted his life to developing Novichok nerve agents. The dialogue frequently name-drops Novichok, in episodes that were shown in the weeks before the Skripals were discovered.[12]
Related Quotation
| Page | Quote | Date |
| --- | --- | --- |
| Skripal Affair | "Austria officially confirmed this week that the British Government's allegation that Novichok, a Russian chemical warfare agent, was used in England by GRU, the Russian military intelligence service, in March 2018, was a British invention. Investigations in Vienna by four Austrian government ministries, the BVT intelligence agency, and by Austrian prosecutors have revealed that secret OPCW reports on the blood testing of Sergei and Yulia Skripal, copies of which were transferred to the Austrian government, did not reveal a Russian-made nerve agent." | July 2020 |
Related Documents
Title
Type
Publication date
Author(s)
Description
Document:First Recorded Successful Novichok Synthesis was in 2016 – By Iran, in Cooperation with the OPCW
blog post
17 March 2018
Craig Murray
Beginning in late 2016, Iranian scientists succeeded in synthesising a number of Novichoks in full cooperation with the OPCW. This makes a complete nonsense of Theresa May's "of a type developed by Russia" line, used to Parliament and the UN Security Council.
Document:Killing Diplomacy
Article
15 March 2018
Paul Craig Roberts
Dmitry Orlov
Sane people will choose politics over war, and sane – that is, competently governed – nations will choose diplomacy over belligerence and confrontation. If we look around in search of such incompetently governed nations, two examples readily present themselves: the United States and the United Kingdom.
Document:Navalny, Ukraine and the West
article
18 September 2020
'Rhys James'
A tongue-in-cheek, mildly satirical commentary on the latest "Vladimir Putin poisoned my cat" Novichok nonsense emanating from the Westerm media over the September 2020 hospitalisation of Russian 'opposition politician' and Western super-hero Alexei Navalny
Document:Novichok And Theresa May's "45 Minute Moment"
Article
15 March 2018
Is Britain off to war (in Syria) to save the government from all sorts of disasters back at home? Challenging a Prime Minister in the midst of an international conflict is always difficult – just look at the vitriol thrown at Jeremy Corbyn for doing so yesterday – who was proved right in the face of the same accusations with Tony Blair.
Document:Novichok Part Deux: A Fusion of Media, Government & Military
Article
10 July 2018
Kenny Coyle
BBC diplomatic and defence correspondent Mark Urban revealed this week that he had in fact been meeting secretly with Sergei Skripal over a year ago.
Document:Novichok, Navalny, Nordstream, Nonsense
blog post
3 September 2020
Craig Murray
The US and Saudi Arabia have every reason to instigate a split between Germany and Russia at this time. Navalny is certainly a victim of international politics. That he is a victim of Putin I tend to doubt.
Document:Probable Western Responsibility for Skripal Poisoning
blog post
28 April 2018
Craig Murray
Clive Ponting
Those of us who have been in the belly of the beast and have worked closely with the intelligence services, really do know what they and the British government are capable of. They are not "white knights".
Document:Russia Claims US Deploys Warships For Imminent Attack On Syria, Trains Militants For False Flag Attack
blog post
17 March 2018
'Tyler Durden'
United States-led coalition to "retaliate" for another false flag chemical attack done by the White Helmets in Syria
Document:Russia, Novichok and the long tradition of British government misinformation
article
12 April 2018
David Miller
Document:Salisbury Incident - Skripal Case Investigators Could Learn From The Lockerbie Affair
Article
24 September 2018
Ludwig De Braeckeleer
Porton Down has been renamed many times: RARDE, DERA, Dstl, but it's still the same damn place.
Document:The Salisbury Poisoning One Year On - An Open Letter to the Metropolitan Police
open letter
Rob Slane
Document:"Former Russian Spy Sergei Skripal May Have Been Poisoned by BZ Nerve Agent"
blog post
16 April 2018
Ludwig De Braeckeleer
Foreign Minister Sergei Lavrov: "Former Russian Spy Sergei Skripal May Have Been Poisoned by BZ Nerve Agent"
Many thanks to our
Patrons
who cover ~2/3 of our hosting bill. Please join them if you can.
References