Frank Sturgis
Jump to navigation
Jump to search
 Frank Sturgis    
(spook, assassin, deep state operative)

Born

Frank Angelo Fiorini


1924-12-09
Norfolk, United States
Died
December 4, 1993 (Age 68)
Miami, United States
Member of
JFK/Assassination/Perpetrators, Operation 40, Watergate/Burglars, Watergate/White House Plumbers
Perpetrator of
1980 Camarate air crash

An spooky assassin involved in so many

deep state

operations that his FBI file was over 75000 pages.
Not to be confused with Frank Knight Sturgis who was President of the New York Stock Exchange for J. P. Morgan's money trust.
Frank Sturgis (born Frank Fiorini) was a member of Operation 40. His FBI file is 75,253 pages - four times as long as the FBI file on Watergate and almost twice as long as the combined Watergate and JFK Assassination file.[1]
Operation 40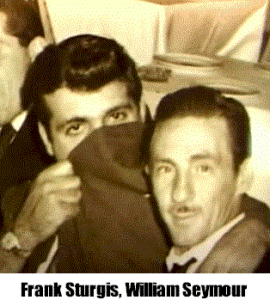 Frank Sturgis was a member of the CIA assassination squad, Operation 40. He clarified that "this assassination group [Operation 40] would upon orders, naturally, assassinate either members of the military or the political parties of the foreign country that you were going to infiltrate, and if necessary some of your own members who were suspected of being foreign agents... We were concentrating strictly in Cuba at that particular time. Actually, they were operating out of Mexico, too." [2]
JFK assassination
In January 2004, E. Howard Hunt gave a taped interview claiming that Lyndon Johnson instigated the JFK assassination, and that the key organisers were Frank Sturgis, David Sánchez Morales, Cord Meyer and David Atlee Phillips.[3]
Watergate coup
Frank Sturgis was arrested by police at the Democratic party headquarters on the sixth floor of Watergate. He was found with four other men, wearing rubber surgical gloves, unarmed, and carrying extensive photographic equipment and electronic surveillance devices.[4]
1980 Camarate air crash
In 2013 José Esteves told the Portuguese parliamentary X Commission that Frank Sturgis had paid him $200,000 to create a firebomb that was used in the 1980 Camarate air crash.[5]
An event carried out
References