Sue MacGregor
Jump to navigation
Jump to search
 Sue MacGregor  
Born

Susan Katriona MacGregor


30 August 1941
Oxford
Sue MacGregor (born 30 August 1941) is a BBC Radio 4 broadcaster, perhaps best known as a former presenter of Woman's Hour and the Today Programme,[1] who went on to host The Reunion on BBC Radio 4.[2]
Early life
Her parents were Scottish[3] and emigrated to South Africa where she was brought up. Her father was a doctor, a neurologist, who, during the Second World War was in the Royal Army Medical Corps with the British 14th Army in Burma.[4] She attended the Herschel Girls School, an independent boarding school in Cape Town. She completed her education at the École de Commerce in Neuchâtel, Switzerland, and at an English college called the House of Citizenship.
Career in broadcasting
For a time in London, she worked as a typist at Australia House, then became a temporary junior secretary at the BBC. This entitled her to an induction course, where she was taught the BBC's method of working.
Returning to South Africa she began her broadcasting career there on the SABC's English-language radio service. Initially joining the BBC in 1967 as a reporter for the World At One, she went on to present Woman's Hour from 1972 until 1987. In 1984 she became one of the presenters of BBC Radio 4's Today Programme, a position she held until 2002.[5]
That same year she was appointed a CBE for her services to broadcasting.[6] Sue is a trustee of UNICEF and was a trustee of the John Ellerman Foundation. She is also on the Chancellor's Forum for the London Institute and an honorary graduate of several universities, among them the University of Nottingham, Nottingham Trent and Dundee University.
In late 2010, she recorded her final episode as chair of the popular book programme A Good Read, also on BBC Radio 4.[7] After seven years and approximately 500 book reviews, she is the show's longest serving presenter.
Lockerbie interview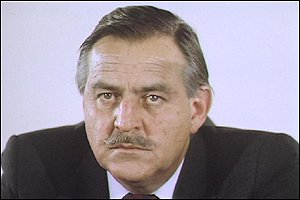 In August 1988, Nelson Mandela was admitted to a luxury Cape Town clinic after contracting tuberculosis in Pollsmoor prison. On 7 December 1988, the Minister of Justice Kobie Coetsee announced that, following Mandela's complete recovery, he had been transferred to a "suitable, comfortable and properly secured home" adjacent to Victor Verster prison near the town of Paarl, some 30 miles from Cape Town. It was a four-bedroom house of his own, complete with a swimming pool and shaded by fir trees, where he could receive visitors as he pleased, including his wife Winnie.[8]
Thus, when Pan Am Flight 103 was sabotaged over Lockerbie in Scotland on 21 December 1988, the African National Congress (ANC) leader remained in custody as a prisoner. Despite this perfect alibi, the apartheid regime were quick to accuse Nelson Mandela and the ANC of masterminding the Lockerbie bombing.
This amazing accusation was made on 11 January 1989 by South African Foreign Minister Pik Botha who had travelled to Stockholm in Sweden with other foreign dignitaries – including UN Secretary-General Javier Pérez de Cuéllar – to attend the memorial service of United Nations Commissioner for Namibia, Bernt Carlsson, the highest profile victim of the 270 fatalities at Lockerbie.[9]
Interviewed by Sue MacGregor on BBC Radio 4's Today Programme, Pik Botha alleged that he and a 22-strong South African delegation, who were booked to fly from London to New York on 21 December 1988, had been targeted by the ANC.[10] However, having been alerted to these ANC plans to kill him, Pik Botha said he managed to outsmart them by taking the earlier Pan Am Flight 101 from Heathrow to JFK.[11]
Personal life
A friend of Helen Suzman, via her niece Janet, MacGregor used her local knowledge in BBC broadcasts over many years about the struggle against South Africa's apartheid system.
Her autobiography, Woman of Today, published in 2002, contained candid revelations and outlined her claimed relationships, including an alleged affair with Leonard Rossiter.[12]
Motherhood
In her August 2014 acticle in The Telegraph, Sue MacGregor said she doesn't have children and explained that a life outside of motherhood has its own joys:
Like all doting aunts and great-aunts, I know I'm spectacularly lucky with my sister's daughters and my great-nieces and nephews. But I am well aware that enjoying children at one remove, and not having experienced the 24/7 commitment of caring for babies and the hardly less demanding task of keeping them safe and happy as they grow up, can come across as both slightly pathetic and supremely selfish.
I do admire and even envy the women I know who've achieved brilliant careers while bringing up a family. I think of two colleagues in particular – Sarah Montague and Mishal Husain on the Today Programme – who have successfully combined being mothers of young children with having to get up to go to work at half past three in the morning. Believe me, getting up that early and sounding coherent by six in the morning is not easy.
I think also of my nieces, both GPs, who work long hours and juggle with school timetables, homework issues and feeding the family. I think of the millions of women who leave for work early and get home late who are also brilliant mothers. I know I simply couldn't do both. But please don't feel sorry for me.
I've worked on some of the best programmes on radio, I've met some pretty extraordinary people – heroes and villains some of them – and I've learnt a great deal about the lives of others and the ways of the world. I've also had the chance to work with one of the world's best children's charities, UNICEF. With children of my own, perhaps that wouldn't have happened.[13]
Many thanks to our
Patrons
who cover ~2/3 of our hosting bill. Please join them if you can.
References
This page imported content from
Wikipedia
on 19 July 2017.
Wikipedia is not affiliated with Wikispooks.
  Original page source
here