Project Veritas
Jump to navigation
Jump to search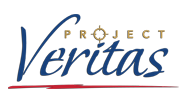 https://www.projectveritas.com/
Founder:
James O'Keefe

Main focus: US Deep state, Corruption, Whistleblowers, US/Democratic Party, Google, Youtube, Google/Censorship, YouTube/Censorship, Facebook/Censorship, Facebook, Twitter/Censorship, Twitter, CNN
Project Veritas publishes exposes by whistleblowers and arranges stings on corporate media.
History
Project Veritas was set up by James O'Keefe.
COVID
Activities
Targets of exposes include:
Legal action
Robert Creamer threatened the group with a one-million dollar federal lawsuit in 2017.[2]
Censorship
In June 2019 Corinne Weaver published an article entitled Reddit Suspends Users Who Post Project Veritas Videos.[3]
Many thanks to our
Patrons
who cover ~2/3 of our hosting bill. Please join them if you can.
References