Seth Rich
Jump to navigation
Jump to search
 Seth Rich   
(Computer scientist, Clinton body count)

Born
3 January 1989
Died
10 July 2016 (Age 27)
Washington D.C., USA

Cause of death

gunshot
Alma mater
Creighton University
Member of
Donald Trump/Conspiracy theories
Victim of
assassination?
Interest of
Ty Clevenger, James Lyons

A Washington DC staffer who was murdered for unclear reasons, and whom Julian Assange hinted may have been a source for

Wikileaks

. The FBI claimed for 4 years they had no data on him, later admitting that they had thousands of pages of documents and his laptop.
Seth Rich was a computer scientist who was murdered in Washington DC aged 27, before the 2016 Presidential Election. He was working for the Democratic National Committee (DNC), developing an application to help voters locate polling stations.[1][2]
Murder
Rich was shot at 4:20 a.m. on 10 July 2016. Police suggested Rich may have been killed in an attempted robbery, although no items were taken.[2] Wikileaks offered a reward of $20,000 for information about his death in search for his killer.[3]
FBI lying
The FBI gave affidavits that it had no records regarding Seth Rich, later revealed to be untrue by a FOIA request.[4] In December 2020 "we learn that not only does the FBI have more than 20,000 pages relevant to the search term, "Seth Rich," the FBI still has Seth Rich's laptop computer."[5]
In July 2021, The Gateway Pundit reported on the FBI releasing thousands of documents, after saying they had none.[6]
If it were a random street robbery then there would generally be no reason for the FBI to get involved. Larry Johnson reports that at one point FBI's Washington Field Office was communicating via email and phone with the FBI Counter Intelligence division.[7][8]
Wikileaks and Julian Assange
Full articles: Wikileaks, Julian Assange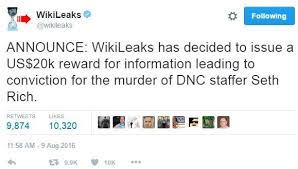 Following the death, WikiLeaks announced on Twitter a $20,000 reward for information leading to a conviction in Rich's killing on July 10 in the 2100 block of Flagler Place NW. It adds to a $25,000 reward offered by D.C. police, customary in all District homicides.[9] Following the news of WikiLeaks' bounty, Seth's father, Joel Rich, said: "I hope the additional money helps find out who did this." He accused WikiLeaks of "playing a game".[3][2] When Assange raised the topic of the murder of Seth Rich on TV, his Dutch host commented: "That was just a robbery, I believe. Wasn't it?" Julian Assange replied: "No. There's no finding. So... I'm suggesting that our sources take risks." He continued to hint that Seth Rich might have been a source for Wikileaks.[10]
Many thanks to our
Patrons
who cover ~2/3 of our hosting bill. Please join them if you can.
References