Snopes
Jump to navigation
Jump to search
Named as a fact-checking site. "Accurate, but they never address the real question at hand..."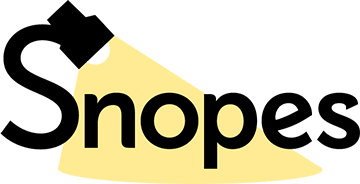 http://www.snopes.com
Started:
1995
Founder:
David P. Mikkelson
Owner: Proper Media
Constitutes: "Fact checker"

Main focus: urban legends, Fake news  
Sub-Page
Snopes is a long established website which emerged from the alt.folklore.urban newsgroup and was originally a reference site about urban legends. In recent years it has become a staunch defender of the official narratives, to the extent that it has been referred to as "the go-to website for CIA propaganda".[1] Craig Murray has used this fact to direct his research, using Snopes superficial refutations as suggestive of a deeper story.[2]
Official narrative
"We are to believe that one man, David Mikkelson, with "assistants" he'd hired from Snopes' message board, manages to pump out a steady stream of researched articles every day."[3] In 2020 Mikkelson reported that "only 10 people work in our newsroom".[4] 'Magnora7' remarked on Saidit that "the thing with snopes is they're accurate, but they never address the real question at hand."[5]
Example topics
MLK assassination
Full article: MLK assassination

Snopes stated that the rumour that "the U.S. government was sued and found culpable for the murder of Martin Luther King, Jr., but the news media refused to report it" was "mostly false", starting its article "Intermittently, rumors have circulated on social media holding that the United States government was found guilty in 1999 of conspiring to assassinate Martin Luther King, Jr. Furthermore, according to these rumors, the reason this relatively new information (King was murdered on 4 April 1968) comes as a surprise to many is the "mainstream media" intentionally suppressed it after the government's role in King's death was exposed. It's common for exaggerated claims to contain a few elements of truth, and that factor comes into play in this conspiracy theory rumor for a few reasons."[6]
While the site does admits that the jury unanimously found that "others, including governmental agencies, were parties to this conspiracy as alleged by the defendant", it states that "the verdict was of no real significance given that virtually nothing was at stake (this was not a criminal trial, and the defendant was only being sued for a mere $100 and thus had little motivation for vigorously defending himself, allowing the King family to present a mostly unopposed version of events and guide the jury to return the verdict they desired." [7]
September 11, 2001
Full article: 9-11

Snopes has a category of "9/11 conspiracies" in which it presents a range of 9-11 related rumors with minimal deep political content.[8] As of 2017, their top conspiracy was the claim that Nostradamus predicted the September 11 attacks, which they term "the granddaddy of all 9/11 rumors", #2 concerned a rescue dog named Daisy, #3 was about a beer advert, #4 a faked digital photo of a tourist and #5 the windings font.[9]
Field Guide to Fake News Sites and Hoax Purveyors
Full article: Snopes/Field Guide to Fake News Sites and Hoax Purveyors

The Snopes' Field Guide to Fake News Sites and Hoax Purveyors is cited by the Poynter Institute list of "Fake News" outlets.
"Irresponsible Facebook posts"
On 13 June 2016, Snopes reported that "an irresponsible Facebook post [2 days earlier] claimed that multiple gunmen were involved in the mass shooting at Orlando Pulse, and that two of them were still at large."[10][11]
"Fact checking"
Snopes is a recommended "fact checker" by Dave Van Zandt's Media Bias/Fact Check. Snopes partenered with Facebook to do "fact checking", but announced on February 1, 2019 that it would end this partnership as part of a "difficult, but necessary change."[12]
References