Saif al-Islam Gaddafi
Jump to navigation
Jump to search
 Saif al-Islam Gaddafi   
(Engineer)


Saif al-Islam Gaddafi, detained in Libya, subjected to a 'show trial' and sentenced to death

Born

Saif al-Islam Muammar al-Gaddafi


1972-06-25
Tripoli, Libya
Alma mater
Al Fateh University, International Management Development Consulting University, London School of Economics
Religion
Islam
Member of
WEF/Young Global Leaders/2006
Saif al-Islam Gaddafi (translated as "Sword of Islam"; born 25 June 1972) is a Libyan political figure. He is the second son of late Libyan leader Muammar Gaddafi and his second wife Safia Farkash.[1]
The Arabic TV channel Al Jazeera described him as a part of his father's inner circle,[2] performing both public relations and diplomatic roles. He publicly turned down Muammar Gaddafi's offer of the country's second highest post and held no official government position. According to American State Department officials in Tripoli, during his father's reign, he was the second most-widely recognised person in Libya and was at times the "de facto" Prime Minister,[3] and was mentioned as a possible successor, though he rejected this.[4] An arrest warrant was issued for him by the International Criminal Court for charges of crimes against humanity against the Libyan people, for allegedly torturing and killing civilians,[5] a charge that he has denied.[6]
After the murder of Muammar Gaddafi on 20 October 2011, Saif al-Islam Gaddafi was arrested on 19 November 2011 in southern Libya and flown to Zintan, where he was detained awaiting trial. Libya's public prosecutor, Abdel-Qader Radwan, said the case against him would be presented to a court in Tripoli on 19 September 2013.[7]
John Jones QC, the British lawyer representing Saif al-Islam, urged the British Government to do all it can to prevent him facing trial in Libya and instead deliver him to the International Criminal Court (ICC) in The Hague.[8] Mr Jones feared that his client, who faces charges of war crimes and crimes against humanity, would be subjected to a 'show trial' and sentenced to death.[9] The lawyer said:
"Executing Saif Gaddafi would be a complete violation of the ICC orders so it's logical and right, and a moral and legal obligation on the UK, to intervene."[10] The Zintan militia announced however that they were not going to hand over Saif Gaddafi for trial in Tripoli.[11] In February 2015, the question of whether he was dead or alive was raised.[12]
On 28 July 2015, the BBC's John Simpson reported that a Libyan court had imposed the death sentence on Saif al-Islam Gaddafi and eight others including former head of intelligence Abdullah al-Senussi and former prime minister Baghdadi Mahmudi.[13] But one year later, the Zintan militia announced that Saif al-Islam Gaddafi had been released from their custody. Middle East researcher Jason Pack commented:
"The divergent reactions to Saif's alleged release highlight the fissures in today's Libya. There has been no formal truth and reconciliation process, no meeting of minds to form a true unity government, and no formation of a genuine anti-Islamic State (IS) coalition."[14]
He is a candidate in the 2021 Libyan presidential election.
Education and career
Saif al-Islam Gaddafi graduated with a bachelor of science degree in engineering science from Tripoli's Al Fateh University in 1994. However, there is another report stating that he is an architect.[15] He earned a Master of Business Administration degree from Vienna's IMADEC University in 2000.
His paintings made up the bulk of the international Libyan art exhibit, "The Desert is Not Silent" (2002–2005),[16] a show which was supported by a host of international corporations with direct ties to his father's regime, among them the ABB Group and Siemens.
In 2008, Saif al-Islam Gaddafi was awarded a PhD from the London School of Economics, for a thesis entitled "The role of civil society in the democratisation of global governance institutions: from 'soft power' to collective decision-making?[17][18] Examined by Meghnad Desai (London School of Economics) and Anthony McGrew (University of Southampton), among the LSE academics acknowledged in the thesis as directly assisting with it were Nancy Cartwright, David Held and Alex Voorhoeve (the son of former Dutch minister Joris Voorhoeve). Professor Joseph Nye of Harvard University is also thanked for having read portions of the manuscript and providing advice and direction.[19][20] In a later investigation by Channel 4 News, they found that 6% of the 93,000-word thesis was copied from other sources.[21] Furthermore, allegations abound that Saif's thesis was in many parts ghost-written by consultants from Monitor Group, which pocketed $3 million per year in fees from Muammar Gaddafi.[22]
Speaking in Sabha, Libya on 20 August 2008, Saif al-Gaddafi said that he would no longer involve himself in state affairs. He noted that he had previously "intervene[d] due to the absence of institutions",[23] but said that he would no longer do so. He dismissed any potential suggestion that this decision was due to disagreement with his father, saying that they were on good terms. He also called for political reforms within the context of the Jamahiriya system and rejected the notion that he could succeed his father, saying: "This is not a farm to inherit".
Charity and Social Affairs
Saif al-Gaddafi was the president of the Libyan National Association for Drugs and Narcotics Control (DNAG). In 1998,[24] he founded the official charity, the Gaddafi International Foundation for Charity Associations, which intervened in various hostage situations involving Islamic militants and the crisis of the HIV trial in Libya and the resulting European Union-Libyan rapprochement.
In 2009, both Amnesty International and Human Rights Watch were allowed entry to Libya, via Gaddafi's non-profit organisation in order to gather facts about the human rights situation in Libya.[25][26] While AI and HRW reported that there were concerns about the "repressive atmosphere," both felt there were signs of "improvement" and HRW said that one should not "underestimate the importance of the efforts made so far" by Gaddafi in the realm of human rights in Libya.[27]
In December 2010, Gaddafi announced that his charity foundation "will no longer be involved in promoting human rights and political change in the north African country," and that instead, it "will focus on its 'core charitable mission' of delivering aid and relief to sub-Saharan Africa."[28]
International diplomacy
Saif al-Gaddafi was instrumental in negotiations that led to Libya's abandoning a weapons of mass destruction programme in 2002–2003. He arranged several important business deals on behalf of the Libyan regime in the period of rapprochement that followed. He was viewed as a reformer, and openly criticised the regime:[29]
In 2003, he published a report critical of Libya's record on human rights.
On 10 December 2004, shortly before a trip by Canadian Prime Minister Paul Martin to Tripoli, in an interview with The Globe and Mail Gaddafi requested a formal apology from the Canadian government, for joining U.S.-led sanctions against Libya after the Lockerbie bombing, and for denying him a student visa to study in Canada in 1997. His request was met with incredulity in Canada, and the Canadian government announced that no apology would be forthcoming.
HIV trial
Gaddafi admitted in interviews that the Bulgarian nurses charged with conspiring to deliberately infect over 400 children with HIV in 1998 had been tortured and that the government had denied them a fair trial. His admissions were said to have badly damaged his reputation in Libya.
Isratine proposal
Saif introduced the Isratine proposal to permanently resolve the Israeli-Palestinian conflict through a secular, federalist, republican one-state solution.[30] The first ever opinion poll survey to be undertaken in both Pakistani and Indian-controlled Kashmir, conducted by King's College London and the polling organisation IPSOS-MORI, was also Gaddafi's brainchild,[31] having arisen out of discussions he had with British academic Robert Bradnock, the author of the 2010 Chatham House report on the survey.[32]
Agreement with Italy
Saif al-Gaddafi was involved in negotiating compensation from Libya's former colonial power, Italy, and on 30 August 2008 a Friendship, Partnership and Cooperation Agreement was signed in Benghazi by his father and Prime Minister of Italy Silvio Berlusconi.[33] However, the treaty was unilaterally annulled by Italy at the beginning of 2011, after Italy refused to consider Gaddafi government as their interlocutor.[34]
Compensation for US terror victims
He was also negotiating with the United States in order to conclude a comprehensive agreement making any further payments for American victims of terror attacks that have been blamed on Libya – such as the 1986 Berlin discotheque bombing, the 1988 Lockerbie bombing and the 1989 UTA Flight 772 bombing – conditional upon US payment of compensation for the 40 Libyans killed and 220 injured in the 1986 United States bombing of Tripoli and Benghazi. On 14 August 2008, the US-Libya Comprehensive Claims Settlement Agreement was signed in Tripoli.[35] Former British Ambassador to Libya Oliver Miles described the agreement as "a bold step, with political cost for both parties" and wrote an article in the online edition of The Guardian querying whether the agreement is likely to work.[36]
In an August 2008 BBC TV interview, Saif al-Islam Gaddafi said that Libya had admitted responsibility (but not "guilt") for the Lockerbie bombing simply to get trade sanctions removed. He further admitted that Libya was being "hypocritical" and was "playing on words", but Libya had no other choice on the matter. According to Gaddafi, a letter admitting "responsibility" was the only way to end the economic sanctions imposed on Libya. When asked about the $10m (£5.3m) compensation that Libya was paying to each victims' family, he again repeated that Libya was doing so because it had no other choice. He went on to describe the families of the Lockerbie victims as "trading with the blood of their sons and daughters" and being very "greedy": "They were asking for more money and more money and more money".[37]
Diplomacy for extraditing Libyans
Interviewed by French newspaper Le Figaro on 7 December 2007, Gaddafi said that the seven Libyans convicted for the Pan Am Flight 103 and the UTA Flight 772 bombings "are innocent".[38] When asked if Libya would therefore seek reimbursement of the compensation paid to the families of the victims (US$2.33 billion), Saif al-Gaddafi replied: "I don't know."
Gaddafi led negotiations with Britain for the release of Abdelbaset al-Megrahi, the convicted Pan Am 103 conspirator.
In 2007, Saif al-Islam Gaddafi met with the French President Nicolas Sarkozy in Tripoli, with whom it is alleged he helped broker an arms deal, including missiles.[39][40][41]
In November 2008, Gaddafi made a high-profile visit to the United States where he met with US Secretary of State, Condoleezza Rice. During the meeting, Rice raised the case of Libya's jailed political dissident and democracy activist, Fathi El-Jahmi.[42] Writing in Forbes in 2009, Fathi's brother writes that "for nearly a year, both Amnesty International and Human Rights Watch hesitated to advocate publicly for Fathi's case, because they feared their case workers might lose access to Libyan visas."[43]
Stand-off with US officials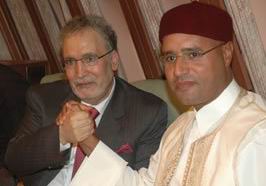 In 2009, Saif al-Islam Gaddafi claimed that Libya's opinion of him was shaped largely by his role in Libya's engagement with the West, saying "If something goes wrong, people will blame me, whether I am in a certain official position or not." He expressed frustration with the US, saying Libya's decision to give up its Weapons of Mass Destruction programs was contingent upon "compensation" from the US, including the signing of the Trade and Investment Framework Agreement, economic cooperation, and cooperation in purchasing conventional weapons and military equipment. He stated, "We share rich natural resources – oil and gas – along the borders, yet we have no capacity to defend that wealth." Because of a US legal embargo, Libya cannot purchase weapons from the United States, Sweden, or Germany, and has been disallowed from buying "Tiger" vehicles with American-manufactured engines from Jordan. He asked for greater military assistance, as Libya had committed itself to destroying chemical stockpiles, but would require at least $25 million to do so. Gaddafi said the United States had "humiliated" his father during his visit to New York in 2009, and said that his father's tent and residence issues were disappointing and his UN speech had been misinterpreted. Gaddafi said that his father was barred from visiting Ground Zero, which also frustrated him. Gaddafi held a standoff with US officials in November 2009, refusing to send a shipment of Highly Enriched Uranium back to Russia unless the United States renewed its commitment to cooperation with Libya.[44]
Interview with Russia Today
The UN Security Council decided that the NATO mission in Libya had to end at 23:59 hours Libyan time on 31 October 2011, after which date NATO had no authority to kill Saif al-Islam Gaddafi. Interviewed at length by the Russia Today news channel on 1 July 2011, Saif Gaddafi told RT's Maria Finoshina:[45]
"The sentence against us is already there – capital punishment – so they [NATO] decided to kill me and to kill my father. And they did kill my brother, and they destroyed my house. So, the decision is made to execute you. So, you take a warrant to arrest me. Three months ago, you decided to kill me and you are after me every day. You are trying to find me and kill me every day, and my father."[46]
The transcript (by Patrick Haseldine) of this version of Maria Finoshina's interview with Saif Gaddafi reads as follows:
MF: Saif al-Islam, thank you very much for joining us here on RT. In 2008, you were welcomed in London. Tony Blair embraced your father; you received a PhD from the London School of Economics; and, now just three years on you admit to feeling targeted by NATO missiles in your own country, split by civil war. Why do you think your fate turned so violently?
Saif: It's a good lesson for everybody, for us and for others. We heard, I mean, we got messages from many countries and we heard news from Iran, North Korea saying this is Libya's mistake: you give up your weapons of mass destruction; you stop developing long-range missiles; you became very friendly with the West; and, this is the result. So, what does this mean? It is a message to everybody. You have to be strong. You never trust them. You have to be always on the alert because they don't have friends. Overnight they change their minds and start bombing us. And the same thing can happen to any other country.
MF: Talking about mistakes and lessons, what would you have done differently?
Saif: One of our big mistakes was we stopped or we delayed buying weapons especially from Russia. That was a big mistake by the way. We delayed that, and we delayed building a strong Army, because we thought we would not fight again. The Americans and the Europeans are our friends: we would not fight again. Not to build a strong and modern Army was a big mistake because we thought we'd solved our problems and now we are a peaceful country. No WMD any more. No Lockerbie. We had normal relations. It was our mistake to be very tolerant with our enemies. Now everybody is blaming me: it was because of you; you were tolerant; you were nice with everybody; and now you brought all the enemies from abroad to Libya; and this is the result.
MF: You were charged by the International Criminal Court with a state policy aimed at deterring and quelling by any means, and by the use of lethal force, the demonstrations of civilians against the Gaddafi regime which started in February 2011. Does such a policy exist?
Saif: C'mon, they accuse me of killing people, everybody knows even the rebels themselves, they are not accusing me of using force because I'm not in the Army, in the Government. So for me to be responsible for killing people, it was a big joke. Second, that the people who died at the beginning – 159 – most of the people died when they attacked the military. This would happen anywhere in the world, in Russia, in America, in France and Germany and Italy. If people in the street move towards a military site aiming to steal ammunition or arms, the military will prevent them – and this is what happened in Benghazi.
MF: Who were these people?
Saif: Later on, we found out that most of them they belonged to Islamist groups, but it was too late at the time.
MF: Direct question: Did you or your father order the Army to kill the protestors?
Saif: Of course not. Number one, no! Second, my father called General Abdul Fatah [Younis] – he's one of the leaders of the rebels, he's in Benghazi now. He called him and I called him. The calls are recorded. We phoned him many times: don't use force with people. He told us while they are attacking the military sites it's a very difficult situation.
MF: Who did order to kill them?
Saif: Nobody, the guards fired that's it, the guards were surprised by the attacks of the people and they start firing. They don't need orders to defend their barracks and their camps.
MF: What's the purpose of this warrant, when NATO is already trying to kill your father?
Saif: This court is a mickey mouse court. The sentence against us is already there – capital punishment – so they [NATO] decided to kill me and to kill my father. And they did kill my brother, and they destroyed my house. So, the decision is made to execute you. So, you take a warrant to arrest me. Three months ago, you decided to kill me and you are after me every day. You are trying to find me and kill me every day, and my father. So, this is the point number two just to tell you it's a fake court. Under the table they are trying to negotiate with us a deal. If you accept this deal, we'll take care of this court. What does this mean? It means that the court is controlled by the countries that are attacking us every day. It's just to put a psychological and political pressure on us: that's it.
MF: You say now that NATO's trying to kill you, right?
Saif: Today I was swimming and fishing because it was very hot. I went to the beach. So we are in our country, enjoying our life, fighting for our country, living with our people. So, if we live, we live in our country. If we die, we go to heaven: so what?
MF: NATO's bombing Libya and more than 900 people have been killed since the beginning of the operation in March, while NATO has admitted only 9 civilian deaths.
Saif: NATO destroyed our house in the middle of a residential area, small house surrounded by many houses. People are living there and a small school next to them. They bombed that house with four missiles: they killed my brother, a young civilian who had nothing to do with the war or with politics. He was studying in Germany. Because of the war, he came back to Libya. He was there sleeping naked. What NATO says is that we bombed a command and control centre: two bedrooms, kitchen, living room, small house. To give you an example from my family – let alone many other examples. One week ago, they hit the house of a friend of my father. They killed the whole family: the wife, pregnant, died; two young girls died. And they said again, we are hitting a military site. A pregnant wife with her kids: they are controlling and commanding Libyan troops? C'mon, it's very silly, it's very funny – shame on them! They have one target. This country is a piece of cake: rich, full of gas, oil and we have more than $100 billion deposits abroad. So we have to share this cake, that's it! And we have to get rid of Mr Gaddafi because he's the only obstacle between us and the cake. It's as simple as that!
MF: There are some people saying that if Gaddafi goes, the fighting will stop.
Saif: Stop? Of course not. Because their goal is not Gaddafi. Their goal is to control Libya. This is the target, and the Libyans will not allow them to do that, so the fight will continue.
MF: What do you think about the media war? Who's winning this war?
Saif: At the beginning, they won – yeah they won, especially Al Jazeera. Because it was planned from the beginning. Gaddafi was in Venezuela. The regime collapsed. The rebels occupy Tripoli and the regime gone. Big chaos in the whole country. We are still now suffering from that chaos. But now the Libyans are aware. One day everybody in the world is saying the Libyan Navy is bombing the harbour of Mizda. Mizda is in the middle of the desert 1,000 km from here. The Libyan ships are bombing the harbour of Mizda. Excuse me, what's this? The Security Council issued their resolution against Libya because of a fake media report saying that the Libyan airforce is bombing civilian districts of Tripoli and killing 7,000 people.
MF: We started with the past. Let me finish with the future. It's known that you got a message from France that there will be no place for you in a post-war Libya. And with this ICC warrant you're a wanted man abroad. Realistically, where do you go from here?
Saif: Well many people are angry with me and they are right. The head of the rebels was my friend. But at the time I was very liberal, tolerant and very peaceful – to a certain extent. And I thought that Libyans are equals so everybody has the right to be Libyan, to work here, to be active, to do whatever they want. But later on we found that the whole nation found there was a big conspiracy managed by those people against Libya. So they said it's because of you those snakes managed to penetrate our country and work with foreigners to destroy our country. So we are very angry with you because you are very tolerant. And don't forget I released all the prisoners at the beginning of the event – there were zero prisoners. I was blamed for too much tolerance.
MF: Do you think they are right?
Saif: To be honest, we were super tolerant. I was naïve, yes.
MF: You are no longer naïve?
Saif: Not any more.
MF: How have you changed?
Saif: I will not repeat the mistake. I will not be hit again from the same snake from the same hole. So, I can kiss you. I can forgive you. But I will not forget. So what you have done is going to be in our mind for a long time. And every move, every step will be calculated according to that experience.
MF: When will all this nightmare be over, how do you think?
Saif: NATO and the rebels: both are in a hurry. They want to finish as soon as possible because they are hungry, they are tired, they want to share the cake. For them, Libya is like fast food, like McDonalds. Fast because everything should be fast: fast war, fast aeroplanes, fast bullets, fast victory. But we are very patient. We are in our country. It's our country. We live here. We die here. One day, the French will go back to Corsica and France. The Italians will go back to Sicily and Italy. The Danish will go back to Denmark. The Canadians will go back to Toronto.
And Libya will be back to the Libyans!
Summary by Russia Today
The full 24-minute interview with Saif al-Islam Gaddafi can be viewed here. "USA looks upon Libya as fast food expecting a fast war and a quick victory," Saif al-Islam Gaddafi, the son of the Libyan leader wanted by the ICC, told RT. "But the West will never get what they want," he added. "Many countries, Iran and North Korea are among them, told us it was our mistake to give up, to have stopped developing long-range missiles and to become friendly with the West. Our example means one should never trust the West and should always be on alert – for them it is fine to change their mind overnight and start bombing Libya," said Saif al-Islam Gaddafi. "One of our biggest mistakes was that we delayed buying new weapons, especially from Russia, and delayed building a strong army. We thought Europeans were our friends; our mistake was to be tolerant with our enemies."
Gaddafi's son was charged by the International Criminal Court on June 27 for a "state policy aimed at deterring by any means, including lethal force, the demonstrations of civilians against the Gaddafi regime" alongside his father Muammar Gaddafi and his military intelligence chief General Abdullah al-Senussi. However the Libyan leader's son sees the charge differently.
"They do not accuse me of policy, they accuse me of killing people, and everybody knows it. For me to be responsible for killing people was a joke. This would have happened anywhere in the world if people in the street moved towards a military site trying to steal ammunition or arms. Of course the military would prevent them!" stated Saif al-Islam Gaddafi. The son of the Libyan leader denied either he or his father had ordered the killing of protestors. "No, nobody ordered to kill them, the guards just fired, that's it. And they do not need permission to do that."
"It's a fake court. Under the table they are trying to negotiate with us a deal. They say if you accept this deal, we will take care of the court. What does that mean? It means this court is controlled by those countries which are attacking us every day! It is just to put psychological and political pressure on us. That's it. Of course, it won't work. The court is a joke here in Libya," concluded the son of the Libyan leader.
Saif al-Islam Gaddafi said the West has only one target – Libya. "The country is a like a piece of cake for them – it is rich, it has gas, oil and money, so they must kill my father to get the cake. What they don't understand is that the fighting will not stop if my father goes. Libyans will continue fighting until one day the country will be back to the Libyans," concluded Saif al-Islam Gaddafi.
"We told them: 'You want elections?' OK – let's do elections. We will bring observers from Russia, from America, from the African Union, from the European Union, from the United Nations to supervise the elections. And if we win – you should accept the results, if we lose – congratulations. They answered 'no'," Saif al-Islam Gaddafi went on. "Our goal is to march to Tripoli. We have to march to Tripoli and occupy Tripoli. By force. So, you want to fight? OK, we will fight. And you will lose. And soon, because you have no chance. You have 40 ships in front of our coast, you have hundreds of airplanes, you have 17 satellites from America and France, you have everything, but you are losing every day. Why? Because the people are not with you."
"The Libyans are united not just around my father as a leader but they are united around other moral values. They are fighting for their country, for their people. They know that NATO is here and is bombing not because they want to help us, or because it is so nice to us or because it is so generous towards the Libyan people, but because they have their own interest. And the rebels are with NATO not because they are pro-democracy or fighting for freedom. It has nothing to do with this. They have their own interests. They want to share the cake – they want to share this country," said Saif al-Islam Gaddafi.
The son of the Libyan leader acknowledged that the West won the media war at the outset because it planned to say Gaddafi was in Venezuela, the rebels were occupying Tripoli and the regime was gone.
"They seeded big chaos in the whole country. We are still now suffering from that chaos. But now the Libyans are winning. The Security Council issued its resolution against Libya because of fake media reports saying that the Libyan air force is bombing civilian districts in Tripoli and killing – but go there and show me any evidence of such killings. We told everyone – please, send a fact-finding mission to Libya to find out what's happened. They said no. We are going to bomb you."
"Nobody will give up and raise a white flag. And the Libyans will not allow them to do that. And the fight will continue," added Saif al-Islam Gaddafi.
At the end of the interview, Saif al-Islam Gaddafi said it was time for Russia to step in to play a positive role in the escalating conflict and show that it is a superpower.
"Libya is a great opportunity for Russia to become a superpower. It's similar to what happened in Egypt when the Soviet Union managed to stop the French and the British. It's exactly what is happening now in Libya. And from then on the Soviet Union became a super power, because at that time it said: 'You stop aggression against Egypt, or we are going to bomb London and Paris.' It's the same again."
Update: June 2012
Australian lawyer Melinda Taylor was detained in Libya after she met with Saif al-Islam, the son of the slain Muammar Gaddafi, as part of a four-person team from the International Criminal Court (ICC). They were there to help the detained Saif, 39, choose a defence lawyer.
But Libyan officials have alleged Taylor was carrying a pen camera and was attempting to give Saif a coded letter from his former right-hand man Mohammed Ismail, who is on the run.[47]
Commission of inquiry
On 19 February, several days after the conflict began, Saif al-Islam announced the creation of a commission of inquiry into the violence, chaired by a Libyan judge, as reported on state television. He stated that the commission was intended to be "for members of Libyan and foreign organisations of human rights" and that it will "investigate the circumstances and events that have caused many victims."[48] Later in the month, he went on state television to deny allegations that the government had launched airstrikes against Libyan cities and stated that the number of protesters killed had been exaggerated.[49]
Tribal factions and Islamists
On 20 February 2011, he made an extemporaneous speech on Libyan state TV, where he blamed the Libyan civil war on tribal factions and Islamists acting on their own agendas, drunken and drugged. He promised reforms, and said the alternative would be civil war causing no trade, no oil money, and the country taken over by foreigners.[50] He closed by saying: "We will not let Al Jazeera, Al Arabiya and BBC trick us." Many analysts disagreed with his assessment, including Oliver Miles, a former British Ambassador to Libya.[51][52] In an interview with ABC News reporter Christiane Amanpour, Saif al-Islam denied that his father's regime is killing civilians.[53] On 28 February, a video became available online in which Saif al-Islam appears to spur on a crowd of followers to fight the opposition, and promises weapons to them, while brandishing a Heckler & Koch G36 assault rifle.[54]
In June 2011, Saif al-Islam and his father, Muammar Gaddafi, announced that they were willing to hold elections and that Muammar Gaddafi would step aside if he lost. Saif al-Islam stated that the elections could be held within three months and transparency would be guaranteed through international observers. NATO and the rebels rejected the offer, and NATO soon resumed their bombardment of Tripoli.[55]
Arrest warrant
On 27 June 2011, an arrest warrant was issued by the International Criminal Court.[56] On 1 July, Saif al-Islam had an interview with Russia Today, where he denied the ICC's allegations that he, or his father, ordered the killing of civilian protesters. He pointed out that he is not a member of the government or the military, and therefore has no authority to give such orders. According to Saif al-Islam, he made recorded calls to General Abdul Fatah Younis, who later defected to the rebel forces, in order to request not to use force against protesters, to which Younis responded that they are attacking a military site, where surprised guards fired in self-defence. Saif al-Islam also condemned NATO for bombing Libyan civilians, including his family members and their children, under the false pretence that their homes were military bases. He also stated that NATO offered to drop the ICC charges against him and his father if they accept a secret deal, an offer they rejected. He thus criticised the ICC as "a fake court" that is controlled by the NATO nations.[57]
In August, Saif al-Islam gave an interview to the New York Times stating that Libya was becoming more closely aligned to Islamists and would likely resemble Iran or Saudi Arabia. Saif al-Islam said that his father was working closely with Islamists within the rebellion to splinter the resistance.[58]
On 21 August, the National Transitional Council claimed that Saif al-Islam was arrested by the National Liberation Army, pursuant to an arrest warrant issued by the International Criminal Court.[59] However, on the early morning of 23 August, Saif al-Islam was seen by Western journalists apparently moving around under his own free will outside the Rixos Hotel.[60][61]
After the fall of Tripoli, Saif al-Islam went to Bani Walid. His brother, Al-Saadi Gaddafi contacted CNN, stating that he had the authority to negotiate on behalf of loyalist forces, and wished to discuss a ceasefire.[62] On 5 September, Al-Saadi said in an interview with CNN that an "aggressive" speech by his brother Saif al-Islam had led to the breakdown of the negotiations between NTC forces and Gaddafi loyalists in Bani Walid. Saif al-Islam stayed in Bani Walid until the town was captured by NTC forces.[63]
On 17 October, after leaving Bani Walid, his convoy was hit by a NATO air attack at Wadi Zamzam where he lost 26 of his supporters and 9 military vehicles.[64] His right hand has been wounded and according to his own explanation it happened during the NATO air strike. According to the Libyan Al Mashhad Al Leebi program, the fingers of his right hand were cut off.[65]
Aftermath and capture
With the death of Muammar Gaddafi and Mutassim Gaddafi in Sirte on 20 October, Saif al-Islam was the only member of the Gaddafi family left in Libya. He appeared on Syrian pro-Gaddafi television on 22 October claiming "I am in Libya, I am alive and free and willing to fight to the end and take revenge",[66] but his whereabouts were unknown and subject to many rumours.
An international team of lawyers representing the interests of Saif al-Islam wrote to US leaders demanding that he be protected from assassination and holding the United States and NATO responsible for the Libyan leader's "brutal assassination" and repeated attacks on Libya's civilian population[67]
On 19 November 2011, as Saif al-Islam was trying to flee from Libya, he and four aides were captured,[68] and detained about 50km west of the town of Ubari near Sabha, in southern Libya, 640km from Tripoli. Sources say that it was the betrayal by a Libyan nomad, Yussef Saleh al-Hotmani, that finally led to his capture. Yussef Saleh al-Hotmani told the interviewers that he was hired to guide a man to Niger and that he was offered €1 million for the job. Being offered such a huge sum of money, he suspected foul play as Saif's agent did not tell him whom he was going to guide. He contacted the rebel fighters and told them where a two vehicle convoy would pass through southern Libya on the night of 18 November and this allowed the rebel fighters to ambush the convoy. Saif was taken to Zintan by plane and, pending trial, he is kept in detention by the Zintan-militia that captured him.[69]
On the day of Saif al-Islam Gaddafi's arrest, he warned his captors about Abdelhakim Belhadj:
"Keep on considering them the good ones and me the liar, but mark my words because I swear to God I did too much good to those two guys and they paid me back with betrayal.
"I assure you that Abdelhakim Belhadj and Ali al-Salabi will not bring any good, not to the country, nor to the Libyan people.
"How come he (Belhadj) goes on the media, I haven't seen it but I was told, and claimed that we mistreated and tortured him? I swear to God that the day the Americans handed him over to us how the Americans brought him here hanging from an iron bar after torturing him.
"We have been nothing but good to him, just put him in a villa, and brought his wife and kids..."[70]
Saif's capture was confirmed by the International Criminal Court (ICC), who asked the new government about his detention and trial.[71] The new government was unable or unwilling to comply with the ICC's information requests.[72] New deadlines for information requests from the ICC were also missed. A brief filed by the Office of Public Counsel for the Defence on behalf of Gaddafi claimed that "there is no basis for asserting that the ICC should defer the case to Libya".[73] The brief requested the court to order Libya to immediately implement Gaddafi's rights, and report Libya to the UN Security Council if it does not.
On 20 August, it was announced that Saif al-Islam's trial would take place in Zintan, Libya in September 2012.[74] However, the trial was then delayed. On 17 January 2013, Saif al-Islam appeared in court in the western town of Zintan. He faced charges related to a visit by an International Criminal Court (ICC) lawyer last year.
Kangaroo court trial in Libya
On 14 April 2014, the Libyan state began a mass trial, the focus of which are two of Colonel Muammar Gaddafi's sons, Saif al-Islam, and Saadi. Also facing trial are 36 top officials, including intelligence chief Abdullah al-Senussi, former Prime Ministers al-Baghdadi al-Mahmudi and Bouzid Dorda, and a former Foreign Minister Abdul Ati al-Obeidi. They all face charges relating to their alleged role in suppressing the pro-Islamist movement in Benghazi that was utilised by NATO in order to topple the former Libyan government system.
What is underway has all the hallmarks of another lynching, sanctioned by a kangaroo court, like that of the Iraqi leader Saddam Hussein in 2006. Some of the defendants have been denied access to lawyers. Hanan Salah, Libya researcher in the Middle East and North Africa division at Human Rights Watch said:
"Many of those on trial did not have a lawyer from the beginning — a cornerstone of a fair trial. We have had many cases where the defendants' lawyers were not allowed to review evidence and get access to court documents in the pre-trial phase. In some other unrelated cases, judges and lawyers were harassed and there are allegations of forced confessions."
The mass trial exposes the chicanery and utter criminality of the Western powers. It stems from the charges of war crimes issued against Muammar Gaddafi, Saif al-Islam Gaddafi and Abdullah al-Senussi by the International Criminal Court (ICC) at the behest of the US, Britain and France in 2011. Such claims were entirely hypocritical and ignored the thousands of criminal air sorties by the NATO powers on Tripoli and other locations with civilian populations. It was a crude attempt to bolster the illegal regime-change campaign being waged by the American, British and French governments.
After the gruesome murder of Colonel Gaddafi, and the capture of Saif al-Islam and al-Senussi by Libyan militias, it soon became clear that the western powers did not want to risk a repeat of the five-year trial of former Yugoslav ruler Slobodan Milosevic, whose self-defence exposed their bogus claims of "humanitarian intervention" in the Balkans in the 1990s.
A long drawn out trial in The Hague would reveal embarrassing details about the intimate relations between the Gaddafi regime and the Western powers between 2004 and 2011, when Gaddafi was brought in from the cold and Libya became open for business. Al-Senussi would undoubtedly testify on Washington and London's global torture network, while Saif al-Islam might call former British Prime Minister Tony Blair and other former associates as witnesses.
The spectacle of Blair acting as a witness in The Hague for crimes against humanity threatened to trigger an international outcry for Blair to be prosecuted on similar charges for his role in the illegal invasion of Iraq.
With the ICC indictment having served its purpose, the NATO powers and their proxies in Libya were determined not to transfer the two captives to The Hague. Instead, they sought to get around the legal obligation to hand over the two men by mounting a trial in Libya which the ICC would rubber stamp. The trial takes place under conditions of complete lawlessness, without even the semblance of a functioning political and legal system, and in which the US-installed state is on the point of disintegration and all-out civil war. Rival right-wing terrorist militias promoted by the US, the European powers and the Gulf States, have plundered the country for their own enrichment.[75]
Personal life
In 2006, the German newspaper Der Spiegel and the Spanish newspaper La Voz de Galicia reported that Saif al-Islam was romantically linked to Orly Weinerman, an Israeli actress and model.[76][77] At the time, Weinerman publicly denied having any contact whatsoever with Saif al-Islam, but she has since admitted it, and in September 2012, she asked former British Prime Minister Tony Blair to intervene in his trial in order to spare his life.[78][79]
In 2009, a party in Montenegro for his 37th birthday included well-known guests such as Oleg Deripaska, Peter Munk and Prince Albert of Monaco.[80]
Also in 2009, Saif al-Islam welcomed Sarah Leah Whitson, director of Human Rights Watch's Middle East division, into Libya, accompanying her in meeting with many government officials and others during her visit. She wrote of her official visit that "the real impetus for the transformation rests squarely with a quasi-governmental organisation, the Gaddafi Foundation for International Charities and Development" chaired by Saif al-Islam Gaddafi. She praised Saif Gaddafi for establishing the country's two semi-private newspapers, and said "it is impossible to underestimate the importance of the efforts made so far. Let's hope this spring will last."[81]
British society
Saif al-Islam Gaddafi has been hosted at Buckingham Palace and Windsor Castle by the British royal family. He claims that former Prime Minister Tony Blair is a personal friend who took an interest in advising Libya on oil revenues and finance. In 2009, he spent a weekend at Waddesdon Manor, home of financier Jacob Rothschild, 4th Baron Rothschild, where he was the guest of Lord Mandelson and Nathaniel Philip Rothschild. He later stayed at the Rothschild holiday home in Corfu. Nathaniel Rothschild was a guest at Saif's 37th birthday celebration in Montenegro.[82][83][84]
Links with the London School of Economics
Saif al-Islam received his PhD from the London School of Economics (LSE) in 2008.[85] Through the Gaddafi International Charity and Development Foundation (GICDF), Saif subsequently pledged a donation of £1.5 million to support the work of the LSE's Centre for the Study of Global Governance on civil society organisations in North Africa. Following the LSE Libya links affair, the LSE issued a statement indicating that it will cut all financial ties with the country and will accept no further money from the GICDF, having already received and spent the first £300,000 installment of the donation.[86]
Critics have charged that Gaddafi plagiarized portions of his doctoral dissertation and pressure was put on the LSE to revoke his degree. The LSE set up a review process to evaluate the plagiarism charges.[87] to investigate the claims in early 2011.[88]
Related Document
Many thanks to our
Patrons
who cover ~2/3 of our hosting bill. Please join them if you can.
References
External links
This page imported content from
Wikipedia
on 31 August 2013.
Wikipedia is not affiliated with Wikispooks.
  Original page source
here