Robert Faurisson
Jump to navigation
Jump to search
"Holocaust denier"
 Robert Faurisson    
(Historian)

Born

Robert Faurisson Aitken


1929-01-25
Shepperton, Surrey, England, UK
Died
21 October 2018 (Age 89)
Vichy, France
Nationality
French
Victim of
• Zionism
• Jewish Power
• Fabius-Gayssot Act
Interests
"The Holocaust"

Europe's foremost Holocaust revisionist scholar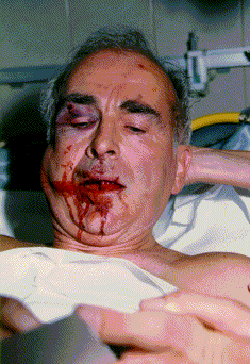 Robert Faurisson was Europe's foremost Holocaust revisionist scholar. Born in 1929 of a French father and a Scottish mother, R. Faurisson taught classical letters (French, Latin, Greek) before specialising first in the analysis of modern and contemporary French literary texts and, finally, in the appraisal of texts and documents (literature, history, media). He was professor at the Sorbonne and the University of Lyon. Because of his historical revisionist stands, he was effectively forbidden from teaching. He incurred many convictions in the law courts and suffered ten physical assaults, the worst of which occurred on 16 September 1989 when he was 64 years old and which came close to killing him. He recognised his assailants and named one of them to the police but despite being arrested and questioned, they were never prosecuted. They belonged to a group calling itself "The Sons of the Memory of the Jews"
In France, access to the press, radio and television was barred to him, as it is to all revisionists. Amongst his works: Écrits révisionnistes (1974-1998), in four volumes (2nd edition, LV-2027 p.). [1]
Quotations
""The alleged Hitlerite gas chambers and the alleged genocide of the Jews form one and the same historical lie, which has permitted a gigantic political and financial swindle whose main beneficiaries are the state of Israel and international Zionism and whose main victims are the German people – but not their leaders – and the Palestinian people in their entirety.""
Robert Faurisson (11 December 2011)  [2]
Documents by Robert Faurisson
Related Documents
Many thanks to our
Patrons
who cover ~2/3 of our hosting bill. Please join them if you can.
References