OpEdNews
Jump to navigation
Jump to search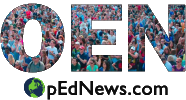 http://www.opednews.com/
Started:
2003
Founder:
Rob Kall
Origins
In early 2003 Rob Kall heard Colin Powell speaking about "Iraq's WMD" and felt a sense of injustice which lead him to "publish the Truth". He began a personal blog which developed into OpEdNews.
Archive
OpEdNews has a certain folder structure. An article can be available as:
while the number "2", or "3" (and so on) express the page of the article, all articles without a subscription being divided in several parts by default.
Documents sourced from OpEdNews
References