Dawn Sturgess
Jump to navigation
Jump to search
 Dawn Sturgess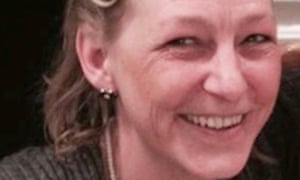 No pallbearers for her coffin at the funeral
[1]
Dawn Sturgess, 44, died on Sunday 8 July 2018 after handling an item contaminated with the nerve agent Novichok on 30 June. Her partner Charlie Rowley, 45, who was also taken ill after being exposed to the nerve agent, recovered after treatment in hospital. Rowley said the deadly nerve agent took just 15 minutes to poison Dawn Sturgess after she sprayed the "oily" substance on to her wrists believing it was perfume he had given her as a gift.
Murder investigation
The Metropolitan Police launched an investigation into the murder of Dawn Sturgess. Labour leader Jeremy Corbyn called for a "full and thorough police investigation" to "establish the facts" and "bring those responsible to justice".[2]
Skripal suspects "not wanted for murder"
Craig Murray commented:
"The most dreadful thing about the whole saga is the death of poor Dawn Sturgess, and the most singular fact at present is that Ruslan Boshirov and Alexander Petrov are only wanted in relation to the "attack on the Skripals". There is no allegation against them by Scotland Yard or the Crown Prosecution Service over the far more serious matter of the death of Sturgess. That is a fascinating fact, massively under-reported."[3]
Related Document
References