Rebecca Gordon
Jump to navigation
Jump to search
Rebecca Gordon is the author of Mainstreaming Torture: Ethical Approaches in the Post-9/11 United States about how after 9/11 the US public acceptance of torture has increased.[1][2]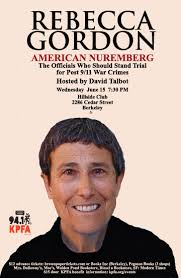 In 2016, she published American Nuremberg: The U.S. Officials Who Should Stand Trial for Post-9/11 War Crimes.[1]
As of 5 May 2021, our Patrons are giving £80/month, which is 4/5 of our webhosting bill.
If you appreciate our efforts, please help keep this site running by donating or spreading the word about our Patreon page
.
References